<![if !supportEmptyParas]>
October Cub Scout Roundtable Issue

Volume 10, Issue 3
November Theme

Pilgrims at Plymouth Rock
Webelos Craftsman & Scientist
Tiger Cub Achivement #3
WEBELOS
Note: both Craftsman and Scientist are two month Webelos Activity Badges. There will be more helpful hints from Baloo next month. Commissioner Dave
Craftsman
Technology Group
Building Tools
An Opening or Closing Ceremony
Circle Ten Council
1. We are the future builders of America. This is how we will shape tomorrow.
2. We will hammer out justice. (Hammer)
3. We will help cut out crime. (Saw)
4. We will pinch out poverty. (Pliers)
5. We will wrench out discrimination. (Wrench)
6. We will live by the Golden Rule. (Ruler)
7. We will plunge out hatred. (Plunger)
8. We will drill love deep into our hearts. (Drill)
Den Activities
Heart of America Council
· Visit a furniture factory, lumber yard, saw mill or cabinetmaker.
· Visit a tannery or leather goods manufacturer.
· Invite an expert to give a demonstration on the proper care and use of tools.
· Have someone give a demonstration of leather craft and explain how to use leather tools.
· Discuss finishing methods for wood projects: The importance of sanding, filling holes and scratches, the various types of finishes, such as shellac, stain, lacquer, varnish and enamel.
· Have a nail-driving contest. Give each boy a scrap of wood, nails and a hammer. Let them practice driving nails straight.
· Make a tool chest or a bench horse for sawing.
· Have a birdhouse building contest.
· Build midway games for your Pack.
Working With Leather
Circle Ten Council
Leather crafting is a hobby that many boys may carry into adulthood. It is best to start with simple projects like key chains and coasters and let the boys work their way up to more difficult items such as wallets or belts.
Look in the yellow pages for leather crafting supply stores near you. Here are some tips to help you get started:
Dampen leather with a sponge for ease of tooling, but don't have it dripping wet.
Have the boys draw a design on paper before starting. Then trace the design onto their leather piece with an awl.
Let the boys practice with their tools on scrap leather first.
Leather stains or acrylic paints will give projects added dimension. Put a wood board under each boy's leather piece while he is working.
Bow Drill
Circle Ten Council
This drill may be used to start a fire or to drill holes.
Materials:
A green twig for the bow
Stone or block of wood for palm piece
(needs indentation, to hold shaft)
A 4" x 3/4" straight branch or dowel for shaft
Thong or gut string long enough to hold bow bent
Bit of flint or sharpened steel rod
Instructions for Shaft:
Indent at center so thong loop won't slip
Drill hole for drill bit
<![if !vml]>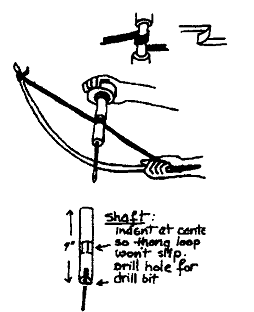 <![endif]>

To Operate:
1. Tie thong to bend bow.
2. Loop thong around shaft indentation.
3. Bear down on palm piece with left hand (if you're right handed). This may require some adult assistance.
4. Saw the bow back and forth to rotate drill shaft.
5. Keep tension in the thong to prevent it from slipping on the shaft.
Wooden Trivet
Circle Ten Council
Materials:
1 dowel - 4' x 1"
Table saw
Sandpaper
Waxed paper
Carpenter's glue
Felt, 6"X6"
<![if !vml]>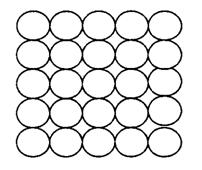 <![endif]>
Cut the dowel into slices about l 1/2" thick using table saw.
Sand any rough edges.
Lay a piece of waxed paper on the working surface. It can be easily removed from the trivet after the glue has dried. Begin gluing the slices together as shown in the picture.
When glue has dried, pull away waxed paper
Cut the felt piece to fit the back of the trivet.
Glue in place.
Craftsman
Heart of America Council
Weather Vane
Supplies:
20" Curtain Rod,
Wire coat hanger,
Glue
Tin or Aluminum
Broomstick or dowel
Bolts, washers, screws Enamel Paint
Construction:
1. <![if !vml]>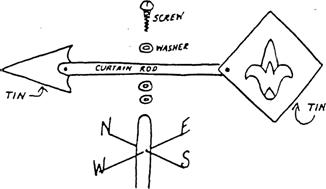 <![endif]>
Using patterns enlarged from above illustration, cut arrowhead, Webelos insignia and compass point initials from tin.
2. Roll edges so they will not be sharp and dangerous.
3. Paint with enamel.
4. Bolt arrowhead and Webelos insignia to ends to curtain rod.
5. Drill small holes in 4 sides of broomstick.
6. Solder initials to wire. Glue ends of wire in holes of broomstick.
7. Punch hole in middle of curtain rod.
8. Screw curtain rod to top of broomstick, using washers, so arrow will swing freely when the wind blows.
9. When installing vane, be sure that the stationary compass directional initials point correctly, i.e., N, due North, etc.
Closing Thought
Circle Ten Council
"I hold in my hand a pocket knife. This is a valuable tool because it can be used for many useful things. It is a dependable tool as long as the blade is kept sharp and free from rust, and the working parts are in good condition. If it is neglected and becomes dull and rusty, it will become dangerous.
"The same principle applies to us, as well. We have a body, which must be kept in good condition in order to work well. If we fail to take care of ourselves, we become rusty and dull just like a neglected knife. Do your best to keep fit and healthy this week."
Materials found in Baloo's Bugle may be used by Scouters for Scouting activities provided that Baloo's Bugle and the original contributors are cited as the source of the material.

Materials found at the U. S. Scouting Service Project, Inc. Website ©1997-2003 may be reproduced and used locally by Scouting volunteers for training purposes consistent with the programs of the Boy Scouts of America (BSA) or other Scouting and Guiding Organizations. No material found here may be used or reproduced for electronic redistribution or for commercial or other non-Scouting purposes without the express permission of the U. S. Scouting Service Project, Inc. (USSSP) or other copyright holders. USSSP is not affiliated with BSA and does not speak on behalf of BSA. Opinions expressed on these web pages are those of the web authors.