<![if !supportEmptyParas]>
October Cub Scout Roundtable Issue

Volume 10, Issue 3
November Theme

Pilgrims at Plymouth Rock
Webelos Craftsman & Scientist
Tiger Cub Achivement #3
SPECIAL OPPORTUNITY
In the last few years, BSA has added several new special awards for Cub Scouts – there is an Emergency Preparedness Award, the Leave No Trace Award, the Boys' Life reading Contest and more. I will try to feature one of these each month. I am repeating the Boys' Life Reading Award because of how vital a good reading ability is to one's success. CD
Boys' Life Reading Contest
Enter the 16th Boys' Life Reading Contest Now!
<![if !vml]>

<![endif]>
Write a one-page report titled "The Best Book I Read This Year" and enter it in the Boys' Life 2003 "Say Yes to Reading!" contest. The book can be fiction or nonfiction. But the report has to be in your own words—500 words tops. Enter in one of these three age categories: 8 years old and younger, 9 and 10 years old, or 11 years and older.
First-place winners in each age category will receive a $100 gift certificate good for any product in the Boy Scouts Official Retail Catalog. Second-place will receive a $75 gift certificate, and third-place a $50 certificate.
Everyone who enters will get a free patch like the square one above. (The patch is a temporary insignia, so it can be worn on the Boy Scout uniform shirt. Proudly display it there or anywhere!) In coming years, you'll have the opportunity to earn the other patches.
The contest is open to all Boys' Life readers. Be sure to include your name, address, age and grade on the entry. Send your report, along with a business-size, self-addressed, stamped envelope, to:
Boys' Life Reading Contest, S306
P.O. Box 152079
Irving, TX 75015-2079
For more details go to www.boyslife.org
Entries must be postmarked by Dec. 31, 2003.
Leave No Trace
With the emphasis from National on every Pack making sure all new Cubs have an outdoor experience within their first few month, many Packs and Dens will be out in Camps and Woods and Parks exploring. BSA has published a Cub Scout Version of the Leave No Trace principles. It is available as a bin item, # 13-032. (When requested, Bin items are provided free from BSA National to your local council.) Go ask for your copy.
The brochure describes six Front Country Guidelines for Cub Scouts to follow while hiking, camping and enjoying the outdoors. (This is cute play on words – the hiking area at Philmont is referred to as the backcountry. Now obviously you don't want to take Cubs out there – to the backcountry, so we must be taking them to the front country. CD)
There is even a Cub Scout Leave No Trace award with a patch for Cub Scouts and leaders to earn.
Making sure our leaders and Cubs are familiar with theses principles should enable our Cubs to be complimented wherever they go and help us recruit even more boys!!
Also, useful for your Pack's outdoor adventures is Cub Scout Outdoor Program Guidelines, BSA Bin Item # 13-631
Cub Scout Leave No Trace Pledge
I promise to practice the Leave No Trace Front Country guidelines wherever I go:
Plan ahead.
2. Stick to trails.
Manage your pet.
Leave what you find.
Respect other visitors.
6. Trash your trash
More information, including the requirements for the Cub Scout and Leader Leave No Trace Awards is available at
http://www.scouting.org/cubscouts/resources/13-032/
<![if !vml]>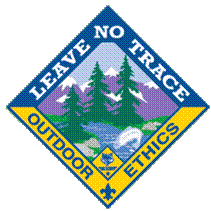 <![endif]>
Materials found in Baloo's Bugle may be used by Scouters for Scouting activities provided that Baloo's Bugle and the original contributors are cited as the source of the material.

Materials found at the U. S. Scouting Service Project, Inc. Website ©1997-2003 may be reproduced and used locally by Scouting volunteers for training purposes consistent with the programs of the Boy Scouts of America (BSA) or other Scouting and Guiding Organizations. No material found here may be used or reproduced for electronic redistribution or for commercial or other non-Scouting purposes without the express permission of the U. S. Scouting Service Project, Inc. (USSSP) or other copyright holders. USSSP is not affiliated with BSA and does not speak on behalf of BSA. Opinions expressed on these web pages are those of the web authors.