February 2002 Cub Scout Roundtable Issue

Volume 8, Issue 7
March Theme

Dollars & Sense
Webelos Athlete & Engineer

Okay, I have had some incredibly bad luck with our computer the last few months. Blue Skies ahead though, I can just feel it, I have done 18 pages so far and I haven't lost one page yet. Yes, I had the dubious pleasure of learning some new terms in relationship to computers. Words like allocation and the horrific phrase of "BAD SECTORS." But like I said earlier "Blue Skies ahead!"
At the end of January I will be attending Middle Tennessee's powwow. I am really looking forward to going, learning, and then sharing what I learned with you through the Bugle.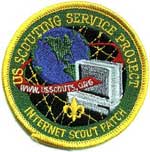 Don't forget that we have brought back the Internet Patch for Scouts, yes Cubs can earn this temporary patch. While learning about Dollars and Sense this month, let the Cubs figure out how much XX number of patches would cost. Our patches can be found at http://usscouts.org/internetscoutpatch.asp.

<![if !mso]><![endif]>

I am LOOKING for Earl Bateman, in Canada. If anyone knows him, please have Earl contact me at cmr1954@usscouts.org or cmr1954@knology.com

<![if !supportEmptyParas]>

<![if !supportEmptyParas]>


Materials found in Baloo's Bugle may be used by Scouters for Scouting activities provided that Baloo's Bugle and the original contributors are cited as the source of the material.

Materials found at the U. S. Scouting Service Project, Inc. Website ©1997-2002 may be reproduced and used locally by Scouting volunteers for training purposes consistent with the programs of the Boy Scouts of America (BSA) or other Scouting and Guiding Organizations. No material found here may be used or reproduced for electronic redistribution or for commercial or other non-Scouting purposes without the express permission of the U. S. Scouting Service Project, Inc. (USSSP) or other copyright holders. USSSP is not affiliated with BSA and does not speak on behalf of BSA. Opinions expressed on these web pages are those of the web authors.