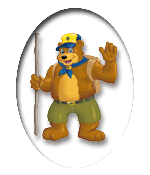 May Cub Scout Roundtable Issue

Volume 7, Issue 10

Wet &Wild
Webelos Traveler & Artist
Tiger Big Ideas 17
PRE-OPENING ACTIVITY
York Adams Area Council
If you can make your Pack Meeting a fun, outdoor event with "swimsuits required," you can do just about anything water as a pre-opening activity.

Activities like water pistol duels, shoot out the candle flames, water balloon tosses, etc.
Materials found in Baloo's Bugle may be used by Scouters for Scouting activities provided that Baloo's Bugle and the original contributors are cited as the source of the material.

Materials found at the U. S. Scouting Service Project, Inc. Website ©1997-2002 may be reproduced and used locally by Scouting volunteers for training purposes consistent with the programs of the Boy Scouts of America (BSA) or other Scouting and Guiding Organizations. No material found here may be used or reproduced for electronic redistribution or for commercial or other non-Scouting purposes without the express permission of the U. S. Scouting Service Project, Inc. (USSSP) or other copyright holders. USSSP is not affiliated with BSA and does not speak on behalf of BSA. Opinions expressed on these web pages are those of the web authors.