May 2006 Cub Scout Roundtable Issue

Volume 12, Issue 10
June 2006 Theme

Theme: Invent a Reason to Celebrate
Webelos: Traveler and Artist
Tiger Cub Activities
WEB SITES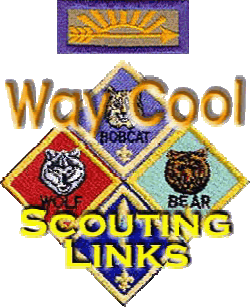 Theme Internet Resources
Great Salt Lake Area Council
Glurch and Oobleck Websites
Artist Websites –
Cub Scout Achievement, Elective, Rank, and Academics and Sports Trackers on their own website!!
Roxanne@madsenco.com
A lot of websites carry the Excel based trackers she developed but have old and outdated versions. So Roxanne developed her own web page that will always carry the most recent versions (with all known bugs fixed and many enhancements recommended by users).
She recently revised the Cub Scout spreadsheets to –
Include the Outdoor Activity Award
Make them easier to work with in OpenOffice.
Track Tiger beads and handle up to 15 tigers.
Please direct your den leaders or advancement chairs to the website for the most recent versions of the trackers. (feel free to add a link to your pack's website if that is helpful!)
http://www.madsenco.com/scouting.shtml
Thank you Roxanne!! CD
PS – She, also, has Girl Scout and Boy Scout Trackers!!!

Materials found in Baloo's Bugle may be used by Scouters for Scouting activities provided that Baloo's Bugle and the original contributors are cited as the source of the material.

Materials found at the U. S. Scouting Service Project, Inc. Website ©1997-2006 may be reproduced and used locally by Scouting volunteers for training purposes consistent with the programs of the Boy Scouts of America (BSA) or other Scouting and Guiding Organizations. No material found here may be used or reproduced for electronic redistribution or for commercial or other non-Scouting purposes without the express permission of the U. S. Scouting Service Project, Inc. (USSSP) or other copyright holders. USSSP is not affiliated with BSA and does not speak on behalf of BSA. Opinions expressed on these web pages are those of the web authors.