May 2006 Cub Scout Roundtable Issue

Volume 12, Issue 10
June 2006 Theme

Theme: Invent a Reason to Celebrate
Webelos: Traveler and Artist
Tiger Cub Activities
WEBELOS
Welcome Bear Leaders – as of June 1 you may be a Webelos leader. Take your Scouts to resident camp – take them outdoors. They will think you are great!!
Have you taken your Den for a Webelos overnighter??
TRAVELER
MENTAL SKILLS GROUP
Great Salt Lake Area Council
The Traveler activity badge will help the boys discover new things abut traveling, and they will have a great time "navigating" for mom and dad on the required trips. Earning the Traveler Activity Badge will help boys prepare for traveling experiences and it will enable them to get the most out of trips and learn about our country. Working on the achievements for this Badge will help them learn how to read maps and timetables for different transportation methods, compare costs, plan trips, and pack suitcases.
OBJECTIVES:
To introduce WEBELOS to the excitement of traveling to See new places and meet new people.
To show Scouts some of the practical skills that am needed to get "there" successfully and efficiently so that when "there", they can have a rewarding experience.
To have the Scouts practice planning in a fun way.
DEN ACTIVITIES
Visit a traffic operations center. It can either be one run by a local, county or state government or by a local TV station. It seems the big new think on all the news shows is their traffic centers. Let the boys learn how our roads are monitored and how traffic is controlled.
Take a ride on public transportation. Is there alight rail system near you that would be good for a Den Trip?? How many of your Cubs have ever been on public transportation (other than school buses). Be sure to have enough adults along. I met a group one time on a Sunday in Washington, DC, attempting to set some record for number of trains ridden because on Sunday in DC you can ride and transfer all day on one ticket. Look up the links for your local transit authority and see what can be done.
Put on a skit about traveling (See "What Did You Say Your Name Was?" in the Skit section for an idea)
Hello, My Name Is Alberta:
Great Salt Lake Area Council
Have the boys stand or sit in a circle
Each person has to say a name, a place and a product that all begin with the same letter
The first player says, "My name is Alberta, and I carne from Alabama with a load of artichokes."
(Any names would be all right as long as they begin with A.)
The second player must repeat the sentence using B words, such as "My name is Bruce, and I came from Belgium with a load of bats."
Go all the way through to Z.
This was one of my family's favorite car games when we would travel to Ohio to see Grandma. CD
Car Passenger Code
Southern NJ Council
This code provides hints on how car passengers can help make each trip a safe and pleasant one.
Help yourself by:

Always wearing your seat belt, and (if 12 or younger) sitting in the back.
Sitting down, so that you won't be hurt if there is a sudden stop
Keeping your hands away from door handles, gear stick, ignition key and the driver
Help the driver by:
Sitting down, so that you don't distract him
Looking out for road signs
Keeping the noise down
Help other passengers by:
Not teasing younger passengers
Not putting anything dangerous on the back ledge
Saving all litter until you get home; use litter bags
Help others on the road by:
Staying in the car – if you put your arms and head out of the window, you could loose them – while you are moving.
Not throwing things out the window
Getting out of the car on the side away from the traffic
Safe Driving Tips for Families
Allow enough time to avoid feeling rushed.
On long trips, allow for frequent stops.
Have your car checked before you leave – tires, brakes, lights, turn signals, and windshield wipers – to ensure proper functioning.
Use seat belts. They help save lives.
Be alert to hazards – adjust your driving speed accordingly.
Use courtesy abundantly – everywhere – at intersection, while being passed or passing, at night with headlights.
Follow the rules of the road – signals, signs and road markings, for a safe enjoyable trip.
Baltimore Area Council
Planning travel to faraway places can be lots of fun for your Webelos Scouts. As a Den leader, you can help your boys prepare for the "navigator" status they will assume on the family trips they will take to qualify for this Activity Badge. They can plan anything from a family outing to the movies to an international trip if you show them how to develop a checklist for each required activity in advance. While it is outside the scope of the requirements, planning a trip to another planet can be fun, too! As is true for all Activity Badge instruction, remember that the boys want to hear from "experts" and anybody but you is an expert! Bring in resource people if possible.
Den Activities:
Visit a county, state or national park with your den families.
Visit an historic site nearby in your city.
Take a bus or train trip.
Visit a travel agency or automobile club office, and find out what they do.
Make a map of your neighborhood area w/ a key and have a den member follow it.
Calculate cost and speed of a plane trip.
Prepare a first aid kit for the family car, with each boy furnishing his own supplies
Visit a train depot, bus terminal or airport, to see inside operations.
Discuss timetables and how to read them.
Have a speed contest of locating specific destination and how to get there, using maps and timetables.
Teach proper packing of suitcase, Afterwards, have speed contest, stressing neatness as well as speed.
Locate points of interest on city and state highway maps.
Prepare a list of travel agencies and transportation media available in your area.
Have the boys develop a set of rules for family travel (subject to parents approval) including such things as using seat belts, behavior, responsibilities., etc.
Be sure to let boys report on family trips ... and get their ideas how the trip could be changed or improved next time.
Field Trips: travel agencies, railroad stations, bus terminals
Pack Activities:
Exhibit:
Family car first aid kits,
Enlarged map of area showing points of interest,
Timetables,
Snapshots from trips,
Travel log books,
Travel posters,
Literature on exotic places.
Demonstration:
Demonstrate proper packing of a suit case; how to pack a suitcase for a trip;
How to determine comparative travel costs;
Show slides or movies taken on your den trip, with commentary furnished by denner or give an oral report on trip.
Traveler Family Activities
This Activity Badge is a good opportunity to involve parents who sit on the sidelines, and do not often participate in Den activities. If they are involved in the planning of a family trip to take place in the next month, however short, they will be contributing to your program. A pack family campout is a good way to combine the trip planning, suitcase packing, first aid kit preparation, and navigating skills into one trip. Again, asking parents to be sure to attend a meeting with their son prior to the trip gives you the opportunity to show what the boys have learned, and to pass out a Den newsletter with the Traveler checklists attached.
Encourage the boy and his parents or guardian to use the checklists, and to make a record of the trip in the form of a journal or photos or both. Be sure to include maps, timetable, and any other aid used in travel planning. Also, ask the boy to be prepared to tell the Den about his trip at the next den meeting.
While the parents are attending, review the importance of safety in trips. Seat belt use can be emphasized along with information about how to prepare for the unexpected (running out of gas, car trouble on the road, changing a tire, and preparing a simple car repair/maintenance kit).
Games
Fifty States:
Material needed: Paper and pencil for each boy. Work alone or in pairs.
Instructions: Make a list of as many of the 50 states that you can think of. Score extra points if you also know the correct capital of the state.
Road Map Alphabet:
Give each boy a map.
On the signal "go", each boy finds a city on the map for as many letters of the alphabet as they can find in five minutes.
The boy with the most number of cities found on the map wins.
Words:
On a piece of paper write the name of an airline (i.e., United, Delta, or American).
Give each of the boys a piece of paper and a pencil.
Have them see how many new words they can form out of the name of the airline.
Set a time limit.
The one with the most words at the end of the time limit is the winner.
Air Route:
Players are seated in a circle.
Each one is given the name of some city or airport.
One player has no chair.
He stands inside the circle and calls "All aboard for the plane from Baltimore to Pittsburgh."
The two players representing these cities must change seats.
The caller tries to get a seat during the scramble.
The player left without a seat becomes the caller.
This is fun when the caller names a city that has not been assigned to anyone, thus causing confusion and excitement.
Map Symbols Relay –
On separate 3 x 5 inch cards, paste road map symbols taken from a standard road map. (Or enlarge them by copying.)
On smaller cards, write the proper meanings.
Divide the den into two teams, which race separately.
Make a jumbled pile of all cards and meanings some distance from the first team.
On signal, the first boy on the first team races to the pile and matches any symbol card with the proper meaning card. (Record his starting time.)
He then runs back and touches the second boy, who repeats the action.
Continue until the team has finished with all symbols and meanings properly matched.
Record the team's elapsed time.
The second team then does the same.
Deduct one second for every improperly matched set.
The winning team is the one with the faster corrected time.
Packing Relay –
Be sure each boy wears a bathing suit under his uniform this day..
Have the boys divide into two teams, with an empty suitcase for each team.
On the signal, the first boy runs to the suitcase, takes off his clothes, folds them and packs the suitcase properly (the Webelos Leader can approve).
If done properly, he may then dress and tag the next boy in line.
The first team to finish wins.
A variation of this game is to have identical sets of clothes hanging in two different locations on a clothesline. The first boy for each team runs to the clothes line, takes the clothes off the clothes line, folds and packs them (the Webelos Leader approves), runs with the suitcase to the starting line, runs back (with the suitcase) to the clothes line and hangs the clothes back up on the line, and then races back to tag the next team member.
International Sign Quiz
Give the meaning of each of the International Road Symbols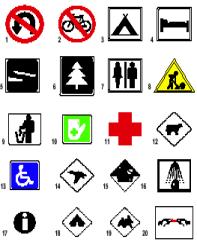 The following answer list is in the same order as the picture. Be sure to scramble the list before giving it to boys to match picture to meaning.
| | | |
| --- | --- | --- |
| | 1. | No U-turn |
| | 2. | No bicycles |
| | 3. | Tent site |
| | 4. | Hotel, motel |
| | 5. | Boat ramp |
| | 6. | Forest |
| | 7. | Restrooms |
| | 8. | Wet floor |
| | 9. | Trash can |
| | 10. | First Aid |
| | 11. | Red Cross |
| | 12. | Animal Crossing |
| | 13. | Handicap Access |
| | 14. | Wildlife Refuge |
| | 15. | Magnetics |
| | 16. | Shower |
| | 17. | Information |
| | 18. | Campsite |
| | 19. | Child Crossing |
| | 20. | Fasten Seat Belts |
ARTIST
MENTAL SKILLS GROUP
Great Salt Lake Area Council
Cub scouts is for learning and experimenting. We have the opportunity to share the information we have gained from our experience. You may have a family member or a friend who has a talent they would like to share. Try something that you haven't tried.
OBJECTIVES
To allow Webelos to experiment with different art media
To give boys a sense f pride an accomplishment in their work
To familiarize Webelos with the color wheel
To introduce Webelos to various art mediums
DEN ACTIVITIES
Invite a school art instructor or an artist to your den meeting to discuss basic art and to answer any technical questions on the requirements, which may come up.
Let the boys study the color wheel and practice combining paints making shades and tints with tempera or watercolor. http://www.ficml.org/jemimap/style/color/wheel.html
Have modeling clay and material on hand for making models. See Webelos Scout book for instructions on modeling a head. http://www.pioneerthinking.com/modelingclay.html
Make mobiles. http://www.daniellesplace.com/html/paper_craft_2.html
Make constructions - simple designs in space.
Visit an art museum and look at the design ideas put into each display.
Make drawings from nature - birds, animals, plants, flowers, etc., scriber in the pencil (with the original drawing under it). http://drawsketch.about.com/
MODELING CLAY
Great Salt Lake Area Council
RECIPE 1
Mix together:
2 1/2 cups flour
1-cup salt
1-cup water
Food coloring is optional.
Store in refrigerator.
RECIPE 2
Mix and cook over low heat until mixture thickens:
1-cup salt
1-cup flour
1-cup water
Food coloring is optional.
Cool before using
Snack Food Sculptures
Great Salt Lake Area Council
Ingredients
Bread sticks pretzels potato chips
Cheese curls crackers popcorn
Other interestingly shaped foods
Sour cream cream cheese onion soup
Directions
Soften cream cheese
Blend in the soup mix and enough sour cream to make a thick paste
Use paste to glue the snack foods together into a unique creation
Abstract Art
Great Salt Lake Area Council
Tune: I'm Looking Over a Four Leaf Clover
I'm watching you painting an abstract painting,
And wond'ring what it can be.
Could it be mountains or could it be trees?
Could it be puppies or could it be me?
No use explaining, what you are painting
'Cause even then I could not see
What you are painting in your abstract painting,
It's all just a mess to me
Baltimore Area Council
For many people, art is the way they make their living. For others, it is a recreational activity which develops into a lifelong hobby. The Artist Activity Badge won't make an artist out of every Webelos Scout, but it should help each boy better understand how the artist works and what he's trying to express.
If you are not familiar with color charts, design, sculpture, mobiles, and constructions, you may wish to enlist the help of an experienced dad or mother or an art teacher. Beginner's books on art will also be helpful.
Webelos Scouts will learn to be more observant in this Activity Badge area as they learn to distinguish between colors, tints, and shades. They should appreciate and be more aware of design and color in nature as they learn about these elements of art. They will develop creativity as they practice design and work on sculptures, mobiles and constructions.
Field Trips
Attend an art exhibit or visit an art museum.
Visit your community or village center and look at some of the sculptures, statues, and fountains.
Keep an eye out for special art shows in the Sunday paper. Major art galleries and museums usually have an exhibit on display.
Take walking tour of an art plaza in your area, to see excellent examples of sculpture in the statues you can find there.
Visit the art department of a local college or an arts festival, and watch an artist at work.
Speakers
Pack Meeting
Demonstrate a color wheel.
Using poster paint, start with the 3 primary colors of red, yellow and blue, mix a little blue with the red to make violet and gradually mix in more blue to make blue violet. Then do the same with yellow and red, and red and blue.
Den Activities
Let the boys study a color wheel and practice combining paints making shades and tints with tempera or watercolor.
Ask boys to make a profile of a family member and an original picture at home.
Design is basic in all art. Have boys make two designs each of straight line, curved line, and a composite of both types of lines.
Have each boy make a pencil sketch of a bottle, dish, or other still object.
Hold an "Art Can Be Fun" night for the Webelos den families.
Have modeling clay and material on hand for making models.
Start simple sculptures to be finished at home. (See Webelos Scout book)
Make mobiles. Boys can bring some of materials for mobiles from home.
Have boys make drawings during a nature hike of birds, animals, trees, insects, plants, etc.
Afterimages
Eyes are funny things. Sometimes they can fool you.
Here is proof. Get some pieces of brightly colored paper, cardboard, or cloth. Be sure the colors are bright.
Use red, green, blue, yellow, orange, and violet.
Cut 3-inch circles from the colored sheets.
You'll need a sheet of black and a sheet of gray paper or cardboard, too.
Go outdoors in the bright sunlight or sit under a bright lamp indoors.
Put the red circle on the black paper and look at it steadily for at least thirty seconds. Be sure not to move your eyes. Sometimes the experiment works better if you shut one eye.
Now take the red circle away and continue looking steadily at the black background. You should see a circle on it, but the color will be green not red.
Try the experiment again, with a gray instead of a black background. The gray will also appear to be green.
Turning off the light or moving into a shadow sometimes increases the effect.
Try again, using a green circle. The afterimage will be red. Use a blue circle and the afterimage will be orange.
An orange circle will give a blue image;
Yellow will give violet and violet yellow.
We say that opposites are complementary colors.
We can arrange them in a circle as shown.
The order of colors, starting from violet to blue is the same as in the rainbow.
Many of the beautiful effects in paintings come from "retinal fatigue". The eye can get tired, just like a muscle .
It gets tired from looking at just red. And so, when you take the red away, the retina of the eye tries to see just the opposite , or complementary color. Look at the circle you made again and see if you can determine the afterimage or complementary color to red-orange.
What about blue-green?
Kim's Game:
Arrange 20 objects in an orderly fashion.
Have the Webelos study the objects in silence for 20 seconds.
Then each player returns to his seat and writes the names of as many objects as he can remember.
The one who names the most correct objects wins.
Artist's Quiz:
Match the answers on the right to the clues on the left.
A primary paint color a. Violet
Genius Kit b. Design
Arrangement of shapes or lines c. White
A secondary paint color d. Blue
Mixture of blue and yellow e. Construction
Hanging shape f. Green
Mixture of blue and red g. Orange
Add this color to make a lighter hue h. Mobile
Police Artist Drill:
Use an enlarged sheet of head sizes, hairstyles, eyes, mouths, noses and ears to trace an approximate likeness of a well-known person.
Let each boy take a sheet of tracing paper and move it around, selecting appropriate features for the likeness he is creating.
You might want to add this selection of features by tracing some hairstyles, mouths, or ears from magazines or newspaper ads.

Materials found in Baloo's Bugle may be used by Scouters for Scouting activities provided that Baloo's Bugle and the original contributors are cited as the source of the material.

Materials found at the U. S. Scouting Service Project, Inc. Website ©1997-2006 may be reproduced and used locally by Scouting volunteers for training purposes consistent with the programs of the Boy Scouts of America (BSA) or other Scouting and Guiding Organizations. No material found here may be used or reproduced for electronic redistribution or for commercial or other non-Scouting purposes without the express permission of the U. S. Scouting Service Project, Inc. (USSSP) or other copyright holders. USSSP is not affiliated with BSA and does not speak on behalf of BSA. Opinions expressed on these web pages are those of the web authors.