May 2006 Cub Scout Roundtable Issue

Volume 12, Issue 10
June 2006 Theme

Theme: Invent a Reason to Celebrate
Webelos: Traveler and Artist
Tiger Cub Activities
PACK & DEN ACTIVITIES
June Pack Summertime Activities
Sam Houston Area Council
Cub-Parent weekends, Day Camp or Resident Camp
Check your District and/or Roundtable or website for more information. Day camp is a lot of fun and gives your boys a jump start on advancement for their next rank. Cub-Parent Weekends are full of adventures and gets your son to spend a night at camp. Resident camps can be from 3 days up to a full week for Webelos, they begin to show your son what sort of adventures he will have outside in Scouting.
Pack Hornaday Project
Have your pack complete a conservation project and earn the Unit William T. Hornaday Award. The Unit version is one of seven William T. Hornaday Awards administered by the BSA. A Hornaday unit certificate, No. 21-110, is awarded to a pack, troop, team, or crew of five or more Cub Scouts, Boy Scouts, Varsity Scouts, or Venturers for a unique, substantial conservation project. At least 60 percent of registered unit members must participate. At least 60 percent of the registered unit members must participate. These units may be nominated, or they may apply to their BSA local council for recognition. Seehttp://www.scouting.org/awards/hornaday/awards.html
Good Turn for America
Have a service project that helps your unit earn the Good Turn for America recognition. Good Turn for America is a national call to service by the Boy Scouts of America to address the issues of hunger, homelessness, and poor health in our nation. In this effort, the Boy Scouts of America is partnering with some of the nation's most respected service organizations, including The Salvation Army, Habitat for Humanity, and the American Red Cross. These organizations, and thousands of others, will work to provide opportunities for youth and volunteers to fight hunger and homelessness, and teach the habits of healthy living. Youth and volunteers are looking for ways to serve their communities. At the same time, service organizations need dedicated volunteer help. By working together, we can improve our young people, our communities, and the nation.
President's Volunteer Service Award
The President's Council on Service and Civic Participation created the President's Volunteer Service Award program as a way to thank and honor Americans who, by their demonstrated commitment and example, inspire others to engage in volunteer service. This type of recognition is also designed to set a standard for every American – to encourage a sustained commitment to helping others and a lifelong habit of service.
http://www.presidentialserviceawards.gov/
See what local awards your state or region may offer(e.g. the Texas Criminal Justice Badge)
Earn the Cub Scout Leave No Trace Awards
Described in the Cub Handbooks. See more about Leave No Trace on Page 233.
June Pack Picnic
Who doesn't love a good old-fashioned or new fangled picnic?? Games, activities, and food for all
Find out what is in season and where the local U-Pick farms are and go hold a Blueberry (Strawberry, corn, tomato, …) Picking Outing
Our nation's countryside is dotted with blueberry farms, and plump juicy blueberries are ripe for the picking in June. Bake a blueberry pie or blueberry cobbler.
June Wolf Electives
Achievement 1, Your Flag – These activities could be worked around Flag Day, June 14
Achievement 10, Family Fun - Many of the activities could be based around a celebration
Elective 18f – Outdoor Adventures
June Bear Achievements and Electives
Achievements 3 and 4, What Makes America Special and Tall Tales – see if any of the things that make us special Achievement 8, The Past is exciting … – see if any of the exciting past events occurred in June.
Webelos Activity Badges
Traveler Activity Badge
Artist Activity Badge
Service Projects
Longhorn Council
Citizenship, best exemplified by the daily Good Turn has long been a tradition in Scouting. Good citizenship is best taught by service in action.
To get the most Cub Scouting has to offer, boys should have opportunities to take part in den and pack service projects. This is one of the best ways to show boys that helping other people is not only beneficial to others, but is fun and rewarding for themselves. They will experience a warm feeling that comes from giving to others.
Pack Project Suggestions
Contributions to one of the many organization which help alleviate hunger and starvation around our community or the world.
Plan a trip to a nursing or convalescent home around one of the Cub Scouts themes. Wear costumes, put on skits or puppet shows, or provide some type of entertainment.
Plan a service project to benefit your chartering organization. Check to see what type of help is needed, then get to work.
Prepare for Emergencies
Greater St. Louis Area Council
June is safety month. Help your Cub Scouts "Be Prepared!"
Take your Cubs to the local Police and/or Fire Department for a tour or invite the fire department to send a fire truck or an ambulance to your pack meeting.
Help the Cubs make first aid kits and explain how to use the items to them.
Review the WHO, WHAT, and WHERE of giving information over the phone during and emergency.
Who is calling – Tell the operator your name.
What happened – Give enough details to help emergency personnel
Where you are calling from, so that you can be found.
Make a list of emergency numbers for your area. Have scouts practice dialing (Does anyone have a dial phone?? Maybe this should be calling) these numbers on an unplugged telephone, have your leader act as the emergency operator.
Talk about fire safety and the importance of STOP-DROP- ROLL.
Flag Windsock Neckerchief Slide
Alapaha Area Council
Make this slide to celebrate Flag Day, June 14.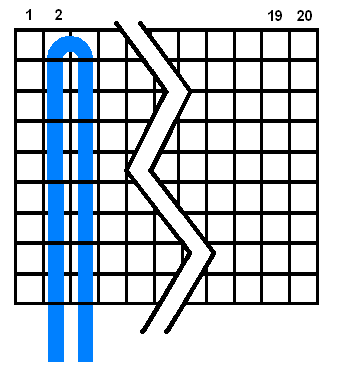 Notes on picture
Columns are vertical, Rows are horizontal
Row one is at bottom, row nine at the top
See the over under lacing by where the black line is on top and where it is underneath the blue plastic lacing
Materials
Plastic canvas cut to 9 holes by 20 holes
3 pieces dark blue plastic lacing, 6" long
3 pieces white plastic lacing, 6" long
3 pieces red plastic lacing, 6" long
Instructions
Start with a blue piece of lacing; fold in half.
Skip the first column and hole in the corner (row 9, column 1);
Thread the lace into the first holes in columns 2 and 3 of row of nine.
Pull it through half way (half will be used to lace column 2, half for column 3.)
Finish lacing all the way down column 2; there will be about 2" left as a tail.
Use the other half of the blue in column 3.
Repeat using white and red.
Repeat the whole series twice more, except for the last red
On the last red, roll up the canvas in a circle with columns 1 and 20 overlapping;
Use the last lace to lace the two sides together.
I think I would skip columns 1 & 2 in the beginning and start at column 3. Then I would overlap 1 & 2 and 20 & 21 with the last red for more stability. Plus each set (2 columns each of red, white and blue) uses 6 columns. You do it three times – 6 times 3 is 18. If you only overlap one column 20 minus 1 is 19, there is an extra column. But 20 minus 2 is 18 and so should come out even. CD
Glurch
Alapaha Area Council
Mix together in a large bowl 1 ½ cups of water and 2 cups of Elmer's glue.
In another bowl, dissolve 1 level teaspoon of borax in 1/3 cup of water.
Add the borax mixture slowly to the glue mixture.
Work the mixture with your hands.
Feel the coagulation take place.
Pull out the Glurch as it coagulates
You will have extra liquid left over.
So mix another batch of borax and water and repeat until all glue mixture is gone
Do not put on paper towels
Store in plastic zip-loc bags
After reading this I wondered, what does one do with Glurch?? So I went googling –
I found out that
Glurch is way cool stuff. It is squeezable, rollable, and you can even cut it with scissors. If you want, you can paint it, draw on it, or color it with markers. Glurch is, most of all, fun stuff, more fun even than Silly Putty ® or Play Doh®. With creative minds, it can entertain for a long, long time. According to www.kinderart.com Glurch can be set up to make raspberry noises like a whoopee cushion. And every Cub Leader knows that that would entertain the den for hours! Check it out!
There are a couple of other things you should know.
Glurch tends to want to escape from containers, so be sure to put the lid on or seal the bag when you put it away.
It gets harder as it gets older, so you may need to make another batch the next time you want to use it.
I, also, found out that Glurch has a partner, Oobleck and the two are used to teach students about solids and liquids. (http://student.biology.arizona.edu/sciconn/oobleck/oobleck.html)
See Website list in the back for more sites and interesting finds on Glurch. Including a site titled, ""Recipes for Yellow Gooey Sticky Messes."
Easy to Make Pictures
Greater St. Louis Area Council
This is a great craft that looks wonderful and can be adapted to most of the Cub Scout activities.
Materials:
Saran Wrap (less expensive brands will not)
Heavy Duty Aluminum Foil
Permanent Markers
Felt Scraps
Cardboard Rectangle
Mounting Tape (Scotch tape will not work)
Theme related pictures
Procedure:
Have boys choose picture. Do not use pictures with words or numbers.
Tape picture to top of table.
Tape piece of plastic wrap over picture. Wrap should be about 2 inches larger then picture.
Outline picture with black narrow
point permanent marker Then color the picture permanent markers.
Take a piece of foil about 3 inches larger around than cardboard and gently crinkle a ball, then gently open it up again.
Fold foil around cardboard. Shiny side should be showing.
Take plastic wrap with colored picture place it UP-SIDE-DOWN on top of the foil.
Secure it to the back of the cardboard using tape.
Display in a well lighted area.
Milk Bottle Cow
Great Salt Lake Area Council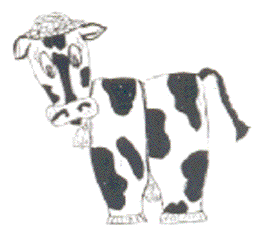 Materials
1 – ½ pint Chugs bottle or similar
2 – 1 pint Chugs bottles or similar
Pink and white craft foam
Small Straw hat
Artificial flowers
Black yarn
Small pink balloon
Craft cow bell
Plaster of Paris or sand
Black permanent marker
Directions:
Remove labels and wash bottles
Pour a small amount of Plaster of Paris or sand in both large bottles to add weight
Place cap on and turn bottles upside down
For udder, cut the top of balloon off about ½ inch from open end
Stuff the round part with a cotton ball and glue it to one of the large bottles just above the narrow part
Hot glue the bottles together (see picture)
Glue the hat with flower trim to the top of the small bottle
Add craft foam ears, snout and tongue
Draw two large cow eyes on head and random black spots all over head and body
Glue braided yarn on rump
Twiggy Family
Great Salt Lake Area Council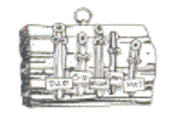 Materials
Twigs
Piece of Bark, Board or split log
Wiggle eyes
Glue
Ring
Black permanent marker
Directions:
Collect one twig for each member of your family.
Attach wiggle eyes
Glue twigs to bark
Attach ring to top for hanging
Label each twig for a member of the family (Pets can be included)
Or maybe your den wants to make a plaque like this to give your Den Leader with a twig for each Cub Scout!!
Paperweights or Magnets
Or maybe Neckerchief Slides
Greater St. Louis Area Council
Materials:
Modeling Dough
Lead weight (for paperweight)
Magnet (for magnet)
Directions:
Have the Cub Scouts use a design that fits with one of the holidays in June for this crafts.
Shape modeling dough into desired shape. The backside should be as flat as possible.
Press lead weight or magnet (or loop for neckerchief slide) into the back.
Let dry and paint.
Sun Neckerchief Slide
Baltimore Area Council

Material:
Flattened Bottle cap –
(HHHMMMmmm – I don't know where you get old-fashioned bottle caps these days unless you buy soda from Mexico (which will have real sugar instead of high fructose corn syrup. So it might be worth looking for and buying) but milk bottle caps will work real great for this craft. CD
Yellow spray paint
Directions:
Spray cap yellow or cut a sun out of a yellow poster board or foamie sheet with pinking shears.
Draw sunglasses and features with a fine-line Sharpie or other permanent marker.
Add a loop fashioned from a pipe cleaner or PVC pipe to the back for a neckerchief slide.
Celebration Seltzer Rockets
Baltimore Area Council
These rockets can't burn anyone!
You make them before you fly them.
Materials/Supplies:
Film canister with snap on lid (Fuji)
Toilet paper roll (double roll size, preferred)
Construction paper
Scissors
Scotch tape
Markers, crayons, or paints
Stickers, optional
Alka-Seltzer tablets (generic works fine)
Water in a container
Eye protection (glasses)
Directions:
Cut straight up the side of the toilet paper roll.
Insert the film canister at one end, making sure the end with the lid sticks out about 1/8".
Tape along one edge of the toilet paper roll onto the film canister.
Roll the toilet paper roll around the canister and tape tightly into place.
Cut a circle out of construction paper,
Cut a pie shaped wedge out of the circle.
Experiment with different sizes of circles to see if it makes a difference in how the rocket reacts upon launch.
Roll the paper into a cone shape and tape onto the other end of the toilet paper tube.
Decorate your rocket with markers, stickers, crayons, or paints.
Cut 4 squares out of construction paper to make fins if you wish.
Tape fins on to lower sides of rocket.
Take the rocket, water, Alka-Seltzer tablets, and eye protection outside.
Put on your eye protection.
Turn the rocket upside down, remove the lid from the canister, and fill ¼ full with water.
Drop in tablet and immediately replace lid and set on ground.
Back up!
Tips:
Experiment with using one or two tablets into the canister to see if it will shoot up higher.
Be sure to look for the tablets after the rocket fires, we were able to rouse some of them a couple of times.
Waxtex wax paper rolls appear to fit the film canisters, without having to cut them. Check any other type of rolled products you may have on hand, you may find another one that fits even better!
Spinning Yo-Yo
Alapaha Area Council
Not your typical yo-yo, but it will do for National Yo-Yo Day, June 6!

Drill two small holes 1/2 - 3/4 inches apart in a disk of wood or heavy cardboard.
Thread 24-30 inches of string through the two holes and tie a knot in the ends.
Hold one knot in each hand and twist the strings;
Keep the disk spinning by alternately tightening and releasing the tension.
Pinhole Camera
Alapaha Area Council
Celebrate Camera Day on June 29 with this simple craft.
Materials
Shoe box
Black paper
Tracing paper (parchment)
Pin
Duct tape
Instructions
On one end of the box, cut a round hole 1½ inches in diameter.
Cut a large rectangular hole in the other end
Cover the rectangular hole with tracing paper to make the screen.
Cover the round hole with black paper.
Make a single pinhole in the center of the black paper.
Tape the lid on the box so that no light gets inside.
Hold the camera with the pinhole pointing toward a bright lamp or window.
You should see an upside-down image on the screen.
If needed, put a blanket over your head and the screen end of the camera to block out light)
Washable Finger Paint
Alapaha Area Council
In a large saucepan, mix 1 cup all-purpose flour with 1 cup cold water.
Stir until smooth.
Then add another 3 cups cold water.
Cook over medium heat, stirring until mixture thickens and bubbles.
Reduce heat and simmer one minute more while stirring.
Divide into three heat-resistant bowls.
Tint with food coloring.
Cover and cool.
This makes a very good washable paint for finger painting or window painting.

Materials found in Baloo's Bugle may be used by Scouters for Scouting activities provided that Baloo's Bugle and the original contributors are cited as the source of the material.

Materials found at the U. S. Scouting Service Project, Inc. Website ©1997-2006 may be reproduced and used locally by Scouting volunteers for training purposes consistent with the programs of the Boy Scouts of America (BSA) or other Scouting and Guiding Organizations. No material found here may be used or reproduced for electronic redistribution or for commercial or other non-Scouting purposes without the express permission of the U. S. Scouting Service Project, Inc. (USSSP) or other copyright holders. USSSP is not affiliated with BSA and does not speak on behalf of BSA. Opinions expressed on these web pages are those of the web authors.