March 2006 Cub Scout Roundtable Issue

Volume 13, Issue 8
April 2007 Theme

Theme: Cub Cafe
Webelos: Family Membe & Sportsman
Tiger Cub Activities
SPECIAL OPPORTUNITY
The BSA Physical Fitness Award
A Program of Emphasis
For Cub Scouts, Boy Scouts, Venturers, and Leaders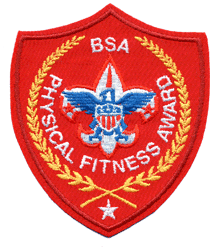 To Be Physically Fit
Two important challenges in preparing youth for the 21st century—particularly in today's increasingly automated and sedentary culture—are physical fitness and good health. Every adult leader for the year 2002 should set the example and contribute directly to the health and fitness of today's Scouts by completing requirements for the BSA Physical Fitness Award. The award's objectives, developed by the Council Services Division of the National Council and the national BSA Health and Safety Committee, are as follows:
Encourage youth fitness in the BSA by providing positive role models and by enhancing youth awareness and understanding of fitness parameters, health risks, and personal circumstances.
Encourage physical fitness among Scouters by enhancing their awareness and understanding of fitness parameters, health risks, and personal circumstances.
Reduce the rate of stress- and fitness-related incidents throughout Scouting.
This award is a national program of emphasis designed to heighten fitness awareness and to help change the lifestyles of American youth and adults regarding exercise and a healthy diet to improve the quality of their lives.
Many concerns have been voiced regarding the increasing percentage of overweight and out-of-shape adults and youth in America due to overeating, poor diet, and lack of exercise. The Boy Scouts of America is the organization that is best equipped to adopt a program of emphasis on physical fitness.
One of the founding purposes of the movement is to emphasize physical fitness. This program is intended to have significant grassroots involvement without encumbering a district or council. The target audience is the youth and adult members of the units.
Purpose
This award has been developed to
Encourage the development of attitudes, knowledge, and skills that promote fitness and safe conduct.
Lay a skill, knowledge, and attitude foundation of the seven major components of fitness.
Improve health, fitness, and quality of life through daily physical activity.
Recognition
Scouts and Scouters completing the requirements and earning the recognition receive a special certificate and may wear a special recognition pin and patch that can be purchased through their local council. The complete award application should be submitted to the council by the unit leader.
Teaching Areas
Instruction and participation must be conducted in an environment free from all hazards and dangers. All BSA precautions and safety measures apply to this award.
Mentor
Mentors will be identified by the council's health and safety committee, risk management committee, or training committee, and could include any person recognized and trained in activity education. A merit badge counselor in any physical activity-oriented merit badge may serve as a mentor for this award.
Mentors and merit badge counselors must have undergone the appropriate BSA merit badge counselor orientation training, as reviewed and identified by the council's training committee and health and safety committee.
The mentor should check to make sure all participants have had medical checkups from their physician prior to participation.
The mentor should not omit, vary, or add requirements unless part of the individual's goal.
The mentor should recognize that both youth and adults will participate in this program.
Mentors, merit badge counselors, and adult Scouters will be provided with the new trifold Leader's Fitness Card (pocket card) as they initiate this program. The council's training committee and health and safety committee will ensure that adequate supplies are available for the duration of the BSA Physical Fitness Award program.
Requirements
Complete a cardiovascular fitness evaluation/consultation with your personal health care provider. (This can be done as part of the examination required by any council-approved class 3 medical evaluation.)
Using the BSA references listed after the seven major components, give a presentation to a BSA or other community youth group (at least eight youth participants) on cardiovascular fitness, diet, the health benefits of regular aerobic exercise, exercise recommendations for the Scout-age group, and healthy lifestyles.
Review the BSA guidelines for the Athletics and other physical activity or personal fitness-oriented merit badge and explain steps you have taken to follow each of the guidelines for the fitness goals. Explain precautions to be taken for a physical fitness activity in each of the following: woods, fields, facilities, and waterfront.
Explain to your mentor the symptoms of dehydration and hypothermia. Explain the special considerations for preventing dehydration and hypothermia.
Properly outfit for physical activities with proper equipment, clothing, and footwear. Know your own capabilities and limitations. Illustrate how you would prepare for the physical fitness goals included in the award program.
With supervision from your mentor or other qualified persons, set up a fitness goal-oriented plan using the seven major components of fitness.
Demonstrate your ability to improve your strength, posture, endurance, agility, speed, accuracy, and balance with your own goal-oriented fitness plan.
An application for the award may be downloaded from -
http://www.scouting.org/pubs/19-327/application.pdf
Most of the information here was obtained from
http://www.scouting.org/pubs/19-327/index.html
Thanks to Russ in Timucua District for suggesting I feature this award.
Knot of the Month
Roundtable Staff Training Award

It's getting to be District Dinner time and be sure you take time to recognize your faithful Roundtable Staff. The Roundtable Staff Award is available to all Scouters. By showing your skills and crafts at Roundtable, you receive recognition for your extra effort to help other Scouters in our District. Requirements include attending Roundtable Training, staff meetings (4 times per year), helping with 6 breakout sessions over two years, developing a display that relates to a Roundtable theme, doing an opening ceremony, and doing a Roundtable presentation. Sound hard? It's not (or is it knot?). The Roundtable Commissioner is always looking for people to help put on our great roundtables. We (Dave and Karl and hopefully, every other RT Commissioner) value our friendships with those on staff. If you would like to be part of the fun, ask your Commissioner tonight.
For a progress record of the requirements, go to:
http://www.dacbsa.org/forms-BSA/34169-60-ProgressRecord-RoundtableHuddleStaff-1994.PDF

Materials found in Baloo's Bugle may be used by Scouters for Scouting activities provided that Baloo's Bugle and the original contributors are cited as the source of the material.

Materials found at the U. S. Scouting Service Project, Inc. Website ©1997-2006 may be reproduced and used locally by Scouting volunteers for training purposes consistent with the programs of the Boy Scouts of America (BSA) or other Scouting and Guiding Organizations. No material found here may be used or reproduced for electronic redistribution or for commercial or other non-Scouting purposes without the express permission of the U. S. Scouting Service Project, Inc. (USSSP) or other copyright holders. USSSP is not affiliated with BSA and does not speak on behalf of BSA. Opinions expressed on these web pages are those of the web authors.