March 2006 Cub Scout Roundtable Issue

Volume 13, Issue 8
April 2007 Theme

Theme: Cub Cafe
Webelos: Family Membe & Sportsman
Tiger Cub Activities
CUB GRUB AND FUN FOODS
The Cardboard Box Oven
Russ, Timucua District
A cardboard box will make an oven -- and it works just as well as your oven at home! There are different ways to make a cardboard box oven.
The copy paper Box Oven
The cardboard boxes that hold 10 reams of 8 1/2 by 11 inch paper, or 10 reams of 8 1/2 by 14 inch paper, will make very nice box ovens.
Line the inside of the box and lid with aluminum foil.
Use a sponge to dab some Elmer's glue around the inside and cover to hold the foil in place.
Make a couple holes in the cover to let the combustion gases out, and make a few holes around the sides near the bottom, to let oxygen in.
Make a tray to hold the charcoal using one or two metal pie plates.
You can either make feet for a single pie plate using nuts and bolts, or bolt two pie plates together bottom to bottom.
Cut a couple coat hangers to make a rack to hold up the cooking pan. Poke the straight pieces of coat hanger through once side, and into the other. Two pieces will usually do fine.
Put several lit briquettes on the pie pan,
Put your cooking pan on the rack, and place the cover on top.
The first time you use this box oven, check it a few times to make sure that enough oxygen is getting in, and enough gases are escaping, to keep the charcoal burning.
For all box ovens:
Control the baking temperature of the oven by the number of charcoal briquettes used. Each briquette supplies ~40 degrees of heat (a 360 degree temperature will take ~9 briquettes).
Experiment! Build an oven to fit your pans –
Or your menu: Bake bread, brownies, roast chicken, pizza or a coffee cake.
Construct a removable oven top or oven door.
Punch holes on opposite sides of the oven and run coat hanger wire through to make a grill to hold baking pans.
Hot Dog Octopus
Russ, Timucua District
This is always a favorite at Day Camp CD
Ingredients
Note: If the Cubs haven't earned their whittling chip yet, have an adult perform the cutting operation(s). Caution those Cubs who use knives to handle them properly.
Directions:
Cut the bottom 3/4 of a wiener into 8ths, using vertical cuts. Leave the top 1/4 intact.
Boil the wiener as you normally would.
When done, the Cubs now have a crazy octopus with wavy arms!
Pancake Faces
Great Salt Lake Council
Ingredients:
Pancake batter
Food color
Favorite pancake toppings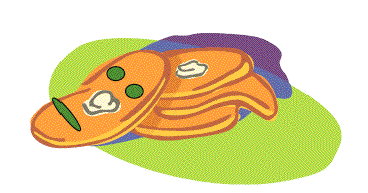 Directions:
Heat griddle.
Mix up your favorite pancake batter.
In a small bowl pour a cup of the pancake batter and mix in a food color.
Spray the griddle with nonstick cooking spray.
Using a spoon, with the colored batter, make eyes, nose and mouth on the griddle (pancake size).
Pour the regular pancake batter on top covering the face.
When the edges are crisp and the bubbles are popping on top, turn the pancake.
Voile! You have a face! Try making aliens, monsters or your favorite animal.
Serve with your favorite pancake toppings.
Grilled Cheese Dippers
Great Salt Lake Council
Ingredients:
White or wheat bread
Softened butter or margarine
American cheese singles
Swiss cheese singles
Mild salsa
Directions:
Heat griddle.
Spread butter or margarine on the outside of the bread.
Place a slice of American cheese on the inside of one slice of bread and the Swiss cheese on the top of the American cheese;
Place the unbuttered side of the other slice of bread on the top of the cheeses.
Place the sandwich on the hot griddle and cook until golden brown, turn and cook the other side as well.
Move to a cutting board and let cool for 5 minutes.
Dish the salsa into a small dish.
Cut the sandwich into 4 rectangle strips.
To eat, dip the sandwich strips into the salsa.
Super Kiss
Russ, Timucua District
Ingredients (makes two to four kisses)
Butter or margarine, 1 stick
Miniature marshmallow, 1 package, 16 ounces
Plain or chocolate crisp rice cereal, 12 cups
Equipment:
Large plastic kitchen funnels, two or more
Ribbon of choice
Large saucepan,
large spoon
Cookie sheet,
plastic wrap
Scissors
measuring cup
Directions:
Coat inside of plastic funnels with butter or margarine and cover cookie sheet with plastic wrap; set both aside.
Melt butter or margarine in saucepan over a low to medium heat; add marshmallows.
Heat until marshmallows are completely melted, stirring constantly.
Remove from heat and add cereal;
Stir until cereal is well coated.
Cool slightly, but not completely.
Lightly butter fingers; press mixture into plastic funnel.
Note: Using more than one funnel at a time will speed up shaping process.
Place filled funnel on plastic-covered cookie sheet.
Let cool.
Unmold kiss and cover with plastic wrap closed.
Bugs On A Log
Russ, Timucua District
Ingredients
Celery
Peanut butter or cottage cheese
Raisins, sunflower or sesame seeds
Directions:
Stuff celery with the peanut butter or cottage cheese. Sprinkle with raisins or seeds and enjoy.
Chocolate Spiders
Russ, Timucua District
Ingredients
1 12 oz. bag semi-sweet chocolate chips
1 6 oz. bag butterscotch chips
1 7 oz. can salted peanuts
1 3 oz. can chow mein noodles
Directions:
In a medium saucepan over very low heat, melt the chocolate and butterscotch chips.
Quickly stir in the peanuts and chow mein noodles.
Drop by spoonfuls on wax paper and refrigerate until hard.
Cheesy Chili Success
Russ, Timucua District
Ingredients
1 bag Success Rice
1 can Hormel Chili No Beans
1 cup process cheese spread
1/2 cup sour cream
chopped red bell pepper
Tomato slices
Directions:
Cook rice according to package.
Drain and set aside.
Combine other ingredients in pan and heat until cheese is melted.
Stir to blend well.
Serve over rice.
Garnish with peppers & tomato.
Serves 4
Cheesers
Russ, Timucua District
Ingredients
tortillas
Monterey Jack cheese
Salsa
Directions:
Heat a tortilla in skillet; place cheese and salsa on top.
Place another tortilla on top,
Flip tortillas and heat until cheese is melted.
Cut in 4's and eat as you make the next one.
Easy Quesadillas
San Gabriel Valley-Long Beach Area-Verdugo Hills Councils
Directions:
Mix one can of cheddar cheese soup, 1/2 cup salsa and 1 pound cut up cooked chicken or turkey.
Warm 3 minutes in the microwave.
Scoop onto tortillas and fold the tortilla in half.
Place on a cookie sheet.
Cook 5 minutes in a 400 degree oven. Eat and enjoy!
Yummy Cookies
San Gabriel Valley-Long Beach Area-Verdugo Hills Councils
Directions:
Melt 1 package of butterscotch chips (2 cups) and 1 cup peanut butter in the microwave about 2 minutes or until the chips melt when stirred.
Quickly put in 6 cups of corn flakes and gently stir until all the cornflakes are coated.
Drop the cookies onto a cookie sheet that was lined with wax paper.
Freeze for 5 minutes and then eat!!!
Pizza Roll Ups
Great Salt Lake Council
Ingredients:
Slices of pepperoni
Shredded mozzarella cheese
Refrigerated crescent rolls
Warmed pasta sauce or pizza sauce
Directions:
Heat the oven to 375 °.
Remove the dough from the can and separate into 8 triangles.
Stretch out each triangle a little bit with your fingers.
Put three pepperoni slices lengthwise down the center of each triangle.
Put about a tablespoon of cheese on top of each triangle.
Roll up each of the triangles, starting with the shortest side and rolling to the opposite point.
Put rolls point side down on an ungreased cookie sheet.
Bake for 10 to 14 minutes or until golden brown.
Pour pasta or pizza sauce into small individual bowls.
Serve the crescents with the warmed sauce for dipping.
MAC & STUFF
Russ, Timucua District
Ingredients
1 box Macaroni and Cheese
4 hot dogs. sliced
1 1/4 cups water
2 T. margarine
2 cups Stove Top chicken flavor Stuffing Mix
1 cup thawed frozen peas
Directions:
Prepare Mac and cheese dinner as directed on box.
Meanwhile bring water, peas, hot dogs, and margarine to boil in large saucepan.
Stir in stuffing mix, cover, remove from heat,
Let stand 5 minutes.
Stir stuffing mixture into macaroni and cheese dinner.
Serves 6.
Spicy Chicken Wings
Russ, Timucua District
Ingredients
Marinade 16-24 chicken wings
1/2 cup tomato sauce
2 T. herb vinegar
1/4 cup vegetable. oil
1 tsp. garlic powder or minced garlic
1 tsp. Tabasco **
1 tsp. celery seed or celery salt
1/2 cup brown sugar**
6 peppercorns or 1 tsp. pepper (black or white)
1/2 tsp. chili powder**
** vary amounts to your taste.
Directions:
Combine marinade ingredients and bring to boil;
Let cool..
Cut the wings at the joints for finger eating
Submerge the chicken wings in marinade in a zip-lock bag and refrigerate or cool in the ice box for 3 hr.
Preheat broiler or start the charcoal. You need 30-40 minutes for charcoal.
Arrange wings on broiler or grill.
Brush with marinade and broil 4-10 minutes on each side, or until crispy.
Check broiler or grill often.
Hot Fudge
San Gabriel Valley-Long Beach Area-Verdugo Hills Councils
Directions:
Mix 1 can sweetened condensed milk (not evaporated) and two cups of semi-sweet chocolate chips
Place in microwave for 1 minute
Heat for 1 more minute or until chocolate chips melt when stirred.
Stir in 1/4 cup milk until the milk is fully mixed in.
Serve warm over ice cream. Umm umm good!!
Cookie Painting
San Gabriel Valley-Long Beach Area-Verdugo Hills Councils
Buy refrigerated sugar cookie dough or make your favorite recipe.
Roll into "canvasses" or rectangles about 5 or 6 inches long.
Place the cookies on a greased cookie sheet.
Paint with colored egg yolk paint (an egg yolk blended with 4 or 5 drops of food coloring) using a different paint brush for each color.
Bake in a preheated 350 degree oven for 8 to 10 minutes or until the sides of the canvas are golden brown.
If you put the paint on thick it will look like stained glass!!
Easy Ice Cream
San Gabriel Valley-Long Beach Area-Verdugo Hills Councils
Ingredients
1 bottle 2 liters fruit flavored soda pop
1 can (14 oz.) sweetened condensed milk.
Ice cream freezer, ice, ice-cream salt
Directions:
Pour the soda pop and the condensed milk into the freezer container and mix thoroughly
Freeze the mixture according to freezer directions.

Materials found in Baloo's Bugle may be used by Scouters for Scouting activities provided that Baloo's Bugle and the original contributors are cited as the source of the material.

Materials found at the U. S. Scouting Service Project, Inc. Website ©1997-2006 may be reproduced and used locally by Scouting volunteers for training purposes consistent with the programs of the Boy Scouts of America (BSA) or other Scouting and Guiding Organizations. No material found here may be used or reproduced for electronic redistribution or for commercial or other non-Scouting purposes without the express permission of the U. S. Scouting Service Project, Inc. (USSSP) or other copyright holders. USSSP is not affiliated with BSA and does not speak on behalf of BSA. Opinions expressed on these web pages are those of the web authors.