December 2006 Cub Scout Roundtable Issue

Volume 13, Issue 5
January 2007 Theme

Theme: Poles Apart
Webelos: Fitness & Scientist
Tiger Cub Activities
THOUGHTFUL ITEMS FOR SCOUTERS
Thanks to Scouter Jim from Bountiful, Utah, who prepares this section of Baloo for us each month. You can reach him at bobwhitejonz@juno.com or through the link to write Baloo on www.usscouts.org. CD
Roundtable Prayer
Cub Scout Roundtable Planning Guide
We ask for your help to reach the pole or goal we set for ourselves. We ask for perseverance in exploring to achieve that 'pole.' Amen.
Poles Apart, the First Men at the Poles
Scouter Jim
There is no question who first reached the South Pole. On Friday, December 14, 1911 at 3:00 pm, there was a simultaneous cry of "Halt." Roald Amundsen, Olay Bjaaland, Oscar Wisting, Sverre Hassell, and Heimer Hanssen each struggled with weathered, frostbitten hands to plant a Norwegian flag into the South Pole. Admundsen's rival, Robert F. Scott did not reach the pole until January 17, 1912. He and all his men died on their return journey.
The North Pole on the other hand, is a different question. Admiral Robert Peary, Matthew Henson, and four Inuit natives reached what they calculated as the North Pole on April 6, 1909. On their return trip, they heard that Dr. Frederick A. Cook claimed to have reached the North Pole on April 21, 1908. After some debate, Cook's claim was denied. Scientists investigating the papers of both men in recent years have some doubts whether either team reached the exact North Pole.
The story of the exploration of the North Pole is a story of a loyalty and resourcefulness. Matthew Henson was born in Charles County, Maryland on August 8, 1866. He was only twelve-years-old, when, as an orphan, he walked from his home in Washington, D.C. to Baltimore Maryland to get a job as a cabin boy. Reluctantly, he was hired by a Captain Childs as a cabin boy on his merchant ship. Matt sailed the world and visited exotic places. When Captain Childs died, Matt left the ship due to the racism and prejudice from the white sailors. Matt got a job as a clerk at a furrier back in Washington, D.C.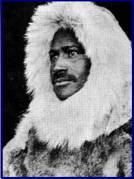 It was here that Matthew Henson met Robert Peary. Peary had come to the furrier to sell furs he had collected in the Artic. Peary offered Henson a job as his personal assistant. Matt proved to be a skilled mechanic, navigator and carpenter. In the Artic, Matt learned the native language and Artic survival from the Inuits. He taught Peary and other members of his team these survival skills. In the quest for the pole, Peary said of Matt, "Henson must go all the way. I can't make it there without him." Matthew Henson died on March 9, 1955 and was buried at the Woodlawn Cemetery in the Bronx, New York. In 1987, his remains and those of his wife were moved to rest next to his old friend and companion, Admiral Robert Peary, in Arlington National Cemetery. Of his rival's claim to have reached the North Pole before him, Matthew said, "Cook was probable just confused." Matt Henson truly lived his life by the values of the Cub Scout Law.
I promise to do my best
To do my duty to God and my country,
To help other people, and
To obey the Law of the Pack.
Quotations
Quotations contain the wisdom of the ages, and are a great source of inspiration for Cubmaster's minutes, material for an advancement ceremony or an insightful addition to a Pack Meeting program cover.
"For scientific leadership, give me Scott; for swift and efficient travel, Amundsen; but when you are in a hopeless situation, when there seems to be no way out, get on your knees and pray for Shackleton." — Sir Raymond Priestley.
"We must always remember with gratitude and admiration the first sailors who steered their vessels through storms and mists, and increased our knowledge of the lands of ice in the South." — Roald Amundsen (1872—1928).
"We must always remember with gratitude and admiration the first sailors who steered their vessels through storms and mists, and increased our knowledge of the lands of ice in the South." — Roald Amundsen (1872—1928).
"Polar exploration is at once the cleanest and most isolated way of having a bad time which has yet been devised." — Cherry-Garrard.
"Nothing easier. One step beyond the pole, you see, and the north wind becomes a south one." — Robert Peary (1856—1920), explaining how he knew he had reached the North Pole.
"If there really is a pole at the North Pole, I bet there's some dead explorer-guy with his tongue stuck to it."
— Bob Van Voris.
"If you ever go to Antarctica, don't order your drinks with ice. You'll just look like a tourist."
"No person who has not spent a period of his life in those 'stark and sullen solitudes that sentinel the Pole' will understand fully what trees and flowers, sun-flecked turf and running streams mean to the soul of a man."
- Ernest Shackleton
"I have often had the impression that, to penguins, man is just another penguin - different, less predictable, occasionally violent, but tolerable company when he sits still and minds his own business." - Bernard Stonehouse

The Frozen Continent
http://www.scouting.org/boyscouts/resources/18-900/index.html
Antarctica, the continent lying around the South Pole, has an area of 5.4 million square miles, making it larger than the United States and Mexico. An ice sheet reaching nearly three miles in thickness covers all but about 2 percent of this frozen continent.
Antarctica is the coldest continent. The world's record low temperature of -128.6ºF was recorded there. The mean annual temperature of the interior is -70ºF. Along the Antarctic Peninsula, temperatures as high as 59ºF have been recorded.
The coasts of Antarctica are the windiest places in the world; gusts have been recorded at nearly 200 miles an hour.
Some 200 million years ago Antarctica was joined to South America, Africa, India, Australia, and New Zealand in the single large continent Gondwana. There was no ice sheet, the climate was warm, the trees and large animals flourished. Today, only geological formations, coal beds, and fossils remain as clues to Antarctica's temperate past.
Surrounding Antarctica are the southern parts of the Pacific, the Atlantic, and the Indian Oceans. Sea ice to ten feet thick forms outward from the coast. In summer the sea ice occupies less than two million square miles. But in winter it is a wide belt of eight million square miles, an area that exceeds that of the continent itself and which is impenetrable even by icebreakers.
Life has a tenuous hold on Antarctica. The ice-covered interior supports no life at all. Bacteria and yeasts have been recorded on exposed rocks. Lichens and mosses occur in a few ice-free areas, and two flowering plants grow along the Antarctic Peninsula. Native land animals are limited to seventy-six species of insects.
The cold ocean waters are rich in nutrients and produce an immense amount of phytoplankton, which supports large populations of krill, fishes, birds, seals, and other animals. In summer, birds (particularly penguins) and seals come ashore to establish rookeries and breed, but they get their food from the sea.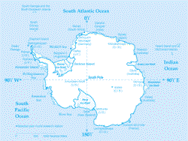 The Antarctic Scout will join teams of scientists conducting research during expeditions scheduled for the Antarctic summer season. The focus of this assignment is to add value to the different research teams by providing the positive assistance required to accomplish their mission. As a support member, the candidate will assist the scientists in the daily activities required to successfully conduct their field research projects. These assignments may be as simple as helping to cook the daily meals and doing camp chores to the more challenging tasks of gathering and analyzing samples for testing—and even wrestling seals!
The candidate contributes to the National Science Foundation goal of providing students with opportunities to participate in research activities outside the college or university setting and involving students at all levels with pioneering research

Materials found in Baloo's Bugle may be used by Scouters for Scouting activities provided that Baloo's Bugle and the original contributors are cited as the source of the material.

Materials found at the U. S. Scouting Service Project, Inc. Website ©1997-2006 may be reproduced and used locally by Scouting volunteers for training purposes consistent with the programs of the Boy Scouts of America (BSA) or other Scouting and Guiding Organizations. No material found here may be used or reproduced for electronic redistribution or for commercial or other non-Scouting purposes without the express permission of the U. S. Scouting Service Project, Inc. (USSSP) or other copyright holders. USSSP is not affiliated with BSA and does not speak on behalf of BSA. Opinions expressed on these web pages are those of the web authors.