November 2006 Cub Scout Roundtable Issue

Volume 13, Issue 4
December 2006 Theme

Theme: Cub Scout Stars
Webelos: Craftsman & Scientist
Tiger Cub Activities
PACK ADMIN HELPS
Centennial Quality Awards Program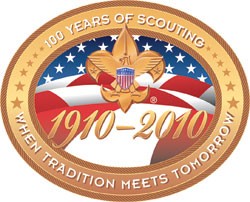 This summer at the Philmont Training Center the director of the BSA Division that wrote the requirements for and is now coordinating the implementation of the Centennial Quality Awards Program came to talk with my Commissioner Class. And of course we asked him -
Why -
"To improve the QUALITY of program
in every unit in America!"
The new program has each level of the organization establish annual goals to accomplish in key areas of quality program delivery from 2007 through 2010. When a unit, district, or council earns this award, it makes a statement that they have provided their youth members with the highest quality program experience possible.
He was very excited about the program and told us about a lot of the good ideas that went into creating the program and the requirements and how it is felt the Centennial Quality Awards Program can help units improve.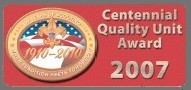 In the literature available on the awards from National's Website ( www.scouting.org , then click on the Centennial Awards link) you can see how carefully they crafted this program.
2007 Centennial Quality Unit Award Commitment and Interpretation of Requirements
This information is taken from BSA Publication 14-175-1, "Centennial Awards Program - Council Implementation." In bold print are the requirements. In Italics are interpretations to the requirements intended to help the unit leaders understand the requirements while they are completing the commitment form. CD
All units are encouraged to establish goals that increase their participation over the previous year.
We will have ______ percent of our direct contact leaders complete Basic Leader Training for their
position, including Youth Protection Training.
Each of our adult leaders (Cubmasters, den leaders, Webelos leaders and all assistants, Scoutmasters and assistants, crew Advisors and associates) who meet with youth regularly are trained in Fast Start and Basic Leader Training. You identify how many are registered and develop a plan to have them trained. If a leader is newly signed up within the past two months, you will want them to commit to getting trained, but they do not keep the unit from earning the award.
__________ Number of direct contact leaders registered
__________ Number trained
As one of the committed units in our district, we commit to retaining ______ percent of our members, recruiting ______ new youth, and rechartering on time.
Goal of retention of youth and goal for recruiting of new youth to be set with commissioner and unit leader at beginning of calendar year.
__________ Goal new youth to recruit
__________ percent retention last year
__________ Actual new youth recruited
__________ percent retention this year
__________ Rechartered on time (Yes or No)
As a participating unit in the national parent initiative, we commit to recruit and train ___ new adults to be active.
__________ Number of new adults recruited
We had a minimum of 60 percent of our youth members advance in rank for Cub Scouting and Boy
Scouting or earn Venturing recognition awards, or we improved by 10 percent over last year.
This includes the basic ranks of Cub Scouting and Boy Scouting. The recognition award program is the measure for Venturing.
Percent advanced/earned
_________ last year,
_________ this year
At least 70 percent of our youth members had an outdoor experience or one activity per month, or improve the percentage over last year.
Specify in advance the events that will be used and how many are required to qualify. (For Cub Scouting, this would include a pack meeting.) This may vary for each type of program.
__________ percent participated last year.
__________ percent participated this year.
We will conduct annual program planning and will provide the financial resources to deliver a quality program to our members.
Our unit has an annually planned program. The unit develops a budget of needed expenses and plans how they will provide the finances to achieve a quality program, either through unit fund-raisers or each member providing their own finances.
__________ Yes __________ No
Additional Goals.
When commissioners meet with units as part of the action planning meeting, they will review other areas critical to providing a quality program. These are part of the unit self-assessment process, provided to commissioners as a part of their monthly unit visit. These include 100 percent of families subscribing to Boys' Life, an annual service project recorded on the Good Turn for America Web site, two-deep leadership, an active committee, youth training for Boy Scouting and Venturing, use of the patrol method for Boy Scouting, and other areas as needed for special emphasis annually.
Now that I have gotten you interested, I hope you will go to National's Website and learn more about the National Centennial Awards. There is, also, an FAQ section with many questions and answers, including what do December chartering units do. Next month I will have information on Unit Self-Assessment and Action Planning Meetings held between Unit leader (Cubmaster), Committee Chair and Unit Commissioner. CD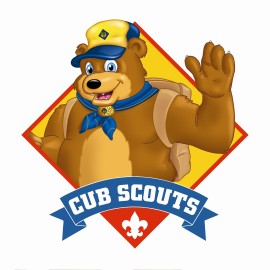 Does Your Pack Have a Baloo??
Sam Houston Area Council
Baloo is a Cub leader who knows how to have fun, and likes to share that fun with others. Start every pack meeting with a fun participation song or activity for all Cubs and family members. This should be led by an energetic adult (or Webelos Scout) acting as Baloo for the Pack meeting. This encourages people to be at the pack meeting on-time and it gets the show rolling with a bang. Later in the Pack meeting, Baloo will also be the one leading cheers for songs, skits and awards.

Materials found in Baloo's Bugle may be used by Scouters for Scouting activities provided that Baloo's Bugle and the original contributors are cited as the source of the material.

Materials found at the U. S. Scouting Service Project, Inc. Website ©1997-2006 may be reproduced and used locally by Scouting volunteers for training purposes consistent with the programs of the Boy Scouts of America (BSA) or other Scouting and Guiding Organizations. No material found here may be used or reproduced for electronic redistribution or for commercial or other non-Scouting purposes without the express permission of the U. S. Scouting Service Project, Inc. (USSSP) or other copyright holders. USSSP is not affiliated with BSA and does not speak on behalf of BSA. Opinions expressed on these web pages are those of the web authors.