November 2006 Cub Scout Roundtable Issue

Volume 13, Issue 4
December 2006 Theme

Theme: Cub Scout Stars
Webelos: Craftsman & Scientist
Tiger Cub Activities
GATHERING ACTIVITIES
Note on Word Searches, Word Games, Mazes and such – In order to make these items fit in the two column format of Baloo's Bugle they are shrunk to a width of about 3 inches. Your Cubs probably need bigger pictures. You can get these by copying and pasting the picture from the Word version or clipping the picture in the Adobe (.pdf) version and then enlarging to page width. CD
BSA Idol
Sam Houston Area Council
Have a Karaoke set up and let the boys and siblings ham it up with a BSA Idol competition as they arrive.
Space Derby
Sam Houston Area Council
Set up your space derby racer and have the boys play with either a few pre-made racers or have the kits there and they can make them and use them.
Paper Airplane Contest
CD
Get ideas for folding paper and creating different paper airplanes from the web.
Have supplies at the meeting place
Have boys fold and make paper airplanes. Either designs they and their parents like or new ones from your search
Let them fly their airplanes to see how they go.
STAR SEARCH
Grand Canyon Council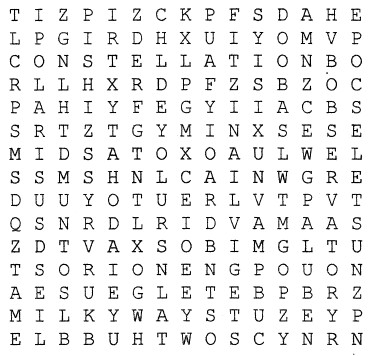 ASTRONOMY BETELGEUSE SUN
BINOCULARS CONSTELLATION GALAXY
HUBBLE LITTLE DIPPER
MILKY WAY NEBULA NORTH STAR
OBSERVATORY ORION PEGASUS
POLAR1S RED GIANT SIRIUS
TELESCOPE
Pre opening Game
Grand Canyon Council
Have nametags made up using five constellations.
As the people arrive, they are to find as many other people with same constellation as possible
Then they can – (Choose One)
Make a model of their constellation
Look up with something to say about their constellation
See who can remember the most names from the members of their group
C O N S T E L L A T I O N
Grand Canyon Council
How many 3 letter or more words can you find in the word, constellation?
STAR UNSCRAMBLE
USN
PPIBREGID
LATSINNOTCELL
XYLGAA
ROONI
TRYSAMOON
TRAS
YKLIM AYW
PEELSTOCE
KEY
1. Sun 2. Big Dipper 3. Constellation
4. Galaxy 5. Orion 6. Astronomy
7. Star 8. Milky way 9. Telescope
Shooting Stars
Grand Canyon Council
Shooting stars are fun to find and watch.
For the pre-opening activity have the Cubs pack an egg so that it can survive a ten foot (large) drop onto a hard surface.
Materials: Eggs, Ziploc bags, tape, Styrofoam sandwich box, packing materials such as cotton, newspaper, peanuts, grass, leaves, etc.
Directions:
Put the egg inside he Ziploc bag,
Then pack it any way you want inside the box.
Tape the box well and write name on it.
Drop the boxes from a balcony, or high place,
Then check to see whose egg survived.
Give out Mars, Milky Way or Starbursts for prizes
A-Mazing Star:
Sam Houston Area Council
Try your luck at navigating this real hedge maze. The Bellingham Maze is located in Queensland, Australia, and you can walk through it from the left-most point of the star and get to the right-most point…if you dare.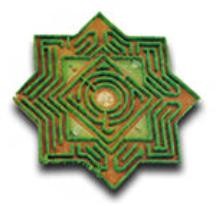 When you have a good repro of this maze in an appropriate size, you can do it. But a small black & white is hard to see the paths. You will probably need color reproduction. CD
Tongue Twister
Grand Canyon Council
Have boys try and say this and / or other tongue twisters as fast as they can -
WE SURELY SHALL SEE THE SUN SHINE SOON

Materials found in Baloo's Bugle may be used by Scouters for Scouting activities provided that Baloo's Bugle and the original contributors are cited as the source of the material.

Materials found at the U. S. Scouting Service Project, Inc. Website ©1997-2006 may be reproduced and used locally by Scouting volunteers for training purposes consistent with the programs of the Boy Scouts of America (BSA) or other Scouting and Guiding Organizations. No material found here may be used or reproduced for electronic redistribution or for commercial or other non-Scouting purposes without the express permission of the U. S. Scouting Service Project, Inc. (USSSP) or other copyright holders. USSSP is not affiliated with BSA and does not speak on behalf of BSA. Opinions expressed on these web pages are those of the web authors.