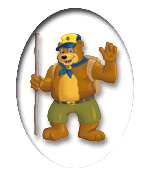 CONTACT BALOO


Write to Baloo (Click Here) to offer contributions, suggest ideas, express appreciation, or let Commissioner Dave know how you are using the materials provided here. Your feedback is import. Thanks.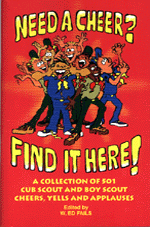 July 2005 Cub Scout Roundtable Issue

Volume 11, Issue 12
August 2005 Theme

Theme: Campfire Tales & Traditionsl
Webelos: Naturalist & Forester
Tiger Cub Activities
PACK ADMIN HELPS
The Pack Meeting
Cradle of Liberty Council
Reasons for having a Pack meeting
To give the dens something to look forward to.
To get parents involved in their son's work.
To recognize through ceremonies both boys and leaders
To give boys a chance to show off their accomplishments.
Pack Meeting Room Arrangement
Most popular "U" shape with dens sitting in marked assigned groups
Table up front with stand up display or something to attract attention.
Flag stand for flag ceremony
Den advancement charts
Move arrangement around once in a while to make interesting
Planning the Pack Meeting
Always use the suggested outline for planning the pack meeting found in the CS Leaders Book
Always keep your Pack Meetings between an Hour and an Hour and a quarter
Always plan you pack meeting well in advance. The committee meeting is an ideal time.
Plan the dates of the pack meetings at the annual planning conference. Plan a few special Pack Meetings – Blue & Gold, Campfire..
Assigning the work
The Cubmaster is the program director and he should be assigning jobs and presentations to take place during the pack meeting.
The Cubmaster is the emcee, but many other leaders and boys should be assisting in making presentations.
Pack committee should plan on who is going to welcome parents and Scouts and plan for the overall group participation.
Den Chiefs are also a useful resource for pack meetings.
Refreshments
Make it simple. Cup cakes and juice work fine. The more complicated your refreshments become, the more people it will take to pull it off….drawing precious resources away from the important things like advancements and recognition.
Results
The Pack meeting should result in a fun filled, spirited evening that no one wants to miss. Make it fun and creative and everyone will want to come. Make it boring and laborious and no one will
Drop me a line and let me know where you want help. I'll see what I can find in my resources – written, internet, and most importantly – Scouting Friends!! CD
.
Return to Top of Page - Click Here

Materials found in Baloo's Bugle may be used by Scouters for Scouting activities provided that Baloo's Bugle and the original contributors are cited as the source of the material.

Materials found at the U. S. Scouting Service Project, Inc. Website ©1997-2005 may be reproduced and used locally by Scouting volunteers for training purposes consistent with the programs of the Boy Scouts of America (BSA) or other Scouting and Guiding Organizations. No material found here may be used or reproduced for electronic redistribution or for commercial or other non-Scouting purposes without the express permission of the U. S. Scouting Service Project, Inc. (USSSP) or other copyright holders. USSSP is not affiliated with BSA and does not speak on behalf of BSA. Opinions expressed on these web pages are those of the web authors.