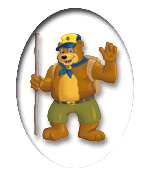 CONTACT BALOO


Write to Baloo (Click Here) to offer contributions, suggest ideas, express appreciation, or let Commissioner Dave know how you are using the materials provided here. Your feedback is import. Thanks.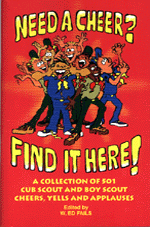 July 2005 Cub Scout Roundtable Issue

Volume 11, Issue 12
August 2005 Theme

Theme: Campfire Tales & Traditionsl
Webelos: Naturalist & Forester
Tiger Cub Activities
CUB GRUB
Soda Pop Pops
Santa Clara County Council
Ingredients, Supplies:
2 12-oz cans lemon-lime soda
1 14-oz can sweetened condensed milk
¼ cup lemon juice
10 wooden sticks
10 5-oz paper cups
Foil
Directions -
In a bowl, stir together soda, condensed milk and lemon juice. Pour into the 10 cups, and cover each with a piece of foil. Make a hole in the center of the foil with a sharp knife, and then insert a wooden stick through the hole.
Freeze 4-6 hours.
To serve, remove roil and tear off paper cup.
Makes 10 servings.
Ants on a Log
San Gabriel, Verdugo Hills & Long Beach Area Councils
Ingredients:
1 celery stick per person
Peanut butter
Raisins
Directions:
Spread peanut butter on celery sticks.
Dot the peanut butter with raisins
Baked Eggs In The Shell
San Gabriel, Verdugo Hills & Long Beach Area Councils
Ingredients:
12 eggs
Salt and Pepper
Bread (optional)
Margarine
Directions:
Pierce small end of egg with a pin.
Place eggs in hot ashes with small end up.
Bake for 10 to 20 minutes.
If desired, serve hot on buttered toast and season with salt and pepper.
Hot Dog Pie
Santa Clara County Council
Ingredients:
½ pound ground beef
4 hot dogs, cut in half lengthwise and sliced
1 can (16 oz) baked beans
½ cup ketchup
2 T brown sugar
2 T prepared mustard
2 oz processed cheese (Velveeta), cubed
1 unbaked deep-dish pastry shell (9 inches)
4 slices American cheese
Directions -
In a large saucepan, cook beef over medium heat until no longer pink; drain.
Add the hot dogs, beans, ketchup, brown sugar, mustard and cheese cubes.
Cook and stir until cheese is melted.
Meanwhile, lightly poke holes in pastry shell with a fork.
Bake at 400 degrees for 10 minutes. Fill with hot beef mixture.
Cut each cheese slice into four strips.
Make a lattice topping over the pie.
Bake 5-10 minutes longer or until cheese is melted.
Serves 4-6.
Pita Pizza
San Gabriel, Verdugo Hills & Long Beach Area Councils
Ingredients:
3 pitas
4 ounces of mozzarella cheese
1 teaspoon of vegetable oil
1 small jar or can of pizza sauce
Pepperoni or other toppings
Directions:
Cut pitas in half by separating at the edges to make two pizza crusts out of each pita.
Top pitas halves with pizza sauce, cheese, and other toppings.
Fry in oil until crust is lightly browned. (Adult help needed)
Hobo Popcorn
San Gabriel, Verdugo Hills & Long Beach Area Councils
Ingredients:
1 tablespoon popcorn kernels
18" x 18" square of heavy or doubled foil
1 teaspoon oil
Butter and salt, if desired, for seasoning
Directions:
In the square of foil add popcorn kernels and oil together. Bring foil corners together to make a pouch.
Seal the edges by folding, but allow room for the popcorn to pop.
Tie each pouch to the end of a skewer.
Hold the pouch over the hot coals.
Shake constantly until all the corn has popped.
Season as desired with butter and salt.
Creamy Crunchies
San Gabriel, Verdugo Hills & Long Beach Area Councils
Ingredients:
1 apple
3 tablespoons cream cheese
1 tablespoon strawberry jam
Directions:
Core apple.
Cut the apple into 8 to 10 slices.
Spread each apple slice with cream cheese.
Spread the jam on top of the cream cheese.
Stuffed Potatoes
San Gabriel, Verdugo Hills & Long Beach Area Councils
Ingredients:
1 potato per person
Vienna sausage
foil
Directions:
Core each potato.
Insert a Vienna Sausage in each potato.
Wrap each potato in foil.
Set in hot coals to bake for 45-90 minutes.
Remove foil and slice. (Optional: add cheese and/or fixings of your choice.)
Jell-O Apples
Baltimore Area Council
Ingredients:
3 oz. package of Jell-0 (any flavor),
5 apples.
Directions -
Pour the dry Jell-0 into a medium size plastic bowl.
Slice the apples in a food processor,
Then dump into the bowl.
Cover with a tight lid, and shake until apples are evenly coated.
Yummy! Try different flavors of Jell-0 and see what you like best.
Bundt Cake Worm
Baltimore Area Council
Ingredients:
Bundt cake (any flavor),
string licorice,
white icing,
green food color.
Directions -
Bake the cake and cool.
Cut the cake across the middle and re-arrange the two pieces to form an "S" shaped worm.
Work on a large piece of cardboard covered with foil, or on a large platter.
Frost with green tinted icing.
Lay pieces of licorice across the top curve of the cake to form the sections.
Cut smaller pieces of licorice and stick into the front end for the feelers.
Return to Top of Page - Click Here

Materials found in Baloo's Bugle may be used by Scouters for Scouting activities provided that Baloo's Bugle and the original contributors are cited as the source of the material.

Materials found at the U. S. Scouting Service Project, Inc. Website ©1997-2005 may be reproduced and used locally by Scouting volunteers for training purposes consistent with the programs of the Boy Scouts of America (BSA) or other Scouting and Guiding Organizations. No material found here may be used or reproduced for electronic redistribution or for commercial or other non-Scouting purposes without the express permission of the U. S. Scouting Service Project, Inc. (USSSP) or other copyright holders. USSSP is not affiliated with BSA and does not speak on behalf of BSA. Opinions expressed on these web pages are those of the web authors.