<![if !supportEmptyParas]>
April Cub Scout Roundtable Issue

Volume 9, Issue 9
May Theme

Lights, Camera, Action

Focus: CUT! CUT! Have you ever not wanted to yell this at the top of your lungs as the boys were getting really wound up? Well, now you can and they'll love you for doing it. Here's a theme that gets the film rolling and the creative juices flowing.
To start off your Pack or den meeting, or in the words of Cecil B Reisel "Roll Cameras", and a lot of help from York Adams Area Council try using this prop
Slap-Down Thingamajig
Use a piece of scrap ½-inch thick wood cut into two pieces: (½" by ½" by 3") and (½" by 1-¾" by 3"). Connect the two pieces with a piece of vinyl or other material to form the hinge. Paint, as appropriate.
<![if !vml]>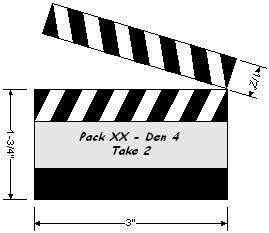 <![endif]>
MY LIFE and My Lateness
Truly, I have never been as late getting Baloo's Bugle done as I have this past Cub Year. Tonight I want to clue you in on some of the reasons why I continue to be so late.
Back in August I was having problems with my gums. All surfaces, inner and outer, except for the front of my mouth. The planeing that was done over a 2 ½ period didn't not help. Also in September, we started having a huge family issue concerning one of our children. At the end of October I had gum surgery (my gums cut down) on ALL the surfaces since the earlier treatment didn't work. My whole mouth was swollen, even my palate and I wasn't eating much to keep up my energy. The healing process for this is incredibly long I finally was okayed to see my regular dentist 2 weeks ago. My weight dropped down to, yes I will tell that, 109 lbs, and over Thanksgiving and Christmas I continued to lose.
The new year arrived, and my mouth was doing better. I then found out after going to a doctor, I had some questionable scan results. Further testing was required—Sheesh! After the *further test* , it was determined I needed to see a surgeon. Jim and I went to Dr. Carpenter, who told us, I needed to have some biopsies done. At the end of January I had THAT done, and found early February the results were NORMAL, YIPEE!!! During this time we all had our hours cut at work, so I got a second job with Weight Watchers. Our son in college is going into his own apartment, and our daughter is going to Auburn in September, (Go War Eagle!). Understandably with all my medical test, surgeries and our kids, money is becoming a scarce commodity here. Jim and I decided "Enough is Enough", let's get away for a few days which we did at the end of February staying at a friend's house in Destin. The whole month of February my left foot is killing me. While in Destin, there were times I could barely walk. So I decided to go set up an appointment with my podiatrist when we got home. I did that, and guess what—more surgery. I am now recovering from having bone spurs removed from my baby toe and excess bone removed from a toe next to it. AND the scary problem continues with one of our kids.
Plus, my last Uncle died. So this has been a horrible 8 months for us!
So yes, it has been extremely difficult for me to do anything. I apologize to EVERYONE for my lateness. It is just my get up and go has got up and went.
Materials found in Baloo's Bugle may be used by Scouters for Scouting activities provided that Baloo's Bugle and the original contributors are cited as the source of the material.

Materials found at the U. S. Scouting Service Project, Inc. Website ©1997-2003 may be reproduced and used locally by Scouting volunteers for training purposes consistent with the programs of the Boy Scouts of America (BSA) or other Scouting and Guiding Organizations. No material found here may be used or reproduced for electronic redistribution or for commercial or other non-Scouting purposes without the express permission of the U. S. Scouting Service Project, Inc. (USSSP) or other copyright holders. USSSP is not affiliated with BSA and does not speak on behalf of BSA. Opinions expressed on these web pages are those of the web authors.