<![if !supportEmptyParas]>
April Cub Scout Roundtable Issue

Volume 9, Issue 9
May Theme

Lights, Camera, Action

PACK/DEN ACTIVITIES
CAMERA SLIDE
York Adams Area Council
Source: Debbie Kalpowsky
<![if !vml]>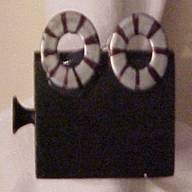 <![endif]>
Materials:
• ½-inch diameter washers
• 1-inch decking/sheetrock screw 1"
• Wood block 1 X ¾ X ¾
• Black paint
• Wood putty
Equipment:
• Hot glue
• Drill and ¼" bit
Directions:
1. Drill hole into end of block to insert screw (camera lens). Note: Drilling a hole prevents the wood from splitting.
2. Glue screw into block.
3. Fill screw head with wood putty
4. Paint entire assembly.
5. When paint is dry, glue washers to block. Note: You can add fancy "reel spokes" to the washers using permanent markers.
<![if !vml]>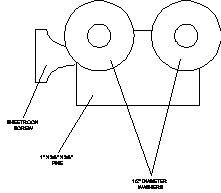 <![endif]>
6. Mount the slide ring to back of disk using hot glue.
VISIT A TELEVISION STUDIO
York Adams Area Council
Set up a tour of a local television (or radio) station for the Den. Plan ahead as this is the monthly theme and there's a good chance that many others in the area are doing the same activity. Looking for just about any radio or television station in the area? Check out this website for an exhaustive list of links to just about any and every station in the area: http://www.geocities.com/~dcrtv/sprtv.html.
PRODUCE A MOVIE
York Adams Area Council
How about getting the boys to produce a film of their own? You can use a prewritten script, have the boys write one of their own, or even have an ad lib film with some theme to it. If you want to buy a script or want some free samples, check out this website: http://loiswalker.com/catalog/catindx.html. And here's one with a half dozen free scripts you can use: http://www.storiestogrowby.com/script_body.html.
INVITE A PHOTOGRAPHER
York Adams Area Council
There are many photographers in our geographic area. Maybe you can get one to come it and give you a presentation and then take either a den picture or pictures of the boys in uniform.
TAKE A PICTURE-TAKING SCAVENGER HUNT/HIKE
York Adams Area Council
There's a not-too-old saying that the only thing you should take back from a hike is pictures—not a bad notion. How about set up a den event that involves the boys taking pictures based on scavenger hunt clues? This can get a little pricey unless you can make arrangements with a local shop to develop the film. I'd use disposable cameras and set up a "trail" with clues. If you have a nature path, like Nixon Park, in the area, go there ahead of time and walk along the path to get clue ideas. Then write these out for the boys and take the hike. They'll all be taking many of the same pictures, but that's okay. Have the film developed between den meetings and then let the boys create their own photo books for safekeeping.
INVITE A TELEVISION/NEWS CREW TO PACK
York Adams Area Council
What work goes on behind the scenes that doesn't show up on the television? Why not ask one of the local studios to come to the Pack Meeting to show the Pack and maybe even include the Pack in an evening news broadcast? Here are the contacts for several local stations:
DEN SKITS MOVIE NIGHT
(dens film beforehand and have a night at the movies with popcorn, etc)
York Adams Area Council
Have the Dens put on and film skits in their Dens that the Pack then shows at the Pack Meeting. Make sure the Pack provides plenty of popcorn and bug juice!
MOVIE MARATHON OVER-NIGHTER
York Adams Area Council
Do you think any of the boys has ever seen an old film projector? Working? Contact one of the college or public libraries to borrow enough movies that they can run all night. Arrange for a good meeting place to hold a Marathon Movie Activity.
Materials found in Baloo's Bugle may be used by Scouters for Scouting activities provided that Baloo's Bugle and the original contributors are cited as the source of the material.

Materials found at the U. S. Scouting Service Project, Inc. Website ©1997-2003 may be reproduced and used locally by Scouting volunteers for training purposes consistent with the programs of the Boy Scouts of America (BSA) or other Scouting and Guiding Organizations. No material found here may be used or reproduced for electronic redistribution or for commercial or other non-Scouting purposes without the express permission of the U. S. Scouting Service Project, Inc. (USSSP) or other copyright holders. USSSP is not affiliated with BSA and does not speak on behalf of BSA. Opinions expressed on these web pages are those of the web authors.