<![if !supportEmptyParas]>
October 2002 Cub Scout Roundtable Issue

Volume 9, Issue 3
November Theme

Kids Against Crime
Webelos Craftsman & Scientist
Tiger Cub Achievement 3
STUNTS AND APPLAUSES
Big Foot Finger Prints
York Adams Area Council
<![if !vml]>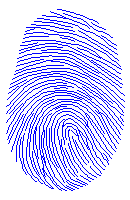 <![endif]>
Make thumbprints on a clear white sheet. Blow up using magnifying copy machine. Make as big as you want. On last photocopy, copy onto transparency sheets. Laminate and hang from Den Colors using string.
Applauses
York Adams Area Council
Great Job: Have one half of the audience say, "Great" and the other half say, "Going." Alternate each side.
Seal of Approval: Put your thumbs in your armpits, then move arms up and down like a seal moving its flippers and say "Arf, Arf, Arf" several times. Variation: Add: Pretend you are balancing a ball on the end of your nose.
Six Shooter: Point finger in the air and say "BANG" six times, then blow smoke from the end of the gun.
Put 'Em Up: Point to the honorees and yell "Hey you! Put 'em up in the air!" When the boys raise their hands (or awards), audience yells: "Great Job!"
Siren Cheer: At the leader's signal, everyone makes a siren noise until the leader gives the "stop" signal.
Materials found in Baloo's Bugle may be used by Scouters for Scouting activities provided that Baloo's Bugle and the original contributors are cited as the source of the material.

Materials found at the U. S. Scouting Service Project, Inc. Website ©1997-2002 may be reproduced and used locally by Scouting volunteers for training purposes consistent with the programs of the Boy Scouts of America (BSA) or other Scouting and Guiding Organizations. No material found here may be used or reproduced for electronic redistribution or for commercial or other non-Scouting purposes without the express permission of the U. S. Scouting Service Project, Inc. (USSSP) or other copyright holders. USSSP is not affiliated with BSA and does not speak on behalf of BSA. Opinions expressed on these web pages are those of the web authors.