<![if !supportEmptyParas]>
September 2002 Cub Scout Roundtable Issue

Volume 9, Issue 2
October Theme

It's a Jungle of Fun
Webelos Showman and Citizen
Tiger Cub Achievement 2
Focus: It's October and the boys should be back into the school groove and now is a good time to have a little "away from home" fun—even if they don't leave the house! Why not take them on a safari across the grasslands of Africa or on a search for silverback gorillas in South America? Our boys are at that perfect age when anything and everything can be an adventure. Take the time this month to use the theme and to make adventures happen with them and for them.
Above from York Adams Area Council
MY LAST MONTH'S OF SUMMER
Jim and I took our vacations in mid-July. Then I spent 2 weeks at work catching up on what happened while I was vacationing. Then August rolled around. August 1st was my 48th birthday and our son, Neal turned 21 on August 1st. Yes he was my best birthday gift ever! I returned to St. Louis for the weekend of Aug 8 – 12, and attended my 30th reunion. The following weekend we helped Neal finish his move from his dorm to an apartment. Really kind of a sad event for me. His bedroom furniture is now completely gone. Now we are spending our weekends looking for a new car for me. Lastly, my brother Tim's wife has been treated for skin cancer. It was found during another operation she had in June. She has been operated on and has gone through her chemotherapy treatments and we await reports on this. Please pray for her total recovery, her name is Marsha. I apologize for the REALLY REALLY lateness of this Bugle. The month of July and August have been one of many many changes and reflections in my own life that quite truthfully I am struggling with..
On a happier note, I am hoping to get a 2002 Toyota Highlander, my husband is hoping I will get the RAV4.
I hope this issue isn't to late for many of you to use.
ANNOUNCEMENT
Enter the 15th Annual Boys' Life Reading Contest Now!
Write a one-page report titled "The Best Book I Read This Year" and enter it in the 15th Annual Boys' Life Reading Contest. The book can be fiction or nonfiction. But the report has to be in your own words—500 words tops. Enter in one of these three age categories:
8 years old and younger,
9 and 10 years old,
11 years and older.
When Pedro receives your report, you'll get a free patch like the yellow one below. (And, yes, the patch is a temporary insignia, so it can be worn on the Boy Scout uniform shirt, on the right pocket. Proudly display it there or anywhere!)
<![if !vml]>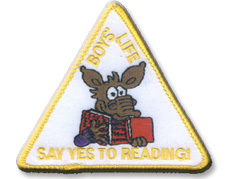 <![endif]>
The top three winners from each age group will also get a Leatherman multi-tool (or any two books they want), copies of Codemaster books 1 and 2, the limited edition Codemaster pin-and-patch set—plus their names announced in Boys' Life!
The contest is open to all Boys' Life readers. Be sure to include your name, address, age and grade in school on the entry.
Send your report, along with a business-size, self-addressed, stamped envelope, to:
Boys' Life Reading Contest, S306
P.O. Box 152079
Irving, TX 75015-2079
Entries must be postmarked by Dec. 31, 2002.
Materials found in Baloo's Bugle may be used by Scouters for Scouting activities provided that Baloo's Bugle and the original contributors are cited as the source of the material.

Materials found at the U. S. Scouting Service Project, Inc. Website ©1997-2002 may be reproduced and used locally by Scouting volunteers for training purposes consistent with the programs of the Boy Scouts of America (BSA) or other Scouting and Guiding Organizations. No material found here may be used or reproduced for electronic redistribution or for commercial or other non-Scouting purposes without the express permission of the U. S. Scouting Service Project, Inc. (USSSP) or other copyright holders. USSSP is not affiliated with BSA and does not speak on behalf of BSA. Opinions expressed on these web pages are those of the web authors.