GATHERING ACTIVITIES
Note on Word Searches, Word Games, Mazes and such – In order to make these items fit in the two column format of Baloo's Bugle they are shrunk to a width of about 3 inches. Your Cubs probably need bigger pictures. You can get these by copying and pasting the picture from the Word version or clipping the picture in the Adobe (.pdf) version and then enlarging to page width. CD
Hometown Hero Matching Game
Timucua District, North Florida Council
Hang up pictures of famous "hometown Americans" with their names below their pictures. (These can be US heroes, locals, etc.) Have their heroic deeds listed out on a sheet that is handed out to everyone and have folks match the people with the actions.
Calling for Help Cryptogram
San Gabriel, Long Beach Area, Verdugo Hills Councils
You must discover what number is assigned to each letter, then fill in the blanks to complete the message. Four letters have been identified for you. Have the boys work together to get started. If they have trouble, give them another letter such as L.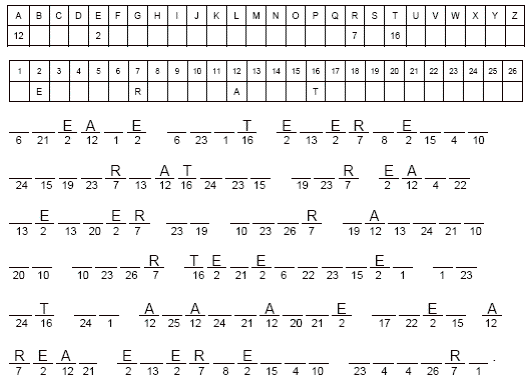 Solution at the end of Baloo
To the Rescue Word Search
San Gabriel, Long Beach Area, Verdugo Hills Councils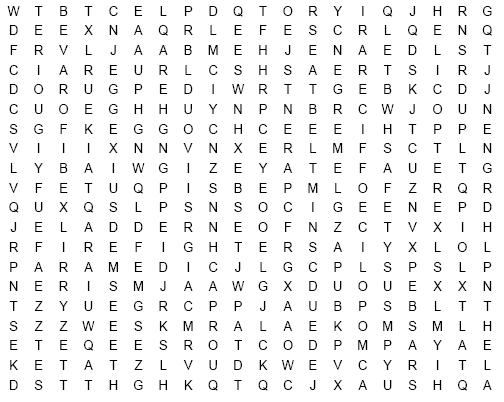 Find words that describe rescue workers, their tools and safety items printed in the word search above. They can be upside down, backwards, forwards or diagonal.
AMBULANCE CAR SEAT CPR
CROSSING GUARD DOCTORS
EMERGENCY EXTINGUISHER FIRE ENGINE
FIREFIGHTERS HELICOPTER HELMET
HELP HOSES HYDRANT
LADDER LIFEGUARD LIFEJACKET
PARAMEDIC PARENTS POLICE OFFICER
RESCUE SAFETY SEATBELT
SIREN SMOKE ALARM TELEPHONE
Fire Safety Quiz
Timucua District, North Florida Council
Use this at a den meeting by reading the questions and asking the boys to write down the letter of the correct answer, or by making copies and giving one to each boy.
What should you do to be ready if fire should strike your home?

Keep pails of water handy.
Have an escape plan and rehearse it often.
Be ready to carry out furniture.
Have a suitcase already packed.

In making your escape plan, why should you know two ways out of every room?

So I can see different parts of the house when I practice.
In case fire or smoke blocks one escape route.
To keep people guessing.
To make home fire drills more fun.

If your clothing catches fire, what do you do?

Run for help.
Look for water to throw on yourself.
Roll on the floor or ground, wrapping yourself in a coat, blanket, or rug, if possible.
Try to blow out the fire.

What should you use for light in a dark closet where there is no light bulb?

A match.
A candle.
A cigarette lighter.
A flashlight.

When you check extension cords in your home for fire hazards, what should you look for? Choose two.

Frayed, broken insulation.
Whether the color matches the woodwork.
Whether they run under rugs.
Whether the plug is brown or white.

If there are small children in your home, you should be especially careful that they cannot play with which of these?

Pile of blankets
Matches
Tennis Balls
Pots and Pans

In checking around a furnace for fire hazards, you should remove which of these?

Fishing rods and reels.
Table.
Garden Tools
Gasoline can, greasy rags, newspapers

Stairways in your home should be:

A great place to play.
A good place to keep your toys when you aren't playing with them.
Kept clear of obstructions at all times.
A place to pile your laundry until you can take it to your room.
Answers: 1-b, 2-b, 3-c, 4-d, 5-a-c, 6-b, 7-d, 8-c
Follow the Clues
Timucua District, North Florida Council
This activity will take a little time to put together and has to be based on where you will meet when you run the activity. List out a bunch of things that are in the meeting place and a clue as to what each is. Depending on the boys' level, you can make the clues appropriately hard/easy.
For example:
Den Flag – Blue cloth with Number 4 on it that says what our Cub Scout group is.
American Flag – A flag that stands for the nation.
Advancement Poster – Where we track how well you are doing learning new things and completing activities.
Craft Table – Where we gather to make special items with glue and paper.
Supplies Box – Where the Den Leader stores materials for the Den Meetings
Stairs – The up & down machine you used to get to the basement.
Good Conduct Candle – What should stay shining bright throughout the meeting.
Main Door – The entry way to the meeting.
Write out the clues on separate index cards (or inside folded sheets of paper) and attach each clue to an object to which the clue doesn't refer. (In other words, don't put the den flag clue on the den flag).
As each boy arrives, give him a sheet of paper with a starting point for him to follow the clues.
Explain that at his starting point he will find a clue to another object in the room and that he's to go to that object, write down what it is, and then follow the new clue at that object to get to the next one until he has followed all of the clues that lead back to his starting point.
After the opening ceremony, have the boys take turns reading off the objects to which the clues led them until all of the objects have been identified.
Connect the Dots
Timucua District, North Florida Council