January 2006 Cub Scout Roundtable Issue

Volume 13, Issue 6
February 2007 Theme

Theme: Aloha, Cub Scouts
Webelos: Scholar & Engiineer
Tiger Cub Activities
PACK ADMIN HELPS
Hawaiian Decorations
St Louis Area Council
Ideas for your Blue and Gold Banquet
Decorate the refreshment table to look like a beach. Roll blue butcher paper across it, and then pour a small bag of sand on the table to resemble the beach, with half the blue paper showing.
Lay fishnet down and make the food items look like the "catch of the day."
Float fresh loose orchids with a floating candle in bowls of water.
Have glass bowls with goldfish in them.
Present fresh Hawaiian pineapples.
Place palm branches in the middle of the tables and add seashells for decorations.
Decorate the edge of the tables with raffia hula skirts.
Activities
Go Ask Your Unit Commissioner
Commissioner Dave
(and few Scouting websites)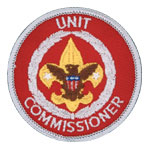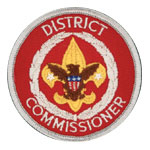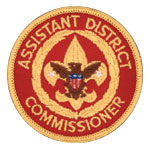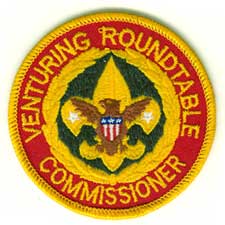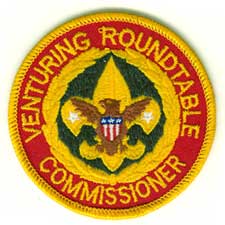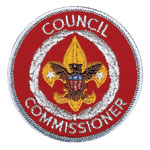 Often times I have told Leaders to check with their Commissioner only to receive a blank stare and be asked, "What's a Commissioner?"
My standard reply is that a Commissioner is like the Godfather of the Unit – In good times you may never see them. In bad times, he should be there sleeves rolled up, arm-in-arm with you helping your unit to succeed. This is a little off, because if Commissioners are not around in the good times, they cannot spot a unit heading for trouble and help them out. Here is what National says:
Commissioners are district and council leaders who help Scout units succeed. They coach and consult with adult leaders of Cub Scout packs, Boy Scout troops, and Venturing crews. Commissioners help maintain the standards of the Boy Scouts of America. They also oversee the unit charter renewal plan so that each unit reregisters on time with an optimum number of youth and adult members.
Roles the Commissioner Plays
A commissioner plays several roles, including friend, representative, unit "doctor," teacher, and counselor.
The commissioner is a friend of the unit. Of all their roles, this one is the most important. It springs from the attitude, "I care, I am here to help, what can I do for you?" Caring is the ingredient that makes commissioner service successful. He or she is an advocate of unit needs. A commissioner who makes himself known and accepted now will be called on in future times of trouble.
The commissioner is a representative. The average unit leader is totally occupied in working with kids. Some have little if any contact with the Boy Scouts of America other than a commissioner's visit to their meeting. To them, the commissioner may be the BSA. The commissioner helps represent the ideals, the principles, and the policies of the Scouting movement.
The commissioner is a unit "doctor." In their role as "doctor," they know that prevention is better than a cure, so they try to see that their units make good "health practices" a way of life. When problems arise, and they will even in the best unit, they act quickly. They observe symptoms, diagnose the real ailment, prescribe a remedy, and follow up on the patient.
The commissioner is a teacher. As a commissioner, they will have a wonderful opportunity to participate in the growth of unit leaders by sharing knowledge with them. They teach not just in an academic environment, but where it counts most—as an immediate response to a need to know. That is the best adult learning situation since the lesson is instantly reinforced by practical application of the new knowledge.
The commissioner is a counselor. As a Scouting counselor, they will help units solve their own problems. Counseling is the best role when unit leaders don't recognize a problem and where solutions are not clear-cut. Everyone needs counseling from time to time, even experienced leaders.
Previous adapted from http://www.scouting.org/commissioners/
The Unit Commissioner and Your Unit -
Perhaps no other members of the unit service team have a more important or demanding responsibility. As friends and counselors of unit leaders, unit commissioners operate quietly, generally in the background. They are effective communicators, providing the resources of the district and council to the units they serve. They aid the chartered organizations that operate the units through charters from the Boy Scouts of America.
Occasionally, unit commissioners find it necessary to recommend changes in personnel or in the way a unit is operating. Such action is taken with good judgment and tact and involves the chartered organization. Units are people. To help units succeed, today's commissioners must be people-oriented more than procedures-oriented. They are truly a council's front-line diplomats. Because Scouting operates mostly by persuasion rather than by legislation, commissioners must exercise the highest degree of diplomacy.
What are the qualities of Scouting's diplomat?
Perhaps no single description fits all situations. So, consider the following qualities, and apply them as you recruit and assign commissioners to fit the needs of your district and its units.
Be an effective communicator.
Be a good listener.
Have sound judgment.
Be tactful.
Have a Scouting background or be a fast-track learner.
Be persistent and patient.
Be adaptable.
Know and practice Scouting ideals.
Be enthusiastic.
Fulfill promises.
Be a team player.
Unit Commissioner Responsibilities.
Unit commissioners go about their duties in many ways. Their methods of service vary from telephone contacts to group meetings, from "hit-and-run" visits to planned personal conferences. All are important avenues that lead to the fulfillment of their mission, but the main "freeway" to successful service is the personal conference.
Much has been written and said about the job of unit commissioners, and no list can encompass all the tasks they may be called to perform. The following services, however, are top priority:
Maintain a close liaison with the chartered organization of the units they serve. This requires a working relationship with the chartered organization representative to strengthen Scouting's chartered organization concept.
Work to assure effective and active unit committees.
Facilitate the on-time annual charter renewal of all assigned units.
Help select and recruit unit leaders. Though the actual appointment is approved by the chartered organization, with help and action on the part of the chartered organization representative and the unit committee, the unit commissioner plays a key role in the process, making certain that proper techniques are used to locate and enlist the best possible leaders.
Because unit leaders are the key people through which Scouting objectives are carried out, commissioners must recognize the important qualities that make up successful unit leaders. Simply said, a good unit leader is a person of quality, high moral standards, dedication, and enthusiasm, a person who is well informed and who understands and puts into action the objectives of Scouting.
The process by which such a person is selected and the care with which we help that person be successful are unquestionably the most important responsibilities of the commissioner.
See that unit leadership gets adequate training.
Cultivate and maintain the best possible ongoing relationship with the unit leader.
Interested?? The Commissioner Fieldbook for Unit Service for a complete list of responsibilities.
Your Responsibilities -
Your Commissioner should not be registered as a unit leader. Commissioners may be registered on unit committees because they have a son in the unit or because of previous personal history in the unit. Their principal Scouting obligation should be with commissioner responsibilities.
Your Commissioners should not be from your units or chartered organizations. (A former Cubmaster or President of the Chartered Org). A commissioner needs an objective view as an arm of the district and council. Feel free to speak up if you see a potential conflict of interest.
Do abuse your Unit commissioner. Many Unit Commissioners fall into the trap of doing everything except their appointed job—unit service. Because of the many programs and activities of Scouting, unit commissioners might find themselves promoting projects, carrying messages, acting as judges, running Friends of Scouting campaigns, etc. While all these activities are unquestionably important, they are not the primary responsibilities of unit commissioners. Unit commissioners are expected to cooperate with other Scouting personnel related to specific programs but should not be responsible for them.
Their job is to help Your Unit succeed!
Don't let your Unit Commissioners off the hook, though. A UC should never feel that "all is well" simply because they have casually contacted their packs and troops since the last report meeting. Invite him to meetings, mention you want him to attend an upcoming meeting because (name something special going on that night). When your unit is moving steadily toward completing the BSA criteria for "quality units," the unit service plan is successful.
Previous adapted from - http://www.tac-bsa.org/
Here is an example of how a UC can help for specific need -
The Unit Commissioner & Webelos-to-Scout Transition
The unit commissioner is the connecting link in the chain between the troop and the pack. Often, the same unit commissioner will serve both units in the same community.
The Unit Commissioner can:
Be a catalyst in developing good relationships between troop and pack leaders.
Promote communication by scheduling a meeting of key volunteers.
Help plan a Webelos den visit to a troop meeting and other joint activities.
Keep the pack and troop on schedule as plans develop for the crossover ceremony at the blue and gold banquet.
Attend the crossover ceremony.
Be sure new Scouts have completed a Boy Scout application, they have a copy of the troop's activities, and they know when and where the troop meets.
Work with the pack and troop in their charter renewal process to help ensure Webelos Scouts are moved from pack rosters to troop rosters.
Work with the Webelos transition chair to follow up on those who have not yet joined a troop. Make sure they are invited to join a troop.
The Outcome
By planning and coordinating their efforts, the pack and troop can Help make the Webelos-to- Scout transition seamless.
Give all Webelos Scouts a chance to experience the fun and excitement of Boy Scouting.
Previous adapted from http://www.scouting.org/commissioners/
This column dedicated to Charlie Rhode and Ed Wahid, two great Neighborhood Commissioners from my Scouting Days in the 1960's in Pascack district of North Bergen County Council (350). Charlie worked for PSEG and Ed had recently moved here from Lebanon. He drove me (and a few others) to our first NOAC in 1965, from NJ to Indiana University via his cousin's in Dayton, OH. CD
HAWAII
Hawaii, Our Fiftieth State
Gathered from around the Internet
Capital: Honolulu
State Abbreviation: HI
State Bird: Nene, an Hawaiian goose
Nickname: Aloha State
Hawaii State Flower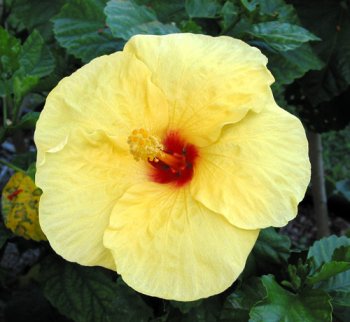 Pua Aloalo
Hibiscus brackenridgei
The hibiscus, all colors and varieties, was the official Territorial Flower, adopted in the early 1920s. At statehood in 1959, the first state legislature adopted many of Hawaii's symbols as part of the Hawaii Revised Statutes (HRS, state laws). It wasn't until 1988, however, that the yellow hibiscus which is native to the islands was selected to represent Hawaii. For this reason, you will see many older photos and postcards with the red hibiscus, or any other color for that matter, as the state flower. These were correct at the time.
Hawaiian Flag: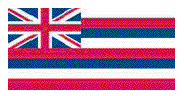 Hawaii was once an independent kingdom. (1810 - 1893) The flag was designed at the request of King Kamehameha I. It has eight stripes of white, red and blue that represent the eight main islands. The flag of Great Britain is emblazoned in the upper left corner to honor Hawaii's friendship with the British. The combination of the stripes of the United States flag and the Union Jack of Great Britain is said to have pleased the merchant shippers of both nations. Flag adopted for official state use in 1959.
The Ideals of Cub Scouting in Hawaiian
Baltimore Area Council
Translated into Hawaiian by Charlene Sumarnap
Ka '?lelo Ho'ohiki
(Cub Scout Promise)
Ho'ohiki a'e au 'o ____________
E hana no i kau 'oi loa, Ehana i ka'u pono
I ke Akua a i Ko'u '?ina (h?nau)
E k?kua a'e i ka po'e '? a'e
A e ho'olohe i ke k?n?wai o ke kumu/p?'?
Ka K?n?wai O Kumu/Ka P?'? (Herd, Flock)
(The Law of the Pack)
Hahai aku ka oumuamua Keiki i? Akela
Kokua a'e ka oumuamua Keiki i ke kumu/ka p?'? e hele ? ku
Kokua ate ka kumu/ka p?'? i ka oumuamua Keiki e ulu
Ha'awi ka oumuamua Keiki i ka loko maika'i.
Ka M?kia
(The Motto)
E hana 'oe i kou 'oi loa.
Did You Know this about Hawaii??
The state of Hawaii consists of eight main islands: Niihau, Kauai, Oahu, Maui, Molokai, Lanai, Kahoolawe and the Big Island of Hawaii.
Hawaii is the most isolated population center on the face of the earth. Hawaii is 2,390 miles from California; 3,850 miles from Japan; 4,900 miles from China; and 5,280 miles from the Philippines.
Hawaii is the only state that grows coffee.
More than one-third of the world's commercial supply of pineapples comes from Hawaii.
There are only 12 letters in the Hawaiian alphabet.

Vowels: A, E, I, O, U
Consonants: H, K, L, M, N, P, W

From east to west Hawaii is the widest state in the United States.
The Hawaiian Islands are the projecting tops of the biggest mountain range in the world.
Honolulu's zenith star, (the star that rises directly above it) is Arcturus. The Hawaiians called it Hokule'a. (Hoe koo lay uh.)
Under-sea volcanoes that erupted thousands of years ago formed the islands of Hawaii.
The Hawaiian Archipelago consists of over 130 scattered points of land stretching some 1,600 miles in length from the Kure Atoll in the north to the Island of Hawaii in the south.
The first Asian American in the United States Senate was Hawaii's Hiram Fong. Descended from Chinese immigrants, Fong was elected to the Senate in 1959.
Hawaii was the 50th state admitted to the union on August 20th, 1959.
Island flowers and colors used to represent each island.

Niihau - Pupu Shell - White
Kauai - Mokihana (Green Berry) - Purple
Oahu - Ilima -Yellow
Maui - Lokelani (Pink Cottage Rose) - Pink
Molokai - White Kukui Blossom - Green
Lanai - Kaunaoa (Yellow & Orange Air Plant) - Orange
Kahoolawe - Hinahina (Beach Heliotrope) - Grey
Big Island of Hawaii - Lehua Ohia - Red

Hawaii has its own time zone (Hawaiian Standard Time.) There is no daylight savings time.) The time runs two hours behind Pacific Standard Time and five hours behind Eastern Standard Time.
The wind blows east to west in Hawaii. The highest recorded temperature is 96' F (Honolulu Airport), but temperatures over 92' F generally occur only once or twice a year. The lowest temperature (under 3000 feet altitude) is 56' F. Temperatures under 60' F may occur but rarely more than once a year. Average daytime temp. (July) is 82' F. Average daytime temperature in January is 72' F.
There are no racial or ethnic majorities in Hawaii. Everyone is a minority. Caucasians (Haoles) constitute about 34%; Japanese-American about 32%; Filipino-American about 16% and Chinese-American about 5%. It is very difficult to determine racial identification as most of the population has some mixture of ethnicities.
The Big Island is Hawaii's largest at 4,038 square miles. It is twice the size of all other Hawaiian Islands combined.
Kilauea volcano is the world's most active.
For more Facts and trivia, visit www.50states.com

Materials found in Baloo's Bugle may be used by Scouters for Scouting activities provided that Baloo's Bugle and the original contributors are cited as the source of the material.

Materials found at the U. S. Scouting Service Project, Inc. Website (C)1997-2006 may be reproduced and used locally by Scouting volunteers for training purposes consistent with the programs of the Boy Scouts of America (BSA) or other Scouting and Guiding Organizations. No material found here may be used or reproduced for electronic redistribution or for commercial or other non-Scouting purposes without the express permission of the U. S. Scouting Service Project, Inc. (USSSP) or other copyright holders. USSSP is not affiliated with BSA and does not speak on behalf of BSA. Opinions expressed on these web pages are those of the web authors.