January 2006 Cub Scout Roundtable Issue

Volume 13, Issue 6
February 2007 Theme

Theme: Aloha, Cub Scouts
Webelos: Scholar & Engiineer
Tiger Cub Activities
OPENING CEREMONIES
HAWAIIAN THEMED
Since this theme has not be used many times before, there is not a large amount of material to be found. So be sure to check your Cub Scout Program Helps for more ideas. If you do not have a copy, it is available on line at
http://www.scouting.org/cubscouts/resources/34304/index.jsp
Also, your RT Commissioner has theme related ideas from the CS RT Planning Guide.
Hawaiian Facts
St Louis Area Council
Create posters with one letter of ALOHA on each one. Write the words for the boy to read on the back of the poster. Cub Scouts step forward, read the line from the back of the poster, and step back into line, holding the poster up.
A—The state of Hawaii consists of eight main islands: Niihau, Kauai, Oahu, Maui, Molokai, Lanai, Kahoolawe and the Big Island of Hawaii.
L—Hawaii is the most isolated population center on the face of the earth. It is 2,390 miles from California, 3,850 miles from Japan, 4,900 miles from China, and 5,280 miles from the Philippines.
O—Hawaii became the 50th state of the United States on August 21, 1959. It is the only state that grows coffee. More than one-third of the world's supply of pineapple comes from Hawaii.
H—Hawaii is the only state in a time zone with no other state—Hawaiian Standard Time. There is no daylight savings time. The time runs two hours behind Pacific Standard Time on the West Coast and five hours behind Eastern Standard Time on the East Coast.
A—Aloha! and welcome to our pack blue and gold Hawaiian luau.
ALL: Please rise and join us in saying the Pledge of Allegiance.
Aloha Opening
San Gabriel Valley-Long Beach Area-Laguna Hills Councils
Written by Julie Byler Carlson
Each Scout has a card with the corresponding letter on the front. They can be decorated with Flowers, exotic birds, palm fronds or Pineapples. On the back have each verse written in LARGE print so they can read it.
A – is for Advancements we work hard at all year through
L – is for the Leaders who teach us to be true
O – is forOutings without them we would be blue
H - Is for Hawaii where there is water of turquoise hue
A - is for Activities to keep us strong and learning something new
All say together Aloha!
Our 50th State Flag Ceremony
San Gabriel Valley-Long Beach Area-Laguna Hills Councils
Written by Julie Byler Carlson
Each Scout has a card with an appropriate picture on the front. They can be decorated with Flowers, exotic birds, palm fronds or Pineapples. On the back have each verse written in LARGE print so they can read it.
In the beginning Hawaii was just volcanoes.
Over the waters of the pacific the Polynesians paddled their double hulled canoes from Tahiti. Over 2,600 nautical miles to reach their destination with all the food and tools they would need to build a new society. They were a determined people.
When Captain Cook arrived in 1779 there were between 400,000 and 800,000 people living in the Hawaiian Islands. That is almost as many people as there are today.
Eventually King Kamehameha united the islands into one kingdom and future Kings and Queens gave up their Birthrights to write Hawaiian constitutions and establish a parliament to make things better for their subjects.
When Hawaii became our 50th state in 1959 it was a war hardened people who joined us.
Let us pay respect to our brave fellow country men and women of Hawaii by pledging ourselves to our flag. Please rise and join me in the Pledge of Allegiance.
Our Country
Great Salt Lake Council
Preparations: A flag, picture of Statue of Liberty, mills or factories, scene from Utah, scene of Alaska, Hawaiian scene, map of USA, recorded background music of your choice,
Cast: 7 Cub Scouts.
Set Up: The Cub Scouts form a semi-circle around the flag, hold up their pictures and say the short verse that goes with it.
(Statue of Liberty) New York is a lovely place, where we see this lady stand.
(factory or mills) Michigan is a very great state. They make the cars for our land.
(Utah scene) Utah is our own state; we're proud in many ways.
(Alaskan scene) Alaska has some very cold nights with lots of short, short days.
(Hawaiian scene) Hawaii is our newest state, and we're proud to say she's ours.
(map of USA) But all of the states together make a nation of beautiful stars.
Please join me in singing "God Bless America."
USS Utah
Great Salt Lake Council
For obvious reasons, Great Salt Lake Council selected the USS Utah for this ceremony. There are three Battleship Memorial in Hawaii – The USS Arizona, The USS Missouri and the USS Utah. Take your choice CD
When we think about Hawaii some of us think about beaches and nice weather. Hawaii is definitely a nice place to be to find peace and beauty. But for a moment we need to remember "the day that will live in infamy". On December 7, 1941, we lost 2,403 service members with thousands of others wounded and 21 naval ships from the U.S. Pacific Fleet. Among those ships lost was the USS Utah. This battleship served for 30 years and memorably during WWI.
A memorial for the USS Utah is on the other side of Ford Island from the USS Arizona memorial. Today let us remember the 58 service members who served and died on the battleship USS Utah.
For an Opening - Please join me in the Pledge of Allegiance.
For a Closing – Lead into a prayer or patriotic song (e.g. God Bless America)
Erupting Volcano Opening
St Louis Area Council
Note: MUST be performed outdoors in fire-safe area (see below) or use baking soda and vinegar volcano
Props: Modeling clay OR paper-mache volcano.
Prepare volcano beforehand so that it will erupt when you are ready for it. Base is a sheet of plywood about 2 feet square. Using modeling clay of various colors, build a small "mountain" in the center; make it about 8 inches in diameter and 4 or 5 inches high. Make a crate on top with a hole large enough to insert a small metal can. In the can put a few crystals of ammonium dichromate (available at drug stores and hobby shops.) Mix in a few match heads with the chemical and drop in a burning match. When the dichromate burns, it forms a dark green ash which tumbles over the cone in the same way as lava flows in a real volcano.
Or see Pack and Den Activities for instructions on
a model volcano using baking soda and vinegar. CD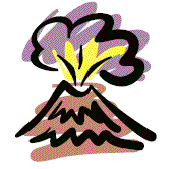 Cubmaster: You see before you a volcano. Volcanoes are among the oldest and most powerful forces known to man. This one is small, but even the world's largest volcanoes began as small hills or mounds of earth, and grew larger over long periods of time until they erupted!
In the beginning, volcanoes helped to shape and form the surface of the earth, and were a force for good. There are probably many mountains in the world today that conceal volcanoes beneath their surfaces. Someday they will surprise the nearby inhabitants, like Mount St. Helens did in the State of Washington, and explode with forces greater than the strongest hurricanes and earthquakes.
As Cub Scouts, you started small like this volcano, and are growing into mature adults. Beneath your surfaces lie many powerful forces. The purpose of the Cub Scout Program is to shape you and help you learn how to understand and control those powers within you so that you will be a force for good in the world as the early volcanoes were, instead of for destruction as the volcanoes of today. Many of you will become leaders of your fellow men, successful businessmen, and men with great influence in the world.
Remember the volcano, and the skills and the teachings of this great Scouting program you are learning. Be a mountain of strength, instead of a volcano of destruction." (Ignite the volcano---watch until the reaction ceases.)
TRADITIONAL CUB SCOUT AND
BLUE AND GOLD FAVORITES
Magic Candle
Baltimore Area Council
Props: One Magic candle -
Drill ¼" holes every 2 inches down opposite sides of a large white candle.
Place scraps of blue and gold crayon in the holes.
Melt paraffin and whip with eggbeater.
Cover the candle with the whipped paraffin to give the candle a rough decoration.
We will open the Blue and Gold banquet by lighting this candle. Most candles are nothing but wax and string. They can mean many things to each of us, truth, warmth, and loyalty. This is a special candle because in it we have mixed the colors of the Blue and Gold of Cub Scouting.
The white represents a well-planned Cub Scout program.
The blue represents the boys - full of fun, mischief and curiosity.
The gold represents the well-trained leaders - helpful and interested in the boys.
The flame, which draws from all three represents the spirit of Cub Scouting.
Blue and Gold Banquet Opening
Baltimore Area Council
Divide lines according to number of boys.
We're gathered here tonight,
To honor the Blue and Gold
And pay a tribute to Scouting
Which is 77 years old.
Now, as we look all about us,
Scouting in action we see,
Bringing fun and adventure,
As Baden-Powell meant it to be.
Let us all join together,
As our program we start,
By saying the Pledge of Allegiance
with our hand over our heart.
Have a Leader or a Scout lead the audience in saying the Pledge of Allegiance.

Materials found in Baloo's Bugle may be used by Scouters for Scouting activities provided that Baloo's Bugle and the original contributors are cited as the source of the material.

Materials found at the U. S. Scouting Service Project, Inc. Website ©1997-2006 may be reproduced and used locally by Scouting volunteers for training purposes consistent with the programs of the Boy Scouts of America (BSA) or other Scouting and Guiding Organizations. No material found here may be used or reproduced for electronic redistribution or for commercial or other non-Scouting purposes without the express permission of the U. S. Scouting Service Project, Inc. (USSSP) or other copyright holders. USSSP is not affiliated with BSA and does not speak on behalf of BSA. Opinions expressed on these web pages are those of the web authors.