January 2006 Cub Scout Roundtable Issue

Volume 13, Issue 6
February 2007 Theme

Theme: Aloha, Cub Scouts
Webelos: Scholar & Engiineer
Tiger Cub Activities
GATHERING ACTIVITIES
Note on Word Searches, Word Games, Mazes and such – In order to make these items fit in the two column format of Baloo's Bugle they are shrunk to a width of about 3 inches. Your Cubs probably need bigger pictures. You can get these by copying and pasting the picture from the Word version or clipping the picture in the Adobe (.pdf) version and then enlarging to page width. CD
Hawaiian Words
St Louis Area Council
Materials:
Print the following words onto 3-by-5 cards.
Place the cards on objects you have gathered and places in your meeting area.
Invite boys to go around the room and guess how to say each word and what it means.
Table Pakaukau
Chair Noho
Flag Hae
Boy Keiki kane
Book Puke
Scissors 'Upa
Paper Pepa
Window Pukaaniani
Door Puka
Floor Papahele
Hand Lima
Shoe Kama'a
Coat Kuka
Toothbrush Palaki hino
Hawaiian Word Search
San Gabriel Valley-Long Beach Area-Laguna Hills Councils
Created by: Julie Byler Carlson
Find the Hawaiian words printed in bold in the word search below. They could be vertical, horizontal or diagonal and either backward or forward.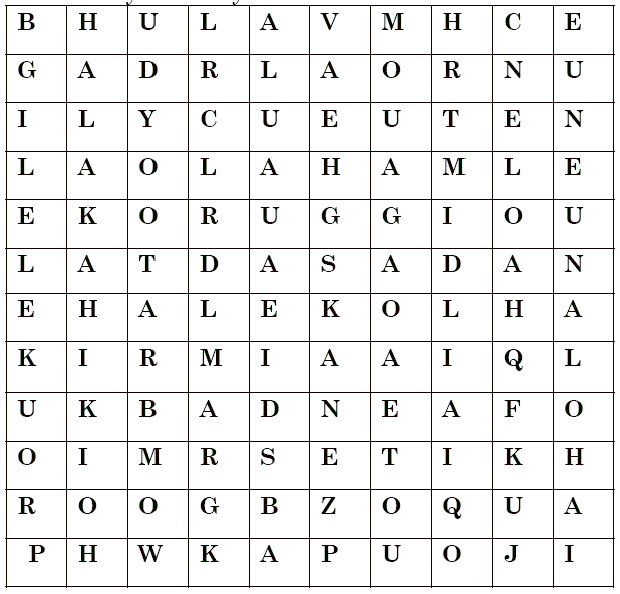 Aloha Luau Mahalo
Hale Ahi Pomaikai
Hoale Anuenue Mau
Loa Aka Aka Halakahiki
Poi Kapu Hula
Kane Ukeleli
Kamehameha Crossword
Alapaha Area Council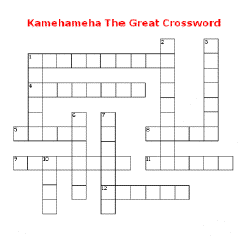 Use these words to complete the crossword
ALI'I DAVIS GRANDSON
HAWAIIAN ISLANDS KA'AHUMANU
KAMEHAMEHA KOHALA KOKOIKI
NU'UANU PADDLE PAI'EA
Across
1. His name means "The Lonely One."
4. Kamehameha the Great unified the __________ Islands.
5. Kamehameha I's childhood name. It means "hard-shelled crab."
8. Englishman Isaac _________ later became a trusted advisor to Kamehameha I.
9. Kamehameha V, who was the ____________ of Kamehameha I, established King Kamehameha Day in 1871.
11.At the Battle of _________, O'ahu warriors were driven over the pali (cliff).
12.A Hawaiian priest.
Down
1. Kamehameha I was born in ____________, on the island of Hawaii.
2. Kamehameha I's favorite wife.
3. On the Hawaiian flag, the stripes represent the 8 main __________.
6. The Law of the Splintered __________ protected the weak from the strong.
7. The name of the star, meaning "little blood," that appeared in the sky when Kamehameha was born.
10.A Hawaiian chief.
Where Is It?
Great Salt Lake Council
On which island will you find the following Hawaiian cities (write their names in the boxes below):
Makena Poipu Hilo Laie
Haiku Hawi Kalaupapa Pahoa
Waikane Poipu Kailua Punaluu
Mana Milolii Honolulu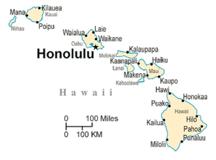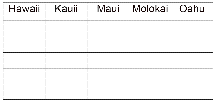 Materials found in Baloo's Bugle may be used by Scouters for Scouting activities provided that Baloo's Bugle and the original contributors are cited as the source of the material.

Materials found at the U. S. Scouting Service Project, Inc. Website ©1997-2006 may be reproduced and used locally by Scouting volunteers for training purposes consistent with the programs of the Boy Scouts of America (BSA) or other Scouting and Guiding Organizations. No material found here may be used or reproduced for electronic redistribution or for commercial or other non-Scouting purposes without the express permission of the U. S. Scouting Service Project, Inc. (USSSP) or other copyright holders. USSSP is not affiliated with BSA and does not speak on behalf of BSA. Opinions expressed on these web pages are those of the web authors.