October 2006 Cub Scout Roundtable Issue

Volume 13, Issue 3
November 2006 Theme

Theme: Cubs in Shining Armor
Webelos: Craftsman & Scientist
Tiger Cub Activities
THOUGHTFUL ITEMS FOR SCOUTERS
Thanks to Scouter Jim from Bountiful, Utah, who prepares this section of Baloo for us each month. You can reach him at bobwhitejonz@juno.com or through the link to write Baloo on www.usscouts.org. CD
Roundtable Prayer
Cub Scout Roundtable Planning Guide
My Lord, I am ready on this new day to go seeking adventure on the high road. I will serve you faithfully, bravely, and joyfully, and ask for your daily blessing. Amen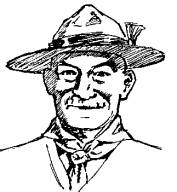 The First Great Knight of Scouting
In his duty to Country, Lord Robert Baden-Powell served five English sovereigns: Victoria, Edward VII, George V, Edward VIII, and George VI. Each was a patron and supporter, Victoria and Edward VII during B-P's military years and Edward VII, George V, Edward VIII and George VI during the growth of Scouting. During that time, he was Knighted five times. He was given the honors of the Knight Commander of the Order of the Bath and Knight Commander of the Victorian Order in 1909. He was given the honor of Knight of Grace of St John of Jerusalem in 1912. He was given the honor of Knight Grand Cross of the Victorian Order in 1923. Finally, he was given the honor of Knight Grand Cross of Order of St Michael and St George in 1927. Besides those honors, he was given the Knight Grand Cross of Alfonso XII of Spain in 1919 and Knight Grand Cross of the Order of the Crown of Belgium in 1921. All told, Baden-Powell was given the honor of Knight seven times from four different European Monarchs.
Rules of Chivalry
There are several versions of the Rules of Chivalry. Here is one example:
Thou shalt follow the dictates of a moral conscience.
Thou shalt show honor and respect to all those who have dedicated their lives to religion.
Though shalt show respect for all those who have a frailty, whether physical or mental, and defend these weak ones at all times.
Thou shalt love and obey your country and strive to improve it.
Thou shalt not seek out your enemy for battle.
Thou shalt always battle those who seek to make others choices for them and who refuse to show simple human respect for all.
Thou shalt always perform your duties of familial respect and honor your family, for by them will you always be known.
Thou shalt be generous and give of what you have to those who have less.
Thou shalt never lie, and always keep what you pledge to do.
Thou shalt at all times, in all things ,and in all places be a Champion of Right, Goodness, Mercy, and Humility, and the sworn foe of Hatred, Ignorance, Injustice, and Cruelty even if you find them in yourself.
These rules are consistent with the values of Scouting and the values of Lord Robert Baden-Powell, Scouting's first Knight.
JUST LIKE YOU
By Thomas Edward Gilbert Jr.
From Heart of America Council Pow Wow Book
There are little eyes upon you
And they're watching night and day;
There are little ears that quickly
Take in every word you say;
There are little hands all eager
To do anything you do;
Of the day he'll be like you.
You're the little fellow's idol
You're the wisest of the wise;
In his little mind, about you,
No suspicions ever rise;
He believes in you devoutly
Holds that all you say and do
He will say and do in your way
When he's grownup like you.
There's a wide-eyed little fellow
Who believes you're always right;
His ears are always open
And he watches, day and night;
Every day in all you do
For that little boy who's waiting
To grow up to be like you.
Quotations
Quotations contain the wisdom of the ages, and are a great source of inspiration for Cubmaster's minutes, material for an advancement ceremony or an insightful addition to a Pack Meeting program cover.
The age of chivalry is never past, so long as there is a wrong left unredressed on earth, or a man or woman left to say, I will redress that wrong, or spend my life in the attempt. Charles Kingsley
But the age of chivalry is gone. That of sophisters, economists, and calculators has succeeded; and the glory of Europe is extinguished forever. Edmund Burke
Chivalry is the most delicate form of contempt. Albert Guerard
Though the practice of chivalry fell even more sadly short of its theoretic standard than practice generally falls below theory, it remains one of the most precious monuments of the moral history of our race...John Stuart Mill
The age of chivalry is past. Bores have succeeded to dragons. Benjamin Disraeli
There is another side to chivalry. If it dispenses leniency, it may with equal justification invoke control. Freda Adler
"And so I am become a knight of the Kingdom of Dreams and Shadows!" Mark Twain
She who waits for her knight must remember - she will have to clean up after his horse" Unknown
"We have discovered that the scheme of 'outlawing war' has made war more like an outlaw without making it less frequent and that to banish the knight does not alleviate the suffering of the peasant" C. S. Lewis
"A true knight is fuller of bravery in the midst, than in the beginning of danger." Sir Phillip Sidney

Materials found in Baloo's Bugle may be used by Scouters for Scouting activities provided that Baloo's Bugle and the original contributors are cited as the source of the material.

Materials found at the U. S. Scouting Service Project, Inc. Website ©1997-2006 may be reproduced and used locally by Scouting volunteers for training purposes consistent with the programs of the Boy Scouts of America (BSA) or other Scouting and Guiding Organizations. No material found here may be used or reproduced for electronic redistribution or for commercial or other non-Scouting purposes without the express permission of the U. S. Scouting Service Project, Inc. (USSSP) or other copyright holders. USSSP is not affiliated with BSA and does not speak on behalf of BSA. Opinions expressed on these web pages are those of the web authors.