October 2006 Cub Scout Roundtable Issue

Volume 13, Issue 3
November 2006 Theme

Theme: Cubs in Shining Armor
Webelos: Craftsman & Scientist
Tiger Cub Activities
SPECIAL OPPORTUNITIES
Kommssioner Karl
Seneca District, Buckeye Council
A Good Turn is more than simple good manners. It is a special act of kindness.
The Boy Scout Handbook, 11th Edition, p. 55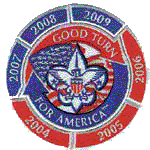 It is really important for Packs and Troops to sign up for Good Turn America and to log their hours. We want to show the world we re doing the right stuff and helping others. That the BSA- Cub Scouts and Boy Scouts is a vital organization. CD
The Boy Scouts of America's Good Turn traces back to American businessman William D. Boyce who was lost in a London fog. A boy offered to take Boyce to the address he wanted and refused a tip, saying he was a Boy Scout. Boyce's curiosity was aroused. He later had the boy take him to Scouting's British founder, Lord Baden-Powell. From this chance meeting, the Boy Scouts of America was born.
Since 1912, Boy Scouts nationally have been called to serve, from selling war bonds during World War II to collecting canned goods in the 1980s.
Good Turn for America is a national call to service by the Boy Scouts of America to address the issues of hunger, homelessness, and poor health in our nation.
In this effort, the Boy Scouts of America is partnering with some of the nation's most respected service organizations, including The Salvation Army, Habitat for Humanity, and Special Presentation the American Red Cross. These organizations, and thousands of others, will work to provide opportunities for youth and volunteers to fight hunger and homelessness, and teach the habits of healthy living. Youth and volunteers are looking for ways to serve their communities. At the same time, service organizations need dedicated volunteer help. By working together, we can improve our young people, our communities, and the nation.
Project Ideas
The project should be age-appropriate. Youth should not be asked to participate in activities that are beyond their physical, mental, and emotional capacity.
There should be proper adult supervision during all phases of the project.
Appropriate safety guidelines related to the project should be communicated to all participants.
Those within Scouting should follow the Guide to Safe Scouting.
Food drives
Conduct or expand Scouting for Food programs
Participate in collaborative food drives and collect food donations for food pantries
Provide meals to the hungry
Assist agencies that provide meals to the needy by helping them prepare and serve the meals
Help deliver meals and food to the homebound and elderly in conjunction with organizations such as Meals on Wheels
Assist organizations that build homes for the needy
Take part in a Habitat for Humanity homebuilding project
Assist community beautification projects, including repairing/repainting homes and sprucing up the yards of those in need
Assist organizations that provide home maintenance services for those in need
Assist shelters and their occupants
Collect clothing, toiletries, and supplies for people living in shelters.
Collect books and school supplies for children living in shelters
Collect toys and gifts for children of prisoners or those living in shelters
Conduct visits and reading programs for residents
Conduct entertainment programs for residents
Provide other volunteer services that improve the quality of shelter life
Conduct a fund-raiser for a not-for-profit shelter
Offer unit-level community and school-based sports and fitness clinics
BSA Physical Fitness Award and the Venturing Quest Sports and Fitness Award
Take a unit hike day/weekend
Fun run/walk/cycle event
Scout field games
Conduct a community health awareness project
Blood drives
Distribution of healthy living and drug abuse awareness literature
Distribute organ donor cards to the public
Conduct a child fingerprinting event
Conduct service projects to build healthier environments
Tree-planting and revegetation projects
Park or camp trial maintenance and repair
Projects to enhance wildlife habitats
Conservation and recycling projects
Beautification and litter cleanup projects
How Do I get Involved?
Go to http://goodturnforamerica.org/
Click on the "TELL US ABOUT YOUR PROJECT" in the left side menu.
Click "click here to log in or create an account."
Click the red underlined "Click here."
Click "I agree."
You will need your unit Good Turn for America Unit ID number for the first line. You may get this from your District Executive.
Complete the rest of the information on this page to complete your account creation. Be sure to let others in your unit know what your unit's ID, registration and password is so they can log their hours as well. Or designate someone to enter all of the information for your unit and have the den leaders submit the necessary information to them for entry.
When you need to enter your service hours, be sure to login from the "Tell us about your project" menu selection. Simply follow the prompts to enter your project hours and details. The website will keep track of the information for you.
Information you will be asked to provide will include:
The organization or group benefiting from the project
Partnering organizations
Date of the project
Number of Scouts participating
Number of non-Scouts helping
Number of adults participating
Total hours worked
Service projects may be entered throughout the year as they are done, no matter how big or small. After you enter the data for each project, your unit will be eligible to receive the Good Turn for America patch and year segment which can be obtained from the Scout Shop.
Boys' Life Reading Contest
Enter the 18th Boys' Life Reading Contest Now!

I met the National Director for Boys' Life this summer at the Philmont Training Center. He says around 20,000 boys earn this award each year. Lets see if we can set a record this Fall – Psyche your Scouts into writing up a report and sending it in to Boys' Life. Tell them Baloo said to send it in to his pal Pedro! CD
Write a one-page report titled "The Best Book I Read This Year" and enter it in the Boys' Life 2006 "Say Yes to Reading!" contest.
The book can be fiction or nonfiction. But the report has to be in your own words—500 words tops. Enter in one of these three age categories: 8 years old and younger, 9 and 10 years old, or 11 years and older.
First-place winners in each age category will receive a $100 gift certificate good for any product in the Boy Scouts Official Retail Catalog. Second-place will receive a $75 gift certificate, and third-place a $50 certificate.
Everyone who enters will get a free patch like the yellow one above. (The patch is a temporary insignia, so it can be worn on the Boy Scout uniform shirt. Proudly display it there or anywhere!) In coming years, you'll have the opportunity to earn the other patches.
The contest is open to all Boys' Life readers. Be sure to include your name, address, age and grade on the entry. Send your report, along with a business-size, self-addressed, stamped envelope, to:
Boys' Life Reading Contest, S306
P.O. Box 152079
Irving, TX 75015-2079
For more details go to www.boyslife.org
Entries must be postmarked by Dec. 29, 2006.
Knot of the Month

Adult Religious Recognitions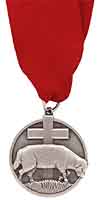 What is the adult religious recognition program?
An adult religious recognition award is presented by nomination only. The recognition is presented to worthy adults for their outstanding service to youth both through their religious institution and one of the national youth agencies. Recipients of these awards are unaware that they are being nominated. They are nominated to receive an award by submitting the required application, letters of recommendation, and resume. Please check eligibility requirements for specific awards. Self and spousal nominations are usually not allowed.
Essentially every denomination that has Youth Awards ahs at lest one Adult Award. For example, the Lutherans have the Lutheran Lamb award (seen above) for members who are nominated and qualify. There is a minimum ten year tenure requirement for nomination. The recipient may wear the Adult Religious Emblem Square Knot. We, also, have the Shepherd of Youth Award. Both Lutherans and non-Lutherans who work with a unit chartered to a Lutheran Organization are eligible for this award. The tenure requirement is only five years. Some denominations do not have this dual award set up but simply present their Adult Award to all who deserve it. For example, I have two Scouting friends, an Episcopal Priest from Detroit area who I met at Philmont Training Center this summer, and Fred, a retired Scout Exec who was my first Scoutmaster, who both claim to be the only Christian to have received the Shofar Award for Adult Scouting with Jewish Scouts.
For complete listings of Adult Religious Recognitions for BSA Leaders go to National's site at http://www.scouting.org/awards/religious/awards/index.html or US Scouts site at http://www.usscouts.org/awards/religadult.html
Many of these awards are coordinated by P.R.A.Y. Check their website for info, too www.praypub.org
This square knot is worn by those whom have received a religious award as an adult member of the BSA. The awards are not BSA awards and are presented by religious organizations for long tenure of service to Scouting, the religion, and the community. With one exception all of these awards require a nomination. Self-nomination is not allowed.
Only one Adult Religious Award square knot is worn regardless of how many awards have been received. It is possible, for example, to receive two or three levels of awards in some faiths or to receive awards from more than one faith.
So, if you now someone who is deserving of receiving the Adult Award from his faith – check it out and begin the nomination process.

Materials found in Baloo's Bugle may be used by Scouters for Scouting activities provided that Baloo's Bugle and the original contributors are cited as the source of the material.

Materials found at the U. S. Scouting Service Project, Inc. Website ©1997-2006 may be reproduced and used locally by Scouting volunteers for training purposes consistent with the programs of the Boy Scouts of America (BSA) or other Scouting and Guiding Organizations. No material found here may be used or reproduced for electronic redistribution or for commercial or other non-Scouting purposes without the express permission of the U. S. Scouting Service Project, Inc. (USSSP) or other copyright holders. USSSP is not affiliated with BSA and does not speak on behalf of BSA. Opinions expressed on these web pages are those of the web authors.