PACK AND DEN ACTIVITIES
Hold a Game / Go to a Game
Commissioner Dave's Two Cents
What could be better summertime activities for Play Ball than to have a pack Baseball (Softball, Kickball. Wiffle Ball, …) game and to go to a Minor League baseball game.
For your Pack Game there are endless variations – a Parent-Child game. A pack tournament. Challenge another pack. Have boys challenge adults with adults playing with their opposite hand or with one hand tied behind their back or …
And for a real treat, Minor League Baseball can't be beat. Cost is low. Many have a Scout night with a sleepover. They have family entertainment between innings. You sit real close to the field. The players usually will talk with the fans. I have loved minor league ball ever since my son and I attended a Toledo Mud Hens game in the early 1990's. And we have had the Wilmington Blue Rocks here for over ten years. This year they switched from Kansas City Royals farm system to the Boston Red Sox farm system. There are also teams nearby in Camden and Trenton and at the Jersey Shore. Check out your local team!!
Sports Wreath
San Gabriel Valley, Long Beach & Verdugo Hills Councils


Materials: printer, paper, glue, scissors and paint or construction paper in your favorite team's colors.
There are two ways to do this craft.
ü Trace the child's hand onto paper and cut out the prints.
ü Make paint handprints on the paper and cut those out.
Directions:
Make eight handprints (4 of each color).
Cut out the prints and glue to form a wreath.
You can also decorate the wreath with pictures (like basketballs or basketball players). These can be stickers, hand drawn artwork by the children or pictures from
coloring books, magazines or fliers.
Bowling Game
San Gabriel Valley, Long Beach & Verdugo Hills Councils
A fun game to make and easy to create.
What You Need:
· Plastic bottles (2 liter or 20 oz.), clean and dry
· Stickers
· Shredded tissue paper, shiny cloth or Easter grass
· Nerf or lightweight rubber ball
How To Make It:
Decorate bottles with stickers and / or fill them using tissue paper (bunched or shredded), shiny cloth or Easter grass. Include an appropriate sized ball (Nerf or light weight rubber).
Line bottles up in Bowling pin arrangement
Go Bowling!!
Sports Cork Board
San Gabriel Valley, Long Beach & Verdugo Hills Councils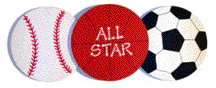 Supplies:
· acrylic paint – white, black, orange
· Glue good for cork
· Optional lettering stencils and stamp sponges
· Three 8" circle cork trivets
· Paint brushes – ½" flat, liner
· Black marker, Ruler, Pencil, Masking tape
Note: For best results, please take a moment to review all instructions on product packaging before beginning any project.
Instructions:
1) Paint two cork trivets white. Paint the remaining trivet orange. Let dry.
2) Apply a second coat to each trivet as needed. Let dry.
3) Using a pencil and referring to the photo, lightly draw
ü A soccer ball pattern on one white trivet,
ü Baseball stitch lines on the other white trivet, and
ü Basketball seam lines on the orange trivet.
4) Using orange paint and the liner paint brush, paint the stitch lines on the baseball.
5) Using black paint and the flat brush, paint the soccer ball pattern. Let dry.
6) Add the lines to the soccer ball and the basketball with the black marker.
7) Position the alphabet stencil for the first letter on the basketball; secure with masking tape.
8) Dip a stencil sponge into a small puddle of white paint and pat off excess paint.
9) Using an up-and-down motion, stencil the first letter.
10) Carefully remove the stencil and position for the next letter. Continue stenciling until the wording (ALL STAR) is complete. (or maybe the Cub's name)
11) Glue the balls together, referring to the photo for placement. Let dry completely.
Fans at the Baseball Field
San Gabriel Valley, Long Beach & Verdugo Hills Councils
These are quick and easy to make. Our Pack went to the ballgame for Scout Night. We made enough for each new Tiger Cub family to have at least one fan. The fans were very popular as we attended the game on a very hot day! Parental supervision is recommended with cutting of the corrugated plastic. Corrugated plastic can be sharp if cut to a point, please be careful. Be sure to round all corners.
What You Need:
· Navy blue corrugated plastic (change this to match your team's colors) Corrugated plastic is often used to make the political campaign and other advertising signs that you see along the roadside.
· Gold "Painters" paint marker
· Extremely sharp scissors
· Popsicle stick
· Pen or pencil
· 5" Circular item to use for a pattern (margarine lid)
· Tacky glue
How To Make It:
1. Use a 5" circular object for a pattern; trace a circle on the navy blue corrugated plastic.
2. Cut out the navy blue circle with the extremely sharp scissors.
3. Using your sharp scissors, cut a small way up on the inside (be sure the "ribs" are vertical) of the navy blue corrugated plastic to make it easier to insert the popsicle stick.
4. Add tacky glue to the end of the stick and push up inside the baseball.
5. Paint "stitching" on the baseball and add your Pack number. Let dry.
6. Take it out to the ballpark, show your Pack spirit, and keep cool!
Notes:
ü You can use hot glue if you want the project to dry immediately for the child to use. If using tacky glue, allow to dry overnight.
ü You can also use regular cardboard and paint it if you can't get corrugated plastic, but it won't be as durable.
Table Croquet
Baltimore Area Council
For turf, place carpet scraps or old wash cloths on a table. Or to construct a permanent game, mount on a piece of ¼" plywood cut to size. For mallets, wrap heavy weight aluminum foil around the end of a pencil. For hoops, insert the ends of opened paper clips into balls of clay. For stakes, insert pencils into clay (stakes could also be made of a piece of dowel rod and painted). Use a marble for ball. Set up your course and play.
One Man Ping Pong
Baltimore Area Council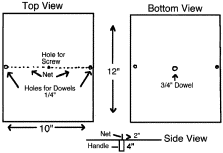 Materials:
1 - #8 or #10 screw 1 - 4" x ¾" dowel
2 - 2" x ¼" dowels 1 - 12" x 10" plywood (¼" or ½")
1 - piece of netting 1 - ping pong ball
To play:
Bounce ping pong ball back and forth over the net by moving the game board back and forth.
Sports Coasters
Baltimore Area Council
Materials List:
Felt, Sports cards, pictures, A pen, Permanent white glue, such as Glue-All, Scissors sharp enough to cut felt, Wide-mouth canning lids (you can find them in the home canning/freezing section of grocery stores.)
Directions: Cut cards or pictures to fit inside circle on lid. Trace around lid onto felt. Cut out one for each lid. Glue cards on inside of the circle. Glue on felt. Let dry overnight.
Card Collector's Frame
Baltimore Area Council


Directions:
1. Cut a piece of construction paper into a square that will fit into a CD case.
2. Place your card in the center of the square and trace around it.
3. Cut out the rectangle you traced, cutting it about 1/4 inch smaller than the line you traced.
4. Put a dab of glue in each corner of your square, on the opposite side of your trace lines.
5. Open the CD case and place your square on the inside of the clear CD case cover.
6. Reinforce the back side of the card by taping extra strips of construction paper behind it (securing them to the back side of the frame).
7. Close the CD case.
8. Glue a pop can tab on the back of the CD case towards the top and you can hang your frame on your wall, or add a magnet strip to the back and hang it on your fridge! You can even add stickers and other miscellaneous things to decorate your frame.