June 2005 Cub Scout Roundtable Issue

Volume 11, Issue 10
July 2005 Theme

Theme: Play Ball
Webelos: Aquanaut & Geologist
Tiger Cub Activities
ADVANCEMENT CEREMONIES
B-A-L-L-O-O-N
San Gabriel Valley, Long Beach & Verdugo Hills Councils
You can have fun, meaningful ceremonies that don't take a lot of time. My youngest will never forget his Wolf ceremony (and he's 17 now.) He was called forward with a few of his peers who had also finished and handed a balloon and a small plastic sword (you could give them a safety pin), accompanied by a few meaningful words about the badge. The boys were told to pop the balloons and voila - out popped a Wolf Badge!
That is the ceremony he remembers most - not the more verbose, more serious ceremonies that accompanied some of his other badge presentations.
Set Up –
ü Get helium balloons for the number of boys advancing.
ü Before blowing them up, insert the cloth badge of rank into them then blow them up.
ü Decorate them to be sports balls: White for soccer, baseball or volleyball; orange for basketball; yellow for tennis. Use your imagination. Use the same type of ball for the same rank to help avoid confusion - especially if you have many boys who are advancing.
Here are ideas you could use to have the Cubs describe their ranks. These are short poems. Don't feel limited by these. Maybe your Cubs would want to write their own lines. They need not rhyme.
Bobcat:
You have to make some promises to become a Bobcat Scout. To follow, help and give goodwill,
that's what Cub Scouting's all about.
Wolf:
The back and front rolls were easy; making games was fun.
But when it came to giving directions,
I almost didn't get done.
I had to earn the Wolf badge; it meant a lot to me.
Finally, I learned my directions,
and a Wolf Cub Scout I would be.
Bear:
I never wrote a letter before, let alone a 100-word essay,
Or ever learned to throw a rope,
to hit a marker 20 feet away.
And now that I've earned the Bear badge,
all that and a whole lot more
Makes me feel that much smarter than I ever felt before.
Webelos:
Now that I'm a 9-year-old, I belong to a Webelos den.
Activity badges I'll try to earn,
like Athlete, Forester and Outdoorsman.
Arrow of Light:
The Oath and Law are memorized,
graduation day is in sight.
I am prepared for what's ahead;
I've earned the Arrow of Light!
It's hard to say goodbye to friends.
Cub Scouting's meant a lot to me.
But it's time I start the upward trail,
for it's an Eagle Scout I want to be.
Cubmaster:
Now that we have had the ranks explained, we would like to recognize those boys in our Pack who have earned those ranks.
(At this time have the advancing boys come forward with their parents and award the badges.)
Cub Scouting Is Like Playing Baseball
San Gabriel Valley, Long Beach & Verdugo Hills Councils
This ceremony takes you through all the ranks. Badges can be presented at each base as the Scouts walk around the infield. Or they can be held and presented at Home plate by calling everyone in one rank at a time. If you are not doing Arrow of Light, take time to modify that section to use it to inspire Cubs finish their path around the bases.
Participants:
· All Cub Scouts – Tiger, Bobcat, Wolf, Bear, 1st Year Webelos and Graduating (2nd Year) Webelos Scouts
· Den and Webelos Leaders
· Parents of graduating Webelos
· 5 Boy Scouts
· Cubmaster.
Setup: Use a baseball field with bases set about 40 to 60 feet apart (60 feet is Little League standard). Parents stand near third base dugout; Boy Scouts stand near first base dugout; Cubs and Webelos stand near home plate with Den and Webelos Leaders beside their dens. Cubmaster stands at pitchers mound.
Cubmaster: Cub Scouting is like playing baseball. Each base we go to indicates a certain level of skill obtained.
The Tigers are in the on-deck circle. (Tiger Leader takes all Tigers to on-deck circle) Call Tiger parents to on-deck circle. Present awards to Tigers.
When the Cub got up to the plate for the first time, he was a Bobcat. The Bobcat learned the Cub Scout Promise, the Motto and the Law of the Pack. And, as all ball players, he got to wear the uniform showing everyone in the stadium what team he was on - in our case the Blue and Gold team. Call new Bobcats and their parents to Home Plate. Present Bobcat awards.
(Den and Webelos Leaders advance all other Cubs to 1st base and stop.)
The Bobcat hit the ball and ran to 1st base - the first leg of the diamond. At this point he learned the basics of the sport - throwing the ball, batting and catching. To the Scout, it was learning what it meant to help other people and to give good will - a time for the Cub to learn the basics with his coaches, mom and dad. The Cub is on his way to manhood. Call Wolf Parents to First base and present Wolf Awards. (Wolf Cubs and Wolf Leader stay at 1st; the rest go to 2nd base.)
The Cub arrives at the second base, half way around. At this point he learned that through practice and determination one became a better ball handler, better thrower and better batter. The Cub is given choices in the Bear book and begins to choose what he wants to do and where to excel. The Bear Cub sharpens his skills and begins to enjoy the team aspect of the sport, not just individual achievement. Call Bear Parents to Second base and present Bear Awards. (Bear Cubs and Bear leader stay at 2nd; the rest go to 3rd base.)
The Cub now arrives at third base. He can see victory! He knows that if he makes it to third, he has a good chance of scoring. As he passes the shortstop he looks at the coach for guidance. This is the year in the Cub's life that changes most dramatically. He becomes a Webelos. It is the acronym for We'll Be Loyal Scouts. To the baseball player, it means that he has mastered the rudiments of the sport and now must rely on his coach to lead him around the bases. The Scout begins to trust others, listen to the coaches, back up his fellow team members and show maturity on the field. The Webelos 4th grade Scout goes on a few campouts and obtains a taste of adult responsibility. Call First Year Webelos Parents to Third base and present Webelos Awards. (Graduating Webelos go half way to home plate.)
The Cub has gotten the high sign from the coach and he puts on the afterburners as he rounds third base. He's heading for home. The fans are standing, rooting as he approaches home plate. The Cub is on his last leg of the course. He knows he is going to score. The anticipation is tremendous, as he knows his run could win the ball game. (Parents of graduating Cubs and Boy Scouts go to home plate and wait to give the boys a "HIGH FIVE" as they cross the plate.)
The Cubs have earned the Arrow of Light, the highest award given to a Cub Scout. He has prepared himself to return home, but this time as an accomplished ball player. He's learned the fundamentals of the sport. He has learned that he should be TRUSTWORTHY, LOYAL, HELPFUL, FRIENDLY, COURTEOUS, KIND, OBEDIENT, CHEERFUL, THRIFTY, BRAVE CLEAN and REVERENT.
He started from the on-deck circle as a Tiger or home plate as a little league Bobcat and will now return home as a young Scout ready to enter the senior league, the Boys Scouts, and be welcomed by his new coach and team mates from Troop ______. He will be greeted by the most influential people in his Cub sporting career - his parents. They helped him every step of the way around the bases. They are so proud of him that they, too, are anxious for him too cross the plate. They were with him as he touched every base and will continue to be with him in the dugout and after the game.
The Arrow of Light is the only badge of rank earned by a Cub Scout that can be worn permanently on the Boy Scout uniform. There are 7 rays of light on the badge to not only signify the 7 days of the week but the 7 virtues of playing the game:
1. WISDOM - Putting to right use the knowledge they have obtained.
2. COURAGE - To meet the opposition head on in spite of one's fear.
3. SELF CONTROL - Controlling one's temper during the game. Being sportsmen.
4. JUSTICE - Justice will prevail, even if you think the umpire made a bad call.
5/6. FAITH and HOPE - Two virtues that all players must have on and off the field.
7. And finally LOVE - Love of family, love of home, love of God, love of fellow members and love of the game.
These are the seven virtues that will make you successful in the games to come. Now would the following Scouts proudly stride into home and receive their Arrow of Light.
Cub Scout Baseball
Baltimore Area Council
Equipment: A small baseball diamond on the floor in front, badges to be awarded.
Personnel: Cubmaster, boys to receive awards and their parents.
Will (names), our new Bobcats and their parents please come forward to the "on-deck circle?" As you are standing on the "on-deck circle" you are at the beginning of the "game". just as you are at the beginning of the Cub Scout trail. Parents, please accept your son's badge and present it to him. (present badges) Lead Cheer
Will (names), our Wolf candidates and their parents please come forward. Stand on first base. This represents the first stop on your Cub Scout trials. You worked hard on earning your Wolf. So keep up the good work. Parents here are their badges. (present badges) Lead Cheer
Will (names), our Bear candidates and their parents please come forward. Your place on our diamond is at second base. This is the second major stop along the Cub Scout trail. Parents, please accept your son's badge. (present badges) Lead Cheer
Will (names), the Webelos and their parents please come forward. Your spot is third. You are almost "home". Keep up the good work and you will have no problem in finishing your trail. You now wear a badge diamond on your shirt to complete that game. You need to receive your Arrow of Light. Work hard and you should have no problem. (present badges) Lead Cheer
(If you have boys earning the Arrow of Light their spot is home plate.)
Scoreboard Advancement Ceremony
Baltimore Area Council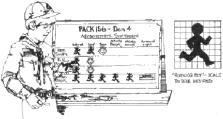 Personnel: Cubmaster, Den Leaders, advancing boys and their parents
Props: Scoreboard and cutouts of running figures, invisible tape, straight pins, badges. Make a scoreboard of poster paper and write in the name of the advancing boys. Use grid methods to draw the figure to size you want; then cut out as many figures as you need.
Call forward advancing Scouts and their parents. Line up the boys on either side of the scoreboard with the parents behind them.
You know, boys, Cub Scouts is a lot like sports. It's fun, it's full of physical activities, and you can win – or lose. In Cub Scouting you win by growing strong in mind and body, and by advancing in rank. Or you can lose by not joining in our Den and Pack activities and by not doing your best to pass achievements and electives.
You boys have all been winners this month. You have advanced in rank or earned arrow points, or both. Your coaches have been your Den leaders and your parents. In Cub Scouting, we could not get along without coaches. So I want to congratulate all of you, boys and parents. Now I'll ask each boy to show his progress on our scoreboard by putting on the scoreboard a marker for each rank you have earned and have your parents pin on your new rank badge. (In turn, advancing the boy's tape on a runner for each rank he has earned and removing his new badge for the parents to pin on to his uniform.)
We also have a boy who has earned the Arrow of Light. Cub Scouting's highest award. (Call him forward with his parents.) __________ has shown that he is ready for Boy Scouting by earning the Arrow of Light. He has met the requirements for this award. He is in the ninth inning of his time in our Pack. We are all proud of him and the way he has progresses in the sport of Cub Scouting. Now ________, will you please fill your ranks on our scoreboard and have you parents pin your Arrow of Light badge on your uniform? (They do so.)
I hope that every member of the Pack gets on the scoreboard in the coming year. It is a good way to be a winner in Cub Scouting.
Spirit of Cub Scouting Induction Ceremony
Voyageurs Area Council
An induction ceremony in July???
I thought to myself this is strange but then I realized that with the emphasis on Spring Recruiting – get those Kindergartners for Tigers now and other Cubs so they can start with day camp – the July Pack Meeting (that is hopefully an outdoor event – Camping Trip or Campfire) may be where these new members do go through an induction ceremony. Not for your pack? Then just file it for use later in the year. CD
Preparation: Cub Scouts makes a semi-circle with a candle in the middle on a table. Leader lights the candle or turns on an electric candle. Leader leads the new boy(s) to the center behind the candle. He(They) looks at the candle.
Cub # 1: Before you burns a white candle which represents the spirit of Cub Scouting.
Cub # 2: It takes a team to keep that spirit alive; to keep the flame burning.
Cub # 3: You (to the new boy(s)) have been chosen to be a member of our pack.
Cub # 4: Look into the flame. It gives warmth and light.
Cub # 5: As (a) new member(s) of our pack, you must help to keep this flame burning.
Cub # 6: You must learn the Cub Scout Promise and the Law of the Pack and live them.
Cub # 7: You must "Do Your Best" to help keep the flame burning by working as a team.
Cub # 8: As a new member of our pack, we welcome you with the Cub Scout Handshake.
Den Leader, Cubmaster, and boys give the new Cub Scout(s) the Cub Scout Handshake and welcome him (them) into the Pack.
The boy may also be presented with a slide or other item used by the Pack by his leader to complete the induction to the pack.
Return to Top of Page - Click Here
Materials found in Baloo's Bugle may be used by Scouters for Scouting activities provided that Baloo's Bugle and the original contributors are cited as the source of the material.

Materials found at the U. S. Scouting Service Project, Inc. Website ©1997-2005 may be reproduced and used locally by Scouting volunteers for training purposes consistent with the programs of the Boy Scouts of America (BSA) or other Scouting and Guiding Organizations. No material found here may be used or reproduced for electronic redistribution or for commercial or other non-Scouting purposes without the express permission of the U. S. Scouting Service Project, Inc. (USSSP) or other copyright holders. USSSP is not affiliated with BSA and does not speak on behalf of BSA. Opinions expressed on these web pages are those of the web authors.