<![if !supportEmptyParas]>
November Cub Scout Roundtable Issue

Volume 10, Issue 4
December Theme

A Cub Scout Gives Goodwill
Webelos Craftsman & Scientist
Tiger Cub Achivement #4
CUB GRUB - Fun Food
Hot Spiced Apple Cider
Southern NJ Council
1 Gal. Apple Cider or Apple Juice
1-9 oz bag of Cinnamon Red Hot Candy
1/2 cup Sugar
5 cinnamon sticks
20 - 25 Whole Cloves
1 cup Prepared Cranberry Juice
1 cup Prepared Orange Juice
Butter
In a large pot, combine all ingredients except butter. Over a medium heat, bring to a boil. Stir frequently until sugar and candies dissolve. Reduce heat and simmer for an hour. Before serving, place a small butter pat in each mug. Pour cider into mug over butter. Add cinnamon stick and stir.
Edible Ornaments
Southern NJ Council
1 cup butter or margarine
1 1/2 cup powdered sugar
3 cups flour
2 - 4 tablespoons heavy cream
red and green food coloring
2 dozen chocolate kisses
2 dozen maraschino cherries
Preheat oven to 350 degrees.
1. Cream butter, sugar, and vanilla until fluffy.
2. Blend in flour, salt, and enough cream to hold dough together.
3. Divide dough in half.
4. Tint one half with red food coloring and the other half with green food coloring.
5. Mold a Tablespoon of red dough around each Kiss (that is unwrapped)
6. Mold green dough around cherry.
7. Roll cookies between palms of hand to make smooth, round balls.
8. Place balls 1" apart on ungreased cookie sheet.
9. Bake 12-14 minutes, or just until cookies are set (cookies must not brown)
10. Let cool completely.
11. Dip each cookie into icing
Icing
Blend together:
2 Cups powdered sugar
1/3C heavy cream
2 teaspoons vanilla
Mix and divide into two bowls. Tint one red and the other green. Then roll into desired topping (Chocolate jimmies, colored sugar, crushed peppermint, confetti, sprinkles, etc.)
Yummy Igloo
Chief Seattle Council
1/2 Apple, cored
miniature marshmallows
peanut butter
1. Place apple cut side down on a plate.
2. Spread peanut butter all over the outside of the apple.
3. Cover peanut butter with miniature marshmallows.
Eatable Yule Log
Chief Seattle Council
Ingredients:
2 1/4 cups graham cracker crumbs
3/4 cup miniature marshmallows
1 cup chopped dates or raisins
2 cups chopped nuts
1 cup cream
Stir together all ingredients till thoroughly mixed.
Shape into one 1 large or several small logs.
Wrap in foil or plastic wrap: refrigerate.
Tasty Menorahs
Santa Clara County Council
Ingredients: Bread, cream cheese or butter, carrot sticks, pretzel sticks, raisins
Spread bread with cream cheese or butter; arrange 8 pretzels as candles and carrot stick as large candle in center. Use raisins as flames at ends of carrot and pretzel sticks.
Cinnamon Rolls
Santa Clara County Council
Ingredients –
2 cans crescent rolls
¼ cup sugar
1 cup powdered sugar
1 stick softened butter
1 teaspoon cinnamon
2 tablespoons milk
Unroll crescent rolls and make 4 rectangles from dough. Spread with butter. Combine cinnamon and sugar and sprinkle over dough. Roll each rectangle into a long roll, then cut each into 5 slices. Place slices cut side down in a lightly greased pan. Bake 20 - 25 minutes. Cool slightly, then drizzle with mixture of powdered sugar and milk.
<![if !vml]>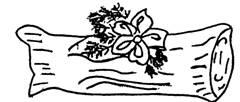 <![endif]>
Materials found in Baloo's Bugle may be used by Scouters for Scouting activities provided that Baloo's Bugle and the original contributors are cited as the source of the material.

Materials found at the U. S. Scouting Service Project, Inc. Website ©1997-2003 may be reproduced and used locally by Scouting volunteers for training purposes consistent with the programs of the Boy Scouts of America (BSA) or other Scouting and Guiding Organizations. No material found here may be used or reproduced for electronic redistribution or for commercial or other non-Scouting purposes without the express permission of the U. S. Scouting Service Project, Inc. (USSSP) or other copyright holders. USSSP is not affiliated with BSA and does not speak on behalf of BSA. Opinions expressed on these web pages are those of the web authors.