PACK & DEN ACTIVITIES
Santa Clara County Council
The word genealogy can sound boring or even overwhelming to children and adults alike. The study of the family pedigree can play a very important part of teaching children about their family history, respect for their ancestors and pride of their heritage. Genealogy can be fun too. These activity suggestions can help you focus on family values and traditions.
VISIT A CEMETERY
Take your boys to a cemetery—perhaps where one of your or their ancestors is buried. Bring a family history book or old family letters or journal along with you and spend some time telling stories about the deceased person.
You could also use this time as a den service project to clean off the gravesite. You could bring flowers or send the flowers to a surviving spouse or child as a tribute and remembrance.
MAKE HEADSTONE ETCHINGS
Boys will also enjoy making an etching of the headstone. Many tombstones have interesting quotes or sayings. Hold a piece of paper over the stone and rub the side of a pencil lead back and forth across the paper with gentle pressure.
CREATE A HERITAGE ALBUM
Scrapbooking is a process that cannot be done overnight but you could start by making a page or two together. Children love this project but will get discouraged if you do not have everything needed to start and finish the project quickly. Ask the parents for help in providing photos and information for the boys. Be prepared with all of the materials needed ahead of time. You will need cardstock, glue sticks, page protectors, and maybe decorative scissors, themed embellishments like die cuts, paper punches or stickers. (As popular as scrapbooking has become, you could probably find someone in your pack who would be happy to help your den with this project.)
The boys may enjoy interviewing living family, showing them pictures and asking for details about their ancestors, which they could then write down and include in their albums. They could then take turns sharing their stories with the rest of the boys in the den.
GENEALOGICAL LIBRARY FIELD TRIP
Schedule a visit to your nearest genealogical library. If you cannot find one locally, check the yellow pages for The Church of Jesus Christ of Latter Day Saints. The LDS church owns the largest genealogical and family history center in the world and they open their centers to people of any denomination.
Files are archived in many different ways including computers and microfiche. Information is gathered from all over the world from other churches baptismal and christening records, census files, vital statistic records, immigration, and military resources too. Information is quite accurate and has record of over 200 million people dating back earlier than the 1500's.
Call ahead of time and arrange a tour. Given basic family information, the guide can assist you in finding information about your specific family branch. If available, take along your family tree so you can fill in any missing blanks on birth dates, birth place or marriage information, etc.
Climbing Your Family Tree,
A Beginners Guide to Genealogy
Scouter Jim, Bountiful UT
Start at the beginning. Start with you. Gather all the original records you can find on yourself, birth certificates, school records, photograph, and church records, whatever you have. Put a box in the middle of the front room. Whenever you come across any records that should be part of you personal or family history put that in the box. Leave it there for a few weeks while you gather information.
Work from the inside out. Each generation doubles in size. Genealogy is like a bull's eye. Each generation is a circle, twice a large as the next. Work from the inside out means to progress from you to your parents, then grandparents and so on. Interview you Parents next. Gather all the information they have and copies of the original document they have.
At this point it may be wise to discuss different type of documents. There are primary documents and secondary document. Original documents are documents created at the time of the event. These are primary documents. Birth, marriage, and death certificates are examples of original or primary documents. These are the best and normally the most accurate. Secondary documents are documents created after the event. Family and local histories, newspapers articles, and other collected histories are examples of secondary documents. These documents are not always as accurate as primary documents.
As you build you family your family tree, don't forget the bark. There is more to a family tree that names, dates, and places. There are also the lives of the people that are part of it. Interview older family members and record their life stories. Things they remember as children, memories of relatives long gone. These are the stories that give life and color to the family tree.
Don't judge you ancestors. Every family tree has skeletons hanging from it. Owning slaves might be one of those family skeletons. These are also things that give the history color. Don't leave out the dark portions of your family history; it is still part of what makes you who you are.
And finally don't believe everything you read. As we grow older, sometimes we embellish the past. We claim credit, or are given credit for things we did not do. Histories are created from word of mouth sources as well as primary sources, and no one has a perfect memory
Happy Hunting!!
Genealogical Research Kits
Baltimore Area Council
Kit List For Library Research / Archives / Court House:
A three ring binder one with a zipper to keep the papers from falling out.
2 Pens.
1 Yellow highlighter Note: This is for highlighting your copies after you have made them not to highlight the books you are reading at the library.)
1 Pack of pencils.
1 Pencil sharpener.
1 Pack of loose leaf paper.
Maps of the areas you are researching.
Copies of your pedigree charts and/or group sheets.
Magnifying glass for small or hard to read print.
Your notes for that day's research.
Kit List For Cemetery Research:
A tote bag or backpack.
2 Pens or Pencils.
Paper and clip board.
A camera, if you don't have one and your parents won't let you use their camera get yourself a disposable camera.
A 4 inch soft bristle paint brush. Get the cheapest you can find as you will be using it to clean the headstones. If you look, you will probably find an old one lying around your house.
A spray bottle filled with water.
Baby powder or flour to sprinkle onto older headstones so it will be easier to read them. Make sure after you have gotten your shot to clean off the powder with the brush.
Insect repellant spray.
NOTE: You might want to get your parents to go with you to cemeteries that are on personal land. They will need to get permission to go onto the land to get to the cemetery. Also note to watch out for snakes during the summer months hiding in weeds and in high grass.
Pedigree Chart
Baltimore Area Council
The simple pedigree chart on the next page can be used to chart your ancestors. This is a very simple chart. There are charts with more detail available from many different locations on the Internet.
Male ancestors go on the lines with even numbers and female ancestors go on the lines with odd numbers. Therefore, your fathers information goes on line 2 and your mother's on line 3. Your paternal grandfathers information goes on line 4 and your paternal grandmother's information goes on line 5. Please always use your mothers, grandmothers, etc. name she had before she got married. It is referred to as her maiden name.
Family Crest
Timucua District, North Florida Council
Cubs can begin to think about their family histories and their own lives by creating a family crest.
Before you start
Discuss family crests. Have a few to show
Have them pick a shape
Then brainstorm to get ideas that could represent their family histories or lives.
Here are just a few of the many possibilities:
Flags that represent the countries from which their families came
Pictures of foods that are common to their ethnicity
Pictures that represent first or last names
Drawings that depict favorite family events
Photos that show family celebrations
Symbols that represent family character (Sports, Camping, Cooking… what ever the family likes to do together)
Shield/Coat of Arms


Santa Clara County Council
Supplies:
For a poster - Pattern paper; heavy cardboard; tacks; foil; glue; colored paper; wire/string. 11" by 14" is a good size.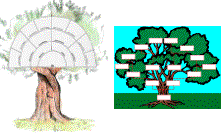 For a Neckerchief Slide – a small circle of foam board or other stiff material, a 1" long piece of ¾ inch PVC pipe for the slide loop, markers to draw shield
Directions:
First, make a paper pattern for the shield by folding a piece of paper in half lengthwise, then drawing half a shield.
Cut out and open.
Draw lines on the pattern to divide it into four sections; or, draw a band diagonally across the shield.
Using the pattern, cut the shield from corrugated cardboard.
From foil, cut another shield, about an inch larger on all sides.
Glue it to the cardboard form, folding the excess foil around to the back, and gluing it in place.
Place the pattern on the shield and trace the dividing lines or sash.
Remove the pattern and insert tacks along the lines.
Make designs from the colored paper (perhaps scout-related, perhaps symbolic of the boy's heritage) and glue or tack them in place. Put a different design in each section of the shield
Attach wire or string to back for hanging.
Family Trees
Santa Clara County Council
And Baltimore Area Council
Give your Cubs a picture like either of the ones above and have them fill in the blanks. Tell them they should talk with relatives (Grandparents, Great-grandparents, Aunts, Uncles and such to get info like birth, baptism, wedding and death years
Family Mobile
Timucua District, North Florida Council
Instead of building a standard Family Tree, have your Cubs make mobiles. Illustrate a picture of each member of the family. Include the pet if the child has one. Cut out each family member. Glue each picture on strong paper or cardboard. Hang your pictures on a hanger with yarn or string to make a mobile. Print the last name on a piece of paper and fasten it to the hanger. Hang your mobile in the classroom.
Tissue Box Picture Frame
Baltimore Area Council
Cut off two opposite sides of a square boutique tissue box at X's (see illustration).

Open up the box to form a strip; strip may be left as is, covered with fabric or gift-wrap, or covered with paper and decorated.
Re-fold along all the lines.
Glue or tape section "E" to the back of "A" (see illustration). Tape a photo or drawing behind the opening.