June 2006 Cub Scout Roundtable Issue

Volume 12, Issue 11
July 2006 Theme

Theme: Red, White and Baloo
Webelos: Aquanaut & Geologist
Tiger Cub Activities
GATHERING ACTIVITIES
Note on Word Searches, Word Games, Mazes and such – In order to make these items fit in the two column format of Baloo's Bugle they are shrunk to a width of about 3 inches. Your Cubs probably need bigger pictures. You can get these by copying and pasting the picture from the Word version or clipping the picture in the Adobe (.pdf) version and then enlarging to page width. CD
Fourth of July Maze
Baltimore Area Council
Have your Scouts work the Fourth of July Maze found on the last page
Respect To Our Flag
Baltimore Area Council
Divide into Dens giving each group paper and pencil. At the start, each will write as many different ways of showing respect to our flag as they can remember. The team with the most correct methods in a given time is the winner. Example: "Never let the flag touch the ground."
Our Flag (True or False)
Baltimore Area Council

Divide into two or more small teams. Give each team a given time to mark and hand in their paper. You might enjoy making up your own lists:
T F The Grand Union flag was partly British.
T F The Betsy Ross flag had 15 stars.
T F Our flag once had 15 stripes.
T F June 14 is Flag Day.
T F We now have one star for each state.
T F If in uniform, salute the flag as it passes.
T F If not in uniform, salute just the same.
T F Stand when "America" is played.
T F Do not fly the flag after sunset.
T F The flag may be used as a table cover.
4th of July
Baltimore Area Council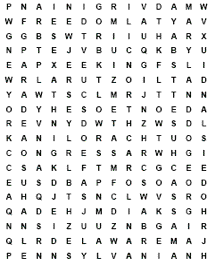 Congress Connecticut Delaware
England Fireworks Flag
Freedom Georgia July
King Liberty Maryland
Massachusetts Bay New Hampshire
New Jersey New York North Carolina
Parade Pennsylvania Rhode Island
South Carolina States Taxes
United Virginia
Historical American Flag Match
Alapaha Area Council
Can you match the flag with its event in history?
1. The First Official United States Flag: This Flag became the Official United States Flag on June14th, 1777 and is the result of the congressional action that took place on that date. The only President to serve under this flag was George Washington
2. The Star Spangled Banner: This Flag became the Official United States Flag on May 1st, 1795, and was to last for 23 years. This flag was the only U.S. Flag to have more than 13 stripes. It was immortalized by Francis Scott Key during the bombardment of Fort McHenry, Sept 13, 1814
3. This flag flew when the Civil war began This Flag became the Official United States Flag on July 4th, 1859; there were 33 states when the Civil War began on April 12, 1861
4. This flag was used longer than any other flag. On July 4, 1912, President William H. Taft passed an Executive Order establishing the proportions of the flag and providing for arrangement of the stars with single point of each star to be upward. This flag was official for 47 years, through two World Wars and the emergence of the United States of America as the leading nation of the world.
5. This is the 27th flag of the United States. An Executive Order of President Eisenhower dated August 21, 1959 provided for the arrangement of the stars in nine rows of stars staggered horizontally and eleven rows of stars staggered vertically. This flag became the official flag on July 4th, 1960, after Alaska and Hawaii became states. Nine presidents have served under this flag
Answers - 1E, 2A, 3D, 4B, 5C

Materials found in Baloo's Bugle may be used by Scouters for Scouting activities provided that Baloo's Bugle and the original contributors are cited as the source of the material.

Materials found at the U. S. Scouting Service Project, Inc. Website ©1997-2006 may be reproduced and used locally by Scouting volunteers for training purposes consistent with the programs of the Boy Scouts of America (BSA) or other Scouting and Guiding Organizations. No material found here may be used or reproduced for electronic redistribution or for commercial or other non-Scouting purposes without the express permission of the U. S. Scouting Service Project, Inc. (USSSP) or other copyright holders. USSSP is not affiliated with BSA and does not speak on behalf of BSA. Opinions expressed on these web pages are those of the web authors.