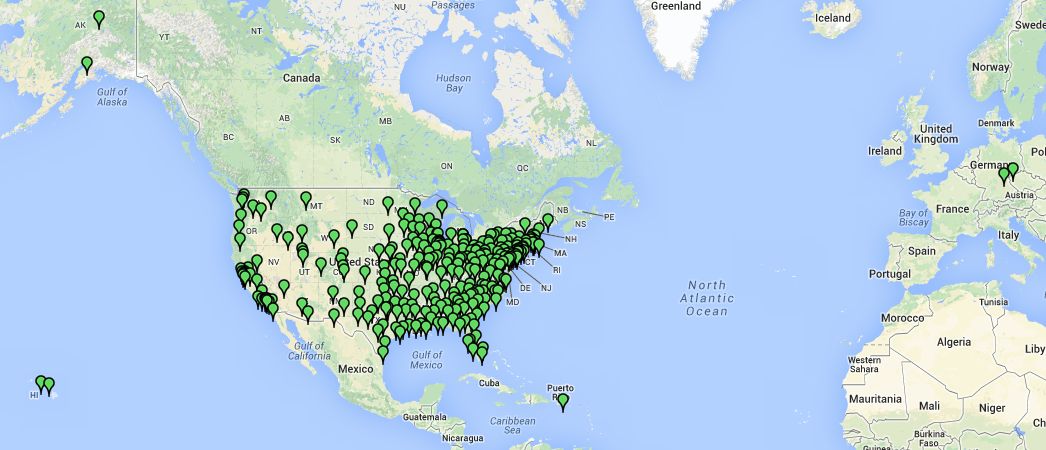 The map above is a screen shot of an interactive map showing the approximate location of the headquarters of each BSA Local Council. The interactive map was developed by Mike Meenehan, of the National Capitol Area Council, using the data from a spreadsheet Dave Hultberg maintains (see below). The interactive map uses Google maps as the base map, and can be zoomed in to see details. Each of the "Pins" indicates a Scout council office (located as close as possible to the actual location of the Council office by using the address), and if you hover over the pin, the council name will appear.
Click here (http://mapalist.com/Public/pm.aspx?mapid=398371) to access the interactive map.
In addition to councils within the borders of the USA, BSA operates two councils and provides direct service in order to serve US Citizens living abroad:
Transatlantic Council (Europe and Morocco)
Far East Council (primarily Japan and South Korea)
Direct Service BSA (other overseas locations)
Due to a glitch in the mapping program caused by the APO addresses assigned to the two councils serving Scouts outside the USA (Transatlantic and Far East), the pins for those councils appear in Germany (as shown in the map above), instead of Italy and Japan, where their headquarters offices are actually located.
Please note that the interactive map is only updated every few years, and there is no attempt to keep it current on a routine basis. For current information, use one of the links below.
Click Here to Search for a Scout Council or Unit website in our database
Click Here to find the Local BSA Council for a specific Zip Code on the BSA's official national website.
Click here to download a spreadsheet with a Comprehensive List of BSA Councils Past and Present,
created and maintained by Dave Hultberg (last updated in November, 2017)
If you are aware of any updates (Council mergers, new council names, etc.) please notify Dave.
The map below was prepared in 1996 by Mike Bowman, by using an earlier map and data from Mike Meenehan in 1995. Some of the locations of Councils depicted on the map are no longer accurate due to Council mergers. However, the map does give you a feel for which areas of the United States have high concentrations of Scouting members, and comparing it to the current map can give a feel for how the number of councils has changed since 1996..