CRAFTS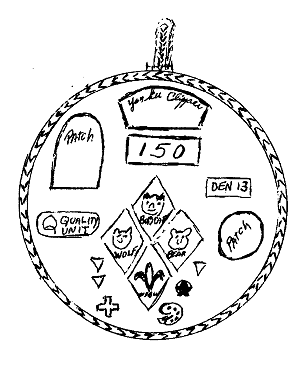 Crossover Keepsake
The Crafty Lady--Pat B
1 - 12" large embroidery hoop
heavy navy blue material
1"wide yellow ribbon or trim
glue gun and sticks
chalk
scissors
needle and thread to match patch borders
Place hoop centered on material. Trace around inside of circle with chalk. Arrange patches inside of circle and sew into place by hand. Making sure that the hoop latch is centered at top. Place fabric in hoop. Pull taut and tightly screw top of hoop shut. Dust away chalk. Make sure hoop latch is centered at top. Cut off excess material on back. Spread an inch or two of glue on back edge of hoop. Press edge of ribbon into glue, fold ribbon back forming a one-inch pleat. Secure pleat with a dab of glue. Continue to glue and pleat ribbon around the hoop. Glue an extra piece of ribbon around the hoop latch, finally attach any pins and your keepsake is ready to hang.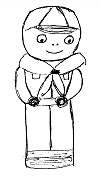 SPICE BOTTLE CUB SCOUT
The Crafty Lady--Pat B
1--plastic spice bottle
1--2 1/2" Strofoam ball
flesh colored acrylic paint
1--wooden stirrer (stick)
blue construction paper
blue felt
black felt marker
light blue or yellow felt (neckerchief)
2--10mm wiggle eyes
2--bump chenille
1--blue chenille stem
1--1" long piece of red chenille stem
2--1/4"pompom (hands)
Cut a small slot in the bottom of the spice bottle big enough to fit the stick stirrer. Now take the Styrofoam ball an insert the stirrer into the ball. Paint the ball fleshcolor and let dry. Cut a three inch circle of blue felt and make a slit. Glue the felt to the ball to make a hat; you may have to overlap on the slit. Let dry. When dry, take the blue chenille stem and cut a small piece for the visor of the hat. Cut a triangle from the felt for the neckerchief (light blue or yellow, depending whether you want a Wolf or Bear Cub). Twist the piece of red chenille stem into a circle for a neckerchief slide. Cut and glue blue construction paper around the bottle for the body. Use the black marker for a belt and leg markings. Glue the bump chenille on for arms. Put neckerchief on, using the red slide. Glue on wiggle eyes and pink pompoms for hands. You can use the bottle for mints or nuts by untwisting the cap.