GAMES
Roller Ball
Trapper Trails Council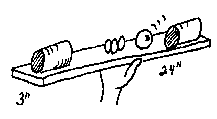 Materials: Board 3" x 24", 2 cans, Ping pong ball
Cut out and sand the board. Glue two cans at either end. To play, hold the board in one hand and roll the ball back and forth.
Detect These Hazards
Trapper Trails Council
Prepare the room before the boys come to meeting. Have several health and safety hazards items around the room. Give them a paper and pen. See who can find the most.
Examples: Frayed electrical cord, matches, poisonous chemicals within reach of young children (use a clean bottle labeled poison!), pile of newspapers, etc.