WEBELOS
Craftsman
Viking Council
Purpose: Learn how to work with tools
Challenges: Wide range of abilities, obtaining adequate supervision, making a mess, inexpensive materials,
Solutions: This badge will be a favorite, but requires a lot of preparation. Some projects, like leatherwork and cardboard, can be held at your regular meeting place. Others, like woodworking, should be held in a shop or garage where the sawdust can be contained easier. Because every Cub wants to do something, you'll need a large supply of hammers or set up cutting, sanding, nailing, and gluing stations. Have small groups rotate around as the work progresses. If everybody is starting fresh, you may need a second project to keep all boys busy. An adult helper or guide with each group or an adult supervisor at each station are both good methods. Remember, everyone is included in the clean-up.
Resources: Collection of materials will be a challenge. Check with local companies for wood scraps. Plywood is usable for most projects, but solid lumber such as pine is better for some cutouts. Hardwoods like oak, ash, and walnut are too hard for most Cubs to cut and shape; they may get frustrated. When hardwoods are needed, precut and rough sand them in advance, leaving the finishing work to the Cub.
For leather crafts, check with companies for scraps that the boys can cut and tool. 6" square or round pieces of masonite make good work surfaces for cutting and stamping operations.
First projects should be simple. Key chains are easy and make good gifts.
Clay projects are good for gifts and puppet heads that can be used for work in the Showman badge. Try a ceramic shop for advice and possible help with glazing and firing.
Planning: The Craftsman is a multi-meeting project, and the Cubs may also do a lot of work at home. The Cubs require a lot of supervision and help on most projects. Plan one adult for every two or three Cubs. Remember that tools used correctly are safe, but the incorrect use of tools can have serious consequences!
More: Blue and Gold centerpieces are good projects.
Neckerchief Slide
Greater St. Louis Area Council
Materials: Art foam, Tulip paint, pipe cleaner, glue
Cut different kinds of tools out of art foam. Glue together and paint on details. Glue pipe cleaner on back.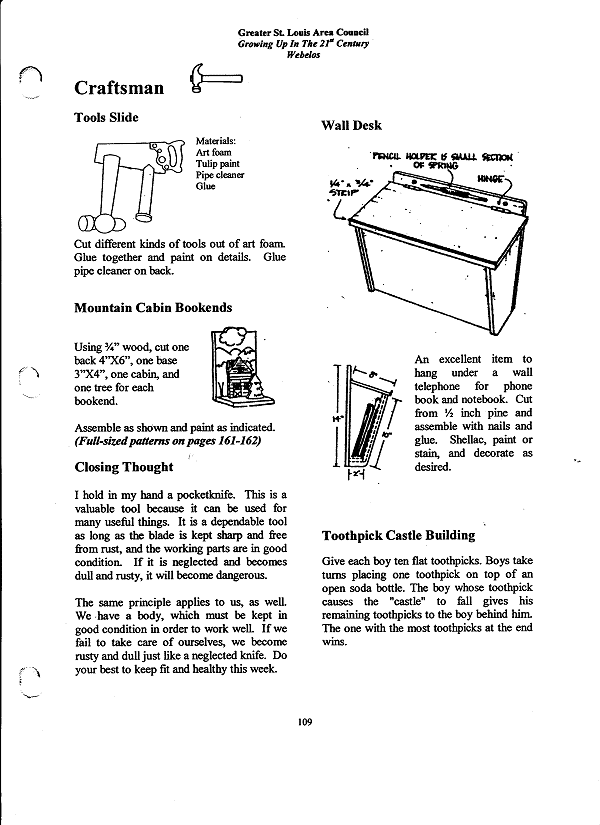 Wooden Trivet
Greater St. Louis Area Council
Materials: 1 dowel, 4' long, 1" diameter, Table saw, Sandpaper, Waxed paper, Carpenter's glue, Felt, 6"X6"
Cut the dowel into slices about 1 1/2" thick, using the table saw. Sand any rough edges.
Lay a piece of waxed paper on the working surface. It can be easily removed from the trivet after the glue has dried. Begin gluing the slices together as shown in the picture. When glue has dried, pull away waxed paper and cut the felt piece to fit the back of the trivet. Glue in place.