Boys' Life is a great publication. They have something of interest for young minds, and the not so young minds too. The June 2000 issue has articles on Jeff Bagwell and Craig Biggio of the Houston Astros and another on the Invasion of the Jellies (jellyfish). Also there are comics, special features such as slide of the month, In The Driver's Seat and Hobby Hows. The June issue features the story "Deadly Drugs", which includes a lifesaving list with facts about the appearance or how some of the listed drugs look, including alcohol, the initial effect and user symptoms. Articles lean to the Boy Scouts of America program, but are informative to anyone who loves the out-of-doors or even crafts.
There is an important announcement is this issue of Boys' Life called "All Booked Up". It recognizes many of the participants and winners in the 1999 "The Best Book I Read This Year". Congratulations to everyone who participated.
This contest is open to all Boys' Life readers. For submitting a one-page book report you will receive a free patch from Pedro.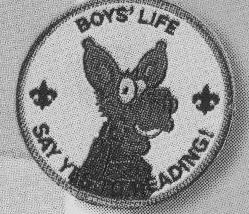 To enter the 2000 contest write a one-page report titled "The Best Book I Read This Year": and enter it in the Boys' Life 2000 "Say Yes to Reading!" Contest.
The book can be fiction or non-fiction. But the report has to be in your own words. Enter in one of the three age categories:
8 years old and younger,
9 and 10 years old,
11 years and older.
When Pedro receives your report, you'll get a free patch like the one shown above only in color.
(And yes, the patch is a temporary insignia, so it can be worn on the Boy Scout, or Cub Scout uniform shirt, on the right pocket. Proudly display it there!)
The top three winners from each age group will also get a Leatherman multi-tool, copies of Codemaster books 1 and 2, the limited edition Codemaster pin-and-patch set--plus their names will be announced in Boys' Life!
The contest is open to all Boys' Life readers. Be sure to include your name, address, age and grade in school on the entry.
Send your report, along with a business-size addressed, stamped envelope, to:
BSA, Boy's Life Reading Contest,
S204, P.O. Box 152079,
Irving, TX 75015-2079
Entries must be postmarked by Dec. 31, 2000
________________________________
Every month there are advancement ceremonies in the Bugle and also recognition ceremonies for adult leaders. During any recognition ceremony the accomplishments of the individuals are recognized. Now is the time that I am going to formally recognize the person most responsible for my own involvement in Scouting, but also add a story as to why I am sharing this with everyone. The person most responsible for my involvement is our 18-year-old son, Neal.
Neal has always been a great son. As a high school student he was, I think, pretty remarkable. We moved to Alabama when he was going into his sophomore year and I was apprehensive about how he would fit in to his new social and academic environment. But he seemed to adjust easily and quickly by getting involved in various activities throughout his three years at Bob Jones High School. To honor all the seniors at Bob Jones HS there is an awards banquet.
Our son missed the Senior Awards Banquet at his high school since he was out of town-5 hours away- at the state tennis tournament for young people who placed first in the high schools area tournaments. I feel compelled to recognize him first because I am so dang proud of him as his mom, and he missed his banquet.
He called me from school the day he returned from the tennis tournament. He was called into the office that morning, but it was all good news. He received a stole for being a member of the National Honor Society and formal recognition for getting a really great (academically speaking & financial) scholarship from the University of Alabama, Birmingham. And earlier this school year he told me he really wanted to be recognized as the Outstanding Student in Physics. At the time he didn't think he would get it since he knew of another student who lived and breathed physics. He, along with another female student both got the award for Outstanding Student in Physics, and at first I thought he said he got it in Civics. Silly Me! But it is the final award he got that is, to me, what is truly remarkable. He received the Robert E. Jones Award, his high school's most prestigious award. This award, is given to the student who is outstanding in academics, and best exemplifies character, integrity, and leadership.
Character, integrity, leadership--sound familiar? Sounds to me like what we teach our scouts with this program with a purpose. Was Neal a scout--yes? Did scouting influence him with all he learned and achieved during his years in the program? You bet! I credit his parents of course, but I also recognize and credit the BSA and their program. For without it, Neal wouldn't be the man he is today.