FUN FOOD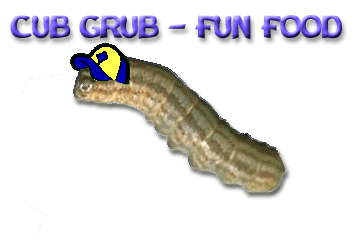 Edible Campfire
National Capital Area Council
As the Cubs build their own "campfire", talk about why each ingredient is important. After the "fire" is built, enjoy eating this special treat.
Ingredients:
1 napkin (fire clearing)
1 small paper cup of water (bucket to put out fire)
Miniature marshmallows (to make fire circle)
Shredded coconut (tinder to make the fire started)
Fritos and skinny pretzels (kindling - to keep the fire growing)
Cheese sticks (fuel - big logs)
Candy corn (flames)
After you build the campfire, plan a picnic or fishing trip where the boys can assist their parents with building a real fire. They might even "catch" a hotdog to cook.
Peanut Butter Burrito
Will Rogers Council
Ingredients:
Package of small tortilla flats
Peanut butter (we recommend smooth)
Applesauce
Raisins
Cinnamon to taste
Take one tortilla flat and spread a tablespoon of peanut butter on it. Next add a tablespoon of applesauce, then put on raisins and just a dash (we have it on good authority that a dash is slightly less than a pinch) of cinnamon. Fold in the ends and roll into burrito shape. Wrap in foil. Refrigerate over night and serve the next day.
Hikers' Nosebag
Northwest Suburban Council
1/4 lb. Seeded raisins
1/4 lb. cheese
1/4 lb. chocolate
1 apple (put in plastic bag)
or
1/4 lb. seeded raisins
1/4 lb. peanuts
1/4 lb. chocolate bits
Some favorite sugared cereal
(mix and put in plastic bag)
Hikers Delight
6 oz Semisweet chocolate chips
6 oz Butterscotch chips
2 c Granola
7 1/2 oz Salted peanuts
1 c Raisins
Mix chips together in top of double boiler. Cook stirring over hot water, or melt on low in microwave. Stir in remaining ingredients mixing well. Drop by teaspoonfuls onto cookie sheet or waxed paper. Chill. Makes about 4 dozen
Muddy Buddies
9 c Chex cereal
1 c Semi sweet chocolate chips
1/2 c peanut butter
1/4 c margarine
1/4 tsp. Vanilla
1 1/2 c powdered sugar
Use 9 cups of Chex brand cereals, mixed or one kind. Place in a large bowl. Combine chocolate chips, peanut butter and margarine in a quart microwave safe bowl. Microwave on high for 1 to 1-1/2 minutes or until smooth, stirring after 1 minute. Stir in vanilla. Pour chocolate mixture over cereal, stirring until all pieces are evenly coated. Then pour cereal mix into a plastic zipper-lock bag with the powdered sugar. Seal securely. Shake until all pieces are well coated. Spread on wax paper to cool. Store in an airtight container.
Makes 9 cups.
(No-bake) Mud Cookies
Ingredients: 2 cups sugar, 1/2 cup milk, 1 tsp vanilla, 5 cups quick cooking oats, divided 1/4 tsp, butter, 3 tbsp cocoa, 1/2 cup crunchy peanut butter
Mix sugar, butter, milk and cocoa. Bring to rolling boil and cook 1 minute. Remove from heat and add remaining ingredients. (Add 3 cups oats. Gradually add more till consistency is reached.) Drop quickly by teaspoons onto waxed paper. Chill.